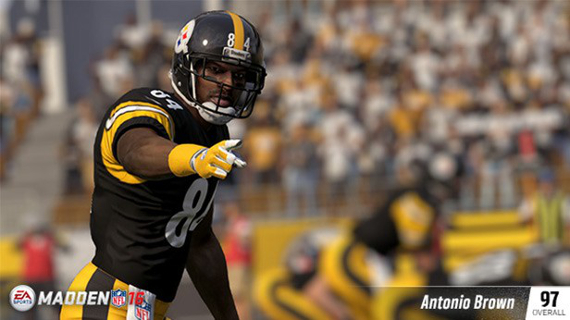 EA Sports is continuing to roll through the offensive side of the ball with the ratings reveals for Madden NFL 16 that began this week. Today the focus shifts to the wide receivers, and a new playmaker takes his place all alone atop the list. 
1) Antonio Brown – 97 Overall
2) Dez Bryant – 96 Overall
3) Calvin Johnson – 95 Overall
4a) Odell Beckham Jr. – 94 Overall
4b) Julio Jones – 94 Overall
The passing game has been painted as the primary gameplay focus for Madden NFL 16, making the top receivers more dangerous than ever before.
As seen first with the running backs, the trend of reducing Speed and Acceleration ratings continues here, though that wasn't the case with the rookies for some as of yet unexplained reason. While he holds the 97 Overall he finished Madden NFL 15 with, Brown lost six to Acceleration and two in Speed. Dez Bryant lost three points in each category, and the others also all lost a few points in those areas.
Calvin Johnson closed out Madden 15 tied with Brown but he's dropped two points to begin Madden 16 ranked third. The big move though came with Odell Beckham Jr. who shot up from 90 to 94, passing by 11 players who had been rated the same or above him. Jordy Nelson, A.J. Green, and Demaryius Thomas all went from 95 Overall players to what will likely be 93.
Previously Revealed
♦Quarterbacks
♦Running Backs
♦Rookies