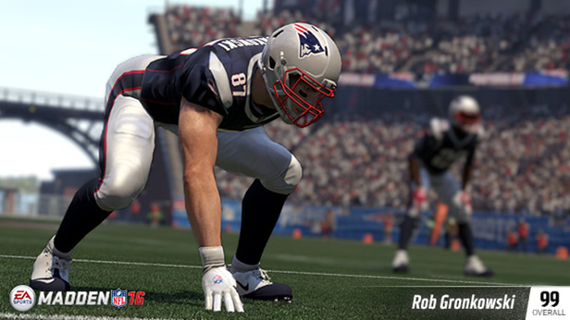 Though Rob Gronkowski has been 99 Overall at times in the past, he finished off Madden NFL 15 at 98. He's gained the point back to start with in Madden NFL 16 as he'll be one of the few to have the coveted 99 Overall Rating. Four of the top five tight ends return to their top ranked status, but one new name has surged ahead to steal a top five spot. 
1) Rob Gronkowski – 99 Overall
2) Jimmy Graham – 95 Overall
3) Jason Witten – 93 Overall
4) Greg Olsen – 92 Overall
5) Travis Kelce – 91 Overall
Martellus Bennett is the player that lost the fifth rated position, as Kelce passed by not just him, but 13 other players who were rated above him to end last season. Kelce received +15 Release, +14 Route Running +13 Run Block, +10 Spec Catch, and +7 Catch in Traffic when compared with what he had in the final Madden 15 roster update.
Previously Revealed
♦Wide Receivers
♦Quarterbacks
♦Running Backs
♦Rookies