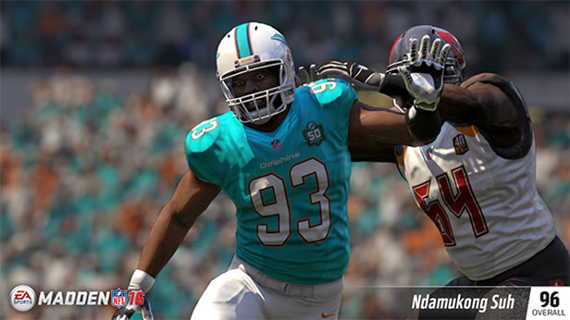 EA Sports continues to work through the defensive side of the ball, finishing up the front seven with the defensive tackles today. Geno Atkins has slid out of the top five at the position, while Aaron Donald has surged ahead of several players that were rated above him at the conclusion of last season to grab the final spot in the rankings. 
1) Ndamukong Suh – 96 Overall
2) Gerald McCoy – 95 Overall
3) Marcell Dareus – 94 Overall
4) Kyle Williams – 93 Overall
5) Aaron Donald – 92 Overall
While Donald has jumped seven players in finishing ranked fifth, Williams has taken the biggest hits to his ratings, as the only of the five to lose points in the key individual attributes. He's been docked six points in Tackle, four in Pursuit, and three in Block Shedding.
Previously Revealed
♦Defensive Ends
♦Linebackers and offensive line
♦Tight Ends
♦Wide Receivers
♦Quarterbacks
♦Running Backs
♦Rookies