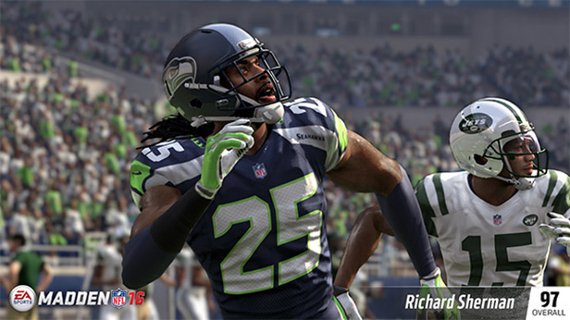 There's probably only one position that rivals quarterbacks when it comes to the ferocity of debates over the best players in the NFL. Due in large part to the arguments the actual players have had in recent years, with several staking a claim to the label, cornerbacks have taken over some of the spotlight generally reserved for the offensive side of the ball.
For Madden NFL 16 it's a tie atop the Overall Ratings at cornerback, though one player has the edge when examining the individual attribute categories. 
1a) Richard Sherman – 97 Overall
1b) Darrelle Revis – 97 Overall
3) Vontae Davis – 95 Overall
4) Chris Harris Jr. – 94 Overall
5) Sean Smith – 91 Overall
Sherman has dropped from the 99 Overall he finished Madden 15 with into a tie with Revis who fell by just one point from the end of last season. Though they both hold a 97 Overall now, Sherman has the stronger ratings when breaking down the various categories. He has the edge in Zone Coverage, Press, Play Recognition, Jumping, and Catching. Revis only rates out better in Man Coverage.
Sean Smith was able to capture the fifth spot in the rankings by jumping above Joe Haden and Brent Grimes, who finished Madden 15 higher. He got a huge +10 in Play Recognition. The Speed Rating for the group has dropped an average of nearly 4 points, which is similar to the downgrades seen with the attribute for the offensive skill positions.
Previously Revealed
♦Defensive Tackles
♦Defensive Ends
♦Linebackers and offensive line
♦Tight Ends
♦Wide Receivers
♦Quarterbacks
♦Running Backs
♦Rookies