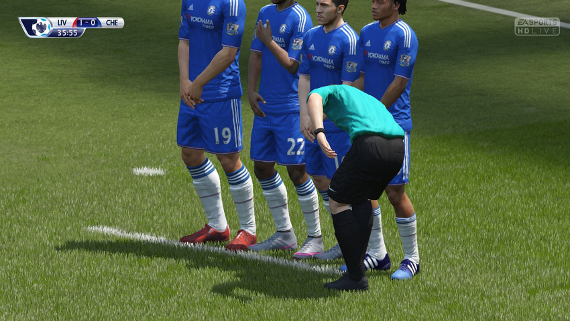 The new FIFA Ultimate Team Draft Mode wasn't the only news to come out of Gamescom this morning related to FIFA 16. EA Sports also detailed some of the improvements that have been made to presentation for the game.
The most significant is an authentic presentation package for Bundesliga, similar to the treatment Premier League got last year. The game will also include updated likenesses, new crowd chants, sideline celebrations, and vanishing spray.
BUNDESLIGA PRESENTATION PACKAGE
One of the most popular leagues in the world, the German Bundesliga in FIFA 16 will now have its own authentic overlay package that mirrors broadcast matches. Matches involving two Bundesliga sides, will have the same look and feel as seen on match day.
OVER 450 NEW OR UPDATED PLAYER STARHEADS
FIFA 16 includes over 450 new or updated player starheads, the most ever for a FIFA title. In addition to Barclays Premier League players and athletes from Women's National Teams, we have captured the likeness of some FUT Legends, and players from the major clubs in Spain and other leagues around the world. (FUT Legends only available on Xbox One and 360).
NEW WEATHER CONDITIONS & DIFFERENT TIMES OF DAY
Stadiums in FIFA 16 will be able to support a greater variety of weather options, with nine weather choices available. Expanding on FIFA 15's sunny, overcast, rain and snow, FIFA 16 features those and includes hazy, partly cloudy, foggy, random variable rain showers and variable flurries. Additionally, we've expanded the number of available kick-off times.
OVER 900 NEW CHANTS
Building on club-specific chants introduced in FIFA 15, this year we have over 900 chants captured from grounds around the world. From South America to Europe and player-specific chants, the crowd continues to come to life in FIFA 16. Some of the new chants include PSG's "Allez Paris," and Liverpool's "When The Reds Go Marching In".
NEW MENU OPTIONS
Explore the menus with our new interface that also includes the ability to choose the stadium of your choosing to serve as your background. Key moments from a match are easily available to watch again in our new Full-Time Highlight menu option.
VANISHING SPRAY
Already a key tool for a referee, FIFA 16 introduces the use of vanishing spray during dead ball situations.
NEW SIDELINE CELEBRATIONS
Celebrations now include the ability to run to the nearest cameraman for a close-up or make a dash to the substitutes bench and celebrate with your off-field teammates.
STORY OF THE SEASON
FIFA 16 will fully immerse you in the story of your club's season. Our commentators will remark on key storylines, including notable player or team performances, big player debuts, and transfer rumours. In-game graphics and commentary will also pick up on interesting team stats for matches, and reference the wider context of league standings.
WORLD-CLASS COMMENTATING
Commentary continues to expand in FIFA 16 with specific FUT Legends (exclusively on Microsoft consoles), Pre-season, and Women's National Teams commentary to deliver a fantastic match playing experience regardless of the mode.
For our worldwide audience, commentary options include Arabic, Brazilian Portuguese, French, German, Italian, Latin American Spanish, Japanese, Polish, Dutch, and an all-new Russian commentary team. These are available across all platforms: Xbox 360, Xbox One, PlayStation 3, PlayStation 4 and PC.