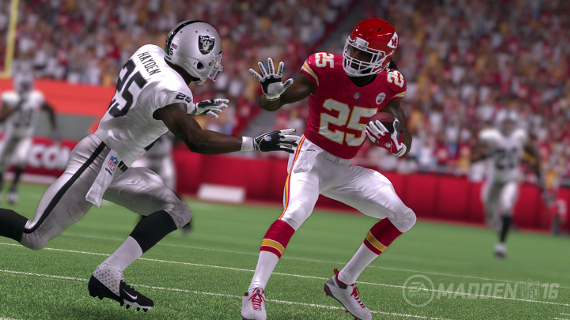 Once the top rated players for Madden NFL 16 at each position were revealed it was expected that the entire team rosters with ratings would be sent out division-by-division, as that was the typical procedure for the rollouts in past years.
Unfortunately that isn't the case this time around and instead EA has been giving out the Overall Rating for teams, and spotlighting only some key players and their respective Overall Ratings, which doesn't provide much insight into either for those that are interested. 
The teams rank out similar to their finishes last season, with the top six teams being those that reached the playoffs. The movement that most stands out is with the Broncos somehow jumping the Colts, despite losing to them at home in the playoffs last year, and facing a decline in Peyton Manning and the loss of Julius Thomas.
New England Patriots: 91
Rob Gronkowski (99), Tom Brady (97), Devin McCourty (94), Dont'a Hightower (93), Julian Edelman (89), Jabaal Sheard (84), LeGarrette Blount (80), Malcolm Butler (76)
Denver Broncos: 89
Von Miller (97), Chris Harris Jr. (94), Demaryius Thomas (93), Peyton Manning (92), Aqib Talib (90), Emmanuel Sanders (89), C.J. Anderson (85), Brandon Marshall (84), DeMarcus Ware (83), Virgil Green (82), Shane Ray (72)
Indianapolis Colts: 87
Vontae Davis (95), Andrew Luck (94), T.Y. Hilton (89), Robert Mathis (87), Andre Johnson (86), Dwayne Allen (86), Mike Adams (85), Coby Fleener (83), Frank Gore (83), Trent Cole (82)
Baltimore Ravens: 85
Marshall Yanda (98), Terrell Suggs (93), Daryl Smith (90), Elvis Dumervil (88), C.J. Mosley (88), Justin Forsett (87)
Pittsburgh Steelers: 84
Antonio Brown (97), Ben Roethlisberger (95), Le'Veon Bell (94), Cameron Heyward (88), James Harrison (84), Martavis Bryant (80), Shamarko Thomas (76)
Cincinnati Bengals: 84
Andrew Whitworth (95), A.J. Green (92), Geno Atkins (89), Carlos Dunlap (88), Vontaze Burfict (86), Jeremy Hill (86), Tyler Eifert (81), Michael Johnson (81)
Kansas City Chiefs: 82
Justin Houston (97), Anthony Sherman (95), Jamaal Charles (94), Travis Kelce (91), Sean Smith (91), Tamba Hali (90), Jeremy Maclin (88), Alex Smith (84), Eric Berry (84)
San Diego Chargers: 82
Eric Weddle (96), Philip Rivers (90), Antonio Gates (88), Keenan Allen (86), Orlando Franklin (90), Brandon Flowers (89), Corey Liuget (84), Melvin Gordon (78)
Miami Dolphins: 81
Ndamukong Suh (96), Cameron Wake (94), Brent Grimes (87), Ryan Tannehill (85), Jordan Cameron (84), Lamar Miller (84), Greg Jennings (81), DeVante Parker (76)
Houston Texans: 79
J.J. Watt (99), Vince Wilfork (91), Arian Foster (91), DeAndre Hopkins (88), Brian Cushing (82), Jadevon Clowney (78), Ryan Mallet (74), Brian Hoyer (73)
Buffalo Bills: 79
Marcel Dareus (94), Kyle Williams (93), LeSean McCoy (88), Charles Clay (86), Stephon Gilmore (86), Corey Graham (84), Matt Cassel (75), E.J. Manuel (73)
New York Jets: 76
Darrelle Revis (97), Muhammad Wilkerson (96), Brandon Marshall (89), Damon Harrison  (88), Eric Decker (86), Antonio Cromartie (86), Chris Ivory (80), Leonard Williams (80), Ryan Fitzpatrick (78), Geno Smith (76)
Cleveland Browns: 75
Joe Haden (90), Karlos Dansby (90), Donte Whitner (90), Dwayne Bowe (83), Isaiah Crowell (74), Terrance West (73), Josh McCown (72), Johnny Manziel (71)
Oakland Raiders: 74
Khalil Mack (91), Amari Cooper (82), Michael Crabtree (82), Marcel Reece (82), Sio Moore (80), Derek Carr (79), Latavius Murray (78), Mario Edwards (71)
Jacksonville Jaguars: 73
Julius Thomas (89), Sen'Derrick Marks (87), Jared Odrick (84), Marcedes Lewis (81), Allen Robinson (79), Blake Bortles (74)
Tennessee Titans: 72
Delanie Walker (87), Brian Orakpo (87), Jason McCourty (86), Da'Norris Searcy (86), Kendall Wright (83), Harry Douglas (79), Marcus Mariota (78), Bishop Sankey (75)
Previously Revealed
♦Cornerbacks
♦Defensive Tackles
♦Defensive Ends
♦Linebackers and offensive line
♦Tight Ends
♦Wide Receivers
♦Quarterbacks
♦Running Backs
♦Rookies