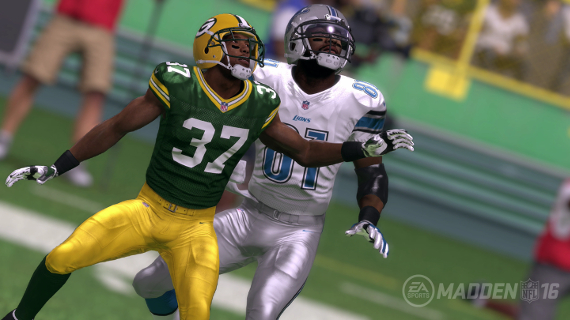 Once the top rated players for Madden NFL 16 at each position were revealed it was expected that the entire team rosters with ratings would be sent out division-by-division, as that was the typical procedure for the rollouts in past years.
Unfortunately that wasn't the case this time around and instead EA gave out the Overall Rating for teams, and spotlighted only some key players and their respective Overall Ratings, which hasn't provided much insight into either for those that are interested. 
Unlike the AFC, the top six teams aren't comprised completely of those who made the playoffs last year. The Eagles make their way into that group while the Panthers rate out much lower. They lead the NFC South which is the only division to not have a team rated at least 84.
Seattle Seahawks: 91
Richard Sherman (97), Marshawn Lynch (96), Earl Thomas (95), Jimmy Graham (95), Kam Chancellor (94), Russell Wilson (89)
Green Bay Packers: 90
Aaron Rodgers (99), Josh Sitton (97), Jordy Nelson (93), Randall Cobb (91), Eddie Lacy (90), Clay Matthews (90), Julius Peppers (88), Casey Heyward (85), Ha Ha Clinton-Dix (81)
Dallas Cowboys: 86
Dez Bryant (96), Tony Romo (93), Jason Witten (93), Tyron Smith (93), Zack Martin (92), Travis Frederick (91), Sean Lee (89), Orlando Scandrick (88), Rolando McClain (86), Darren McFadden (76)
Philadelphia Eagles: 84
Jason Peters (96), DeMarco Murray (94), Kiko Alonso (87), Byron Maxwell (84), Ryan Mathews (84), Sam Bradford (79)
Detroit Lions: 83
Calvin Johnson (95), DeAndre Levy (93), Haloti Ngata (92), Glover Quin (90), Golden Tate (88), Ezekiel Ansah (88), Stephen Tulloch (87), Matthew Stafford (84), Joique Bell (80)
Arizona Cardinals: 82
Calais Campbell (95), Jared Veldheer (90), Patrick Peterson (89), Larry Fitzgerald (87), Carson Palmer (83), Tyrann Mathieu (83)
Carolina Panthers: 80
Luke Kuechly (96), Greg Olsen (92), Cam Newton (90), Thomas Davis (90), Charles Johnson (89), Star Lotulelei (88), Kelvin Benjamin (86), Jonathan Stewart (84), Charles Tillman (81)
New Orleans Saints: 78
Drew Brees (95), Jarius Byrd (91), Max Unger (90), Cameron Jordan (87), C.J. Spiller (82), Brandin Cooks (82), Brandon Browner (82), Josh Hill (78)
St. Louis Rams: 78
Robert Quinn (94), Aaron Donald (92), Nick Fairley (86), Chris Long (84), Jared Cook (84), Kenny Britt (82), Todd Gurley (80), Tre Mason (79), Nick Foles (78)
San Francisco 49ers: 78
NaVorro Bowman (93), Antoine Bethea (91), Anquan Boldin (88), Torrey Smith (86), Vernon Davis (84), Colin Kaepernick (81), Carlos Hyde (77)
Minnesota Vikings: 77
Adrian Peterson (95), Harrison Smith (93), Everson Griffen (89), Sharrif Floyd (87), Xavier Rhodes (86), Mike Wallace (86), Teddy Bridgewater (82)
New York Giants: 77
Odell Beckham Jr. (94), Dominique Rodgers-Cromartie (88), Eli Manning (87), Prince Amakamura (86), Victor Cruz (84), Shane Vereen (81)
Atlanta Falcons: 77
Julio Jones (94), Matt Ryan (90), Desmond Trufant (90), Roddy White (84), Justin Durant (84), Davonta Freeman (75), Tevin Coleman (74)
Chicago Bears: 75
Alshon Jeffery (90), Matt Forte (90), Martellus Bennett (90), Pernell McPhee (87), Jared Allen (79), Jay Cutler (79), Kyle Fuller (78)
Washington Redskins: 75
Ryan Kerrigan (90), DeSean Jackson (88), Terrance Knighton (88), Jason Hatcher (87), Chris Culliver (85), Alfred Morris (84), Pierre Garcon (83), Robert Griffin III (78)
Tampa Bay Buccaneers: 74
Gerald McCoy (93), Lavonte David (91), Mike Evans (87), Alterraun Verner (87), Vincent Jackson (86), Jameis Winston (81), Doug Martin (78)
Previously Revealed
♦AFC Team Ratings
♦Cornerbacks
♦Defensive Tackles
♦Defensive Ends
♦Linebackers and offensive line
♦Tight Ends
♦Wide Receivers
♦Quarterbacks
♦Running Backs
♦Rookies