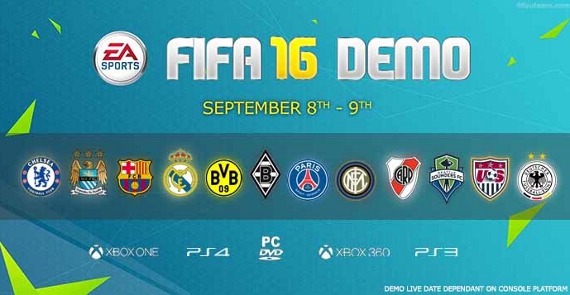 (Update) EA Sports is saying the image above, which has been circulating today is not from them, and they have yet to announce anything official but details will be coming soon.
With a demo for Pro Evolution Soccer 2016 going out Thursday, giving it a chance to cement a first impression on a marketplace with two games for consumers to decide between, EA Sports made sure to get some news out on a FIFA 16 demo before that takes place.
Unlike many other games from the company, which haven't been getting demos due in large part to the emergence of EA Access, FIFA 16 will be getting a traditional demo and it'll go out on September 8-9 depending on platform.
12 clubs will be included in the demo: United States and Germany women's national teams, Chelsea, Manchester City, Barcelona, Real Madrid, Borussia Dortmund, Borussia Mönchengladbach, Paris Saint-Germain, Inter Milan, River Plate, and Seattle Sounders.