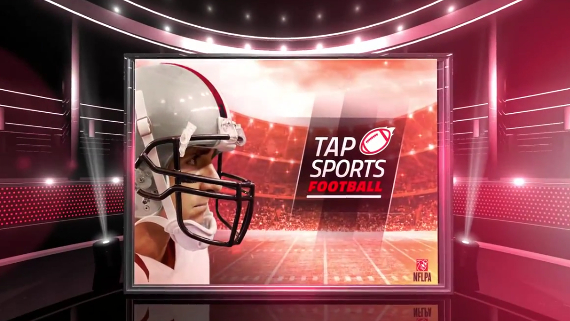 Tap Sports Football is out now for both iOS devices through iTunes and Android devices through Google Play. The new game features the NFLPA license which provides the rights to the pool of real current players. It's free-to-play though the option is there of course to spend money on upgrading the team faster.
The turn-based game comes from the same team behind Tap Sports Baseball which was one of last year's best mobile sports games and prior to that Your Turn Football. 
Those who download Tap Sports Football prior to Thursday receive a free Welcome Pack which includes 300 Gold, a 1st Round Draft Pick, and a Franchise Coin which is used to acquire a big name player for a limited stretch of games.
CURRENT PRO PLAYERS
Choose from your real-life favorite pro football players, sign them to your team and climb the standings!
EASY 1-TOUCH CONTROLS
Tap to pass and watch your receiver pull it down in the end zone! Avoid blockers and perfect your timing to gain yards on your opponent. Simple controls and short gameplay sessions let you play anywhere, anytime!
CHALLENGE YOUR FRIENDS
Link your Facebook account so you can invite and play against your friends! You can have numerous games in progress at the same time against multiple people!
COMPETE IN EVENTS
Dominate your friends or other gamers around the world! Win the league's best players in events and take your team to the next level!
EXPERIENCE REAL FOOTBALL STRATEGY
Run, pass, sack, elude defenders, kick a field goal, punt the ball and other real football strategies are all included! Make on-the-fly decisions based on the current player stats and drive your team to victory.