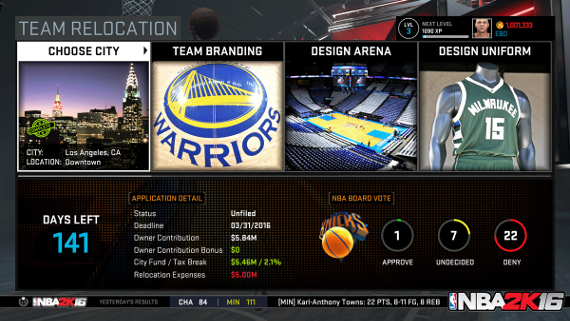 Up until now, most of what has been learned about NBA 2K16 have come from leaks, and with just over a month now until the game releases 2K Sports is reaching the point where they'll be announcing and expanding on details related to those previously discovered features.
First up was the info on the 2K Pro-Am and now attention turns to franchise modes with MyGM and the introduction of MyLeague Online.
MyLeague Online takes what was a highly customizable offline franchise that debuted in 2K15 and turns it into an Online League. Anywhere from 1-30 teams can be user-controlled, there are fantasy drafts, flex scheduling, and robust admin controls. However, while the league can go multiple seasons, there is no draft or free agency – each new season just starts with the rosters that were current at the end of the previous one.
Other massive additions include Team Relocation, uniform and arena design, improvements to the offseason, and much more. Check out all the details on the official blog from senior producer Erick Boenisch as there's a ton to digest all at once.