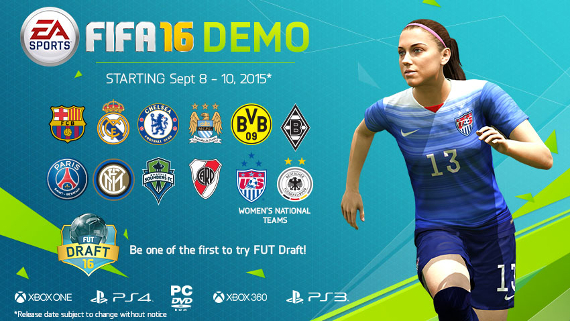 Earlier this month news made it out that a demo for FIFA 16 would be coming in September and that it would feature 12 clubs. EA Sports denied that the image making the rounds was from them, but notably at the time did not claim the information to be inaccurate. That's because all the details about the demo were actually legit.
The demo will be out on September 8 on Xbox One, PlayStation 4, PC, 360, and PS3. It will include the traditional Kick-Off exhibition games, the new FIFA Ultimate Team Draft, FIFA Trainer, and Skill Games.
12 clubs will be included in the demo: United States and Germany women's national teams, Chelsea, Manchester City, Barcelona, Real Madrid, Borussia Dortmund, Borussia Mönchengladbach, Paris Saint-Germain, Inter Milan, River Plate, and Seattle Sounders.
Three stadiums are included to play in, two of which are new for FIFA 16. BORUSSIA-PARK and CenturyLink Field debut alongside Real Madrid's Santiago Bernabeu.
EA Sports has been moving away from traditional demos due in part to EA Access even though that is available only on Xbox One. Most recently, Rory McIlroy PGA Tour and Madden NFL 16 went without demos. FIFA is the biggest video game in the world, which might lead some to think they could get away with not putting out a demo also, but the series is being challenged by competition (the demo for PES 2016 already went out two weeks ago) putting pressure on EA to place the game in front of consumers as well.