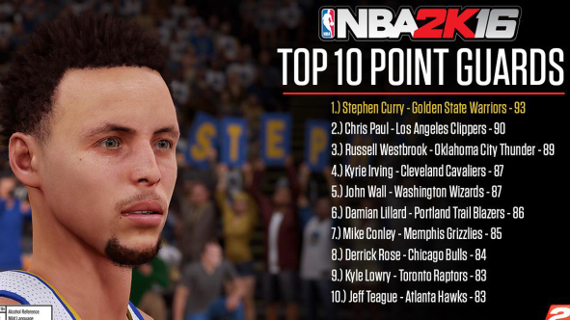 2K Sports today revealed the top 10 point guards in NBA 2K16. The ratings system this year has changed, with the scale now considering a 99 to be the best of all-time. That means ratings in general will appear lower than they have in the past.
Stephen Curry – Golden State Warriors – 93 Overall
Chris Paul – Los Angeles Clippers – 90 Overall
Russell Westbrook – Oklahoma City Thunder – 89 Overall
Kyrie Irving – Cleveland Cavaliers – 87 Overall
John Wall – Washington Wizards – 87 Overall
Damian Lillard – Portland Trail Blazers – 86 Overall
Mike Conley – Memphis Grizzlies – 85 Overall
Derrick Rose – Chicago Bulls – 84 Overall
Kyle Lowry – Toronto Raptors – 83 Overall
Jeff Teague – Atlanta Hawks – 83 Overall
Those numbers represent drops of five points for Westbrook, two for Curry, Lowry and Teague, and one for Irving, Rose, and Conley. Paul and Wall come into 2K16 rated the same as they finished 2K15. Lillard is the only one to rise as he has gained a point. Tony Parker just misses out on making the list – he ended 2K15 as an 84 but will likely now be an 82. Westbrook it seems got hit by the NBA Live cover curse.