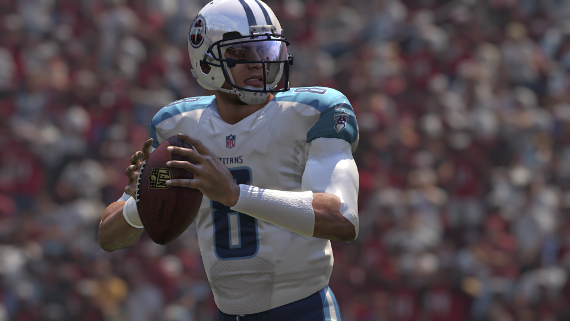 The roster update following week one of the season is now available for Madden NFL 16 on all consoles. The update is notable for a few reasons, including Tony Romo being made "clutch" and Peyton Manning's rating dropping to its lowest point since 1999. 
Romo is now one of 29 players in Madden with the "clutch" trait. Inexplicably Jameis Winston still somehow has the trait, with EA considering him to be more of a clutch professional player than the likes of Aaron Rodgers.
Manning has dropped two points to 90 Overall. It's the lowest he's been since Madden 2000. EA Sports released a spreadsheet with all the current ratings which I've made viewable in spreadsheet form here, but unfortunately it does not highlight what has changed from the last version of the roster.
Players rising in the update include Ben Roethlisberger (+1 to 96), Julio Jones (+1 to 95), Aaron Donald (+2 to 94), Tony Romo (+1 to 94), Jason Witten (+1 to 94), DeAndre Hopkins (+3 to 91), Travis Kelce (+1 to 92), Philip Rivers (+1 to 91), Keenan Allen (+2 to 88), Alex Smith (+2 to 86), Carson Palmer (+2 to 85), Marcus Mariota (+2 to 80), Carlos Hyde (+2 to 77), and Tyrod Taylor (+4 to 76).
Among those dropping are Drew Brees (-1 to 94), Adrian Peterson (-2 to 93), Andrew Luck (-2 to 92), DeMarco Murray (-2 to 92), Matt Ryan (-1 to 89), Joe Flacco (-1 to 88), Eli Manning (-1 to 86), Byron Maxwell (-1 to 83), and Jameis Winson (-2 to 79).