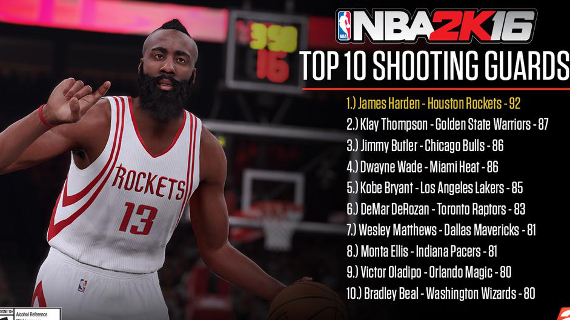 2K Sports today revealed the top 10 shooting guards in NBA 2K16 after yesterday unveiling the point guards. The ratings system this year has changed, with the scale now considering a 99 to be the best of all-time. That means ratings in general will appear lower than in the past.
James Harden – Houston Rockets – 92 Overall
Klay Thompson – Golden State Warriors – 87 Overall
Jimmy Butler – Chicago Bulls – 86 Overall
Dwyane Wade – Miami Heat – 86 Overall
Kobe Bryant – Los Angeles Lakers – 85 Overall
DeMar DeRozan – Toronto Raptors – 83 Overall
Wesley Matthews – Dallas Mavericks – 81 Overall
Monta Ellis – Indiana Pacers – 81 Overall
Victor Oladipo – Orlando Magic – 80 Overall
Bradley Beal – Washington Wizards – 80 Overall
Those numbers represent drops of two points for Harden and DeRozan and one point for Butler and Wade (who's name 2K misspelled in the image). Bryant and Thompson stay at the same ratings they finished 2K15 with. Some of the players have risen though, with Beal going up four points, Matthews up three, and Oladipo and Ellis getting one. Brandon Knight looks to be the player just on the outside of the group after ending 2K15 at 82 but apparently falling below 80.