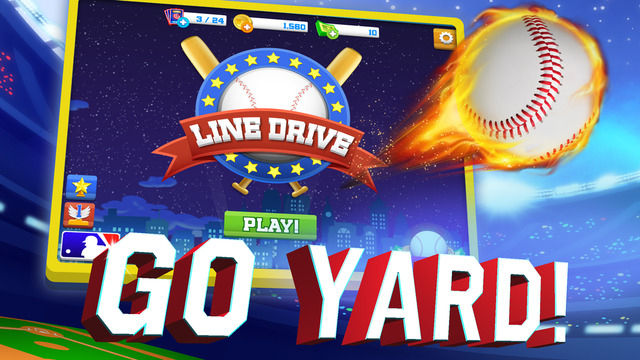 MLB.com Line Drive has joined the stable of games (Home Run Derby, Ballpark Empire, Franchise MVP, RBI Baseball) developed by MLB Advanced Media available for mobile devices. The new game is free to download and seems to offer more of an arcade-type experience.
Blast home runs with the swipe of your finger! Each level presents challenging score goals and big rewards with physics-based gameplay for hours of fun! Increase your score by blasting homers outside of the ballpark and send them crashing through the city streets. Earn special bonus points for slamming into windows, cars, airplanes, blimps and even spaceships!

Over 120 levels and 6 iconic environments including Yankee Stadium, Wrigley Field, Comerica Park, Globe Life Park, AT&T Park & Citizens Bank Park. Sweeten your slugging abilities by using cards and boosts with unique abilities to get the extra pop you need to top your high score!
Currently MLB.com Line Drive is only available on iOS but it should be arriving for Android on the Google Play store soon as well.