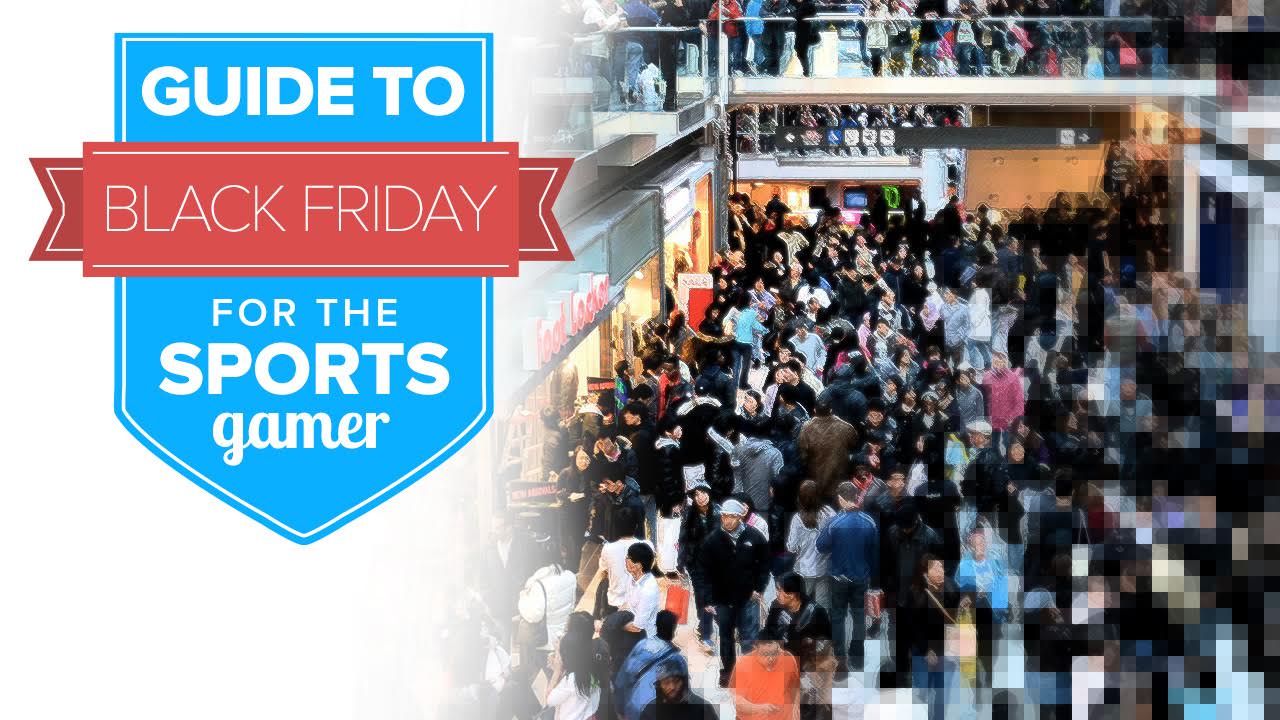 Because of the proximity to their respective releases, the majority of each year's sports video games get considerable discounts through Black Friday and occasionally Cyber Monday deals, marking their value high-point as their seasons are still very early on. Of course there's a lot more than just the games to contemplate picking up, whether it be for yourself or others, so here's a roundup of the most relevant deals through various retailers.
The best deals on sports games will be found at Walmart with Best Buy following close behind. Also Amazon has their lightning deals running Thursday through Saturday which will include all the major sports games from late this summer and fall, but the prices being offered on them have not yet been specified. More will pop up randomly, and may only last a few minutes, so make sure to be following on Twitter for alerts to them and others! 
Amazon
Other Deals
MLB 15: The Show, $20
PlayStation 4 Camera, $25
Amazon Fire TV Stick, $25
Amazon 7″ Fire Tablet, $35
Madden NFL 16 and Steelbook Exclusive, $40
FIFA 16 and Steelbook Exclusive, $40
NHL 16 and Steelbook Exclusive, $40
Pro Evolution Soccer 2016, $40
PlayStation Gold Wireless Headset, $70
Amazon Fire HD 6, $70
Blue Microphones Yeti USB Microphone, $75
Amazon Fire TV, $75
Amazon Echo, $150
Elgato Game Capture HD60, $157
Sony 2.1 Channel 300W Sound Bar with Wireless Subwoofer, $198
VIZIO 5.1 Sound Bar w/ Wireless Sub and Satellite Speakers, $198 for Prime Members
PlayStation 4 Uncharted Bundle, $300
Movie/TV Show Deals
See the Amazon Lightning Deals page for the calendar.
Best Buy
MLB 15: The Show (PS4), $20
PlayStation TV, $20
Tony Hawk's Pro Skater 5 (XB1/PS4), $25
Madden NFL 16 (XB1/PS4/360/PS3), $30
NBA 2K16 (XB1/PS4/360/PS3), $30
FIFA 16 (XB1/PS4/360/PS3), $30
WWE 2K16 (XB1/PS4/360/PS3), $30
PlayStation 4 Camera, $30
Need for Speed (XB1/PS4), $35
Forza 6 (XB1), $35
Amazon Fire TV Stick, $25
Roku Streaming Stick, $40
Insignia Soundbar with Bluetooth NS-SB314, $50
Sony BDPS3500 Streaming Wi-Fi Built-In Blu-Ray Player, $50
Amazon Fire TV, $75
Xbox One Gears of War Bundle, $300
Xbox One Rise of the Tomb Raider Bundle + Extra Controller, $350
PlayStation 4 Uncharted Bundle, $300
49″ Toshiba 1080p LED HDTV 49L310U, $150
60″ Samsung 4K HDTV UN60JU6390FXZA, $800
Other Game Deals
$20– Bloodborne, Rare Replay, Until Dawn
$25– The Witcher 3, Wild Hunt, Batman: Arkham Knight, Mad Max, Mortal Kombat X, Borderlands: The Handsome Collection
$35– Grand Theft Auto V, Splatoon, Assassin's Creed Syndicate, MGS V: Phantom Pain
$40– Destiny: Taken King, Black Dualshock 4 Controller, Black Xbox One Controller
$60– Sony Gold Wireless Headset
Blu-ray Deals Include
$4– Fight Club, Prometheus, Quantum of Solace, Skyfall, Rise of the Planet of the Apes, X-Men: First Class
$5– Ex Machina, Orange is the New Black: Seasons One and Two, Hannibal Season One, Django Unchained, World War Z
$6– 300: Rise of an Empir,e Dawn of the Planet of the Apes, Gone Girl, How to Train Your Dragon 2, The Hobbit: Battle of Five Armies, X-Men: Days of Future Past
$8– Fury, Imitation Game, Interstellar, John Wick, Live, Die, Repeat: Edge of Tomorrow, Mad Max: Fury Road, Oblivion
$10– Band of Brothers, Black Sails Season One/Two, The Pacific, True Detective Season One
Dell
Xbox One Gears of War Bundle + Fallout 4 + Extra Controller, $300
60″ Vizio 4K HDTV M60-C3, $800
Ebay
TBA
Gamestop
Buy Star Wars: Battlefront and get $30 off another EA game
PlayStation 4 Uncharted Bundle, $300
Xbox One Gears of War Bundle, $300
Microsoft Store (Digital)
RBI Baseball 15, Trials Fusion: $5
Madden 16, FIFA 16, NHL 16: $36
Forza Horizon 2 Anniversary Editions for 50 percent off
F1 2015, $40
NBA 2K16, $48
Forza 6, $50
Microsoft Store (Website)
F1 2015, $20
Madden NFL 16, $27
FIFA 16, $27
NHL 16, $30
WWE 2K16, $30
Need for Speed, $30
Forza 6 plus $10 gift code, $35
Xbox One Special Edition Controllers, $40
Xbox One bundles + $60 Gift Code + choice from three games – $300 for 500GB, $350 for 1TB
Xbox One 1TB bundles with FIFA 16 or Madden NFL 16 + one year of EA Access, $350
NewEgg
Microsoft Xbox Live Gold Year Subscription, $35 with code EMCKKNV238
Intel i7-4790K, $299.99
EVGA GTX 970, $289.99 with a free game
Samsung 850 Pro 512 GB SSD, $219.99
Asus Z97-A/USB motherboard, $94.99 after rebate
Thermaltake E-ATX case, $89.99 after rebate
Origin – EA (PC)
FIFA 16, $35
FIFA 15, $15
PlayStation Store (Digital)
Rocket League, $12 for those with PlayStation Plus
Redeem code FH24P5BDR6 at checkout for 10% off full cart purchase (one-time use)
Steam (PC)
Out of the Park Baseball 16, $10
Super Mega Baseball: Extra Innings, $12
Rocket League, $14
Franchise Hockey Manager 2, $20
Project Cars, $25
Blood Bowl II, $27
Pro Evolution Soccer 2016, $37
Target
MLB 15: The Show (PS4), $20
NBA 2K16 (XB1/PS4), $35
FIFA 16 (XB1/PS4), $35
NHL 16 (XB1/PS4), $35
WWE 2K16 (XB1/PS4), $35
Samsung 37″ Soundbar 120W 2.1 Channel HW-J355/ZA, $88
PlayStation 4 Uncharted Bundle, $300
Xbox One Gears of War Bundle + $60 Gift Card: $300
Blu-ray Deals Include
$4- Gone Girl, Interstellar, The Hunger Games: Catching Fire
$6- American Sniper, Insurgent, Furious 7, The LEGO Movie, TMNT (2014), San Andreas
$9- 22 Jump Street, Southpaw, The Hunger Games: Mockingjay Part One
Walmart
DriveClub (PS4), $15
Need for Speed (XB1/PS4), $25
Rory McIlroy PGA Tour (XB1/PS4), $25
Tony Hawk's Pro Skater 5 (XB1/PS4), $25
MLB 15: The Show (PS4), $25
Madden NFL 16 (XB1/PS4/360/PS3), $27
FIFA 16 (XB1/PS4/360/PS3), $27
NBA 2K16 (XB1/PS4/360/PS3), $27
Forza 6 (XB1), $35
NHL 16 (XB1/PS4), $35
Roku SE, $25
PlayStation 4 Uncharted Bundle, $300
Xbox One Gears of War Bundle + $30 Gift Card for: $300
70″ Vizio 1080p 240Hz LED HDTV E70-C3: $898
Other Game Deals
$8– Assassin's Creed Unity, PvZ: Garden Warfare, Titanfall
$15– Battlefield Hardline, Dying Light, Gears of War: Ultimate Edition, Far Cry 4, Little Big Planet 3, The Evil Within, Rare Replay
$25– Batman: Arkham Knight, GTA V, Lego Jurassic World, Mad Max, Mortal Kombat X, Need for Speed, The Witcher 3: Wild Hunt, Transformers Devastation
$35– Assassin's Creed Syndicate, Dragon Age: Inquisition, Metal Gear Solid V, Destiny: Taken King – Legendary Edition, Until Dawn
Blu-ray Deals Include
$4– Anchorman 2, Rio, The Dark Knight Rises, The Heat, World War Z
$7 – American Sniper, Interstellar, Lone Survivor, Lord of the Rings Three Film Collection, The Hunger Games: Catching Fire, The Lost World: Jurassic Park, Taken 3, TMNT (2014), X:-Men: Days of Future Past
$10 – Equalizer, Furious 7, Kingsman: The Secret Service, Mad Max: Fury Road, San Andreas, Spy. Terminator: Genisys