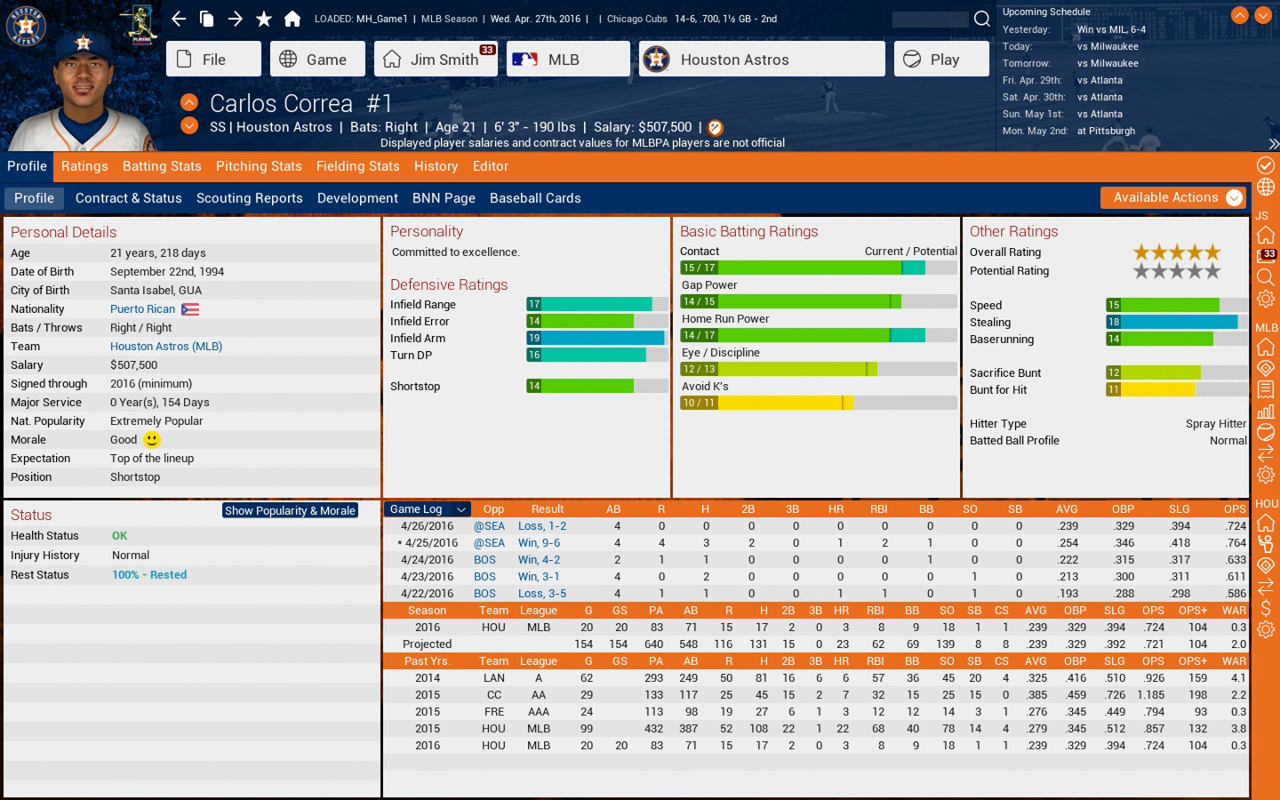 The terrific PC management franchise Out of the Park Baseball will now feature the complete suite of Major League Baseball licensing. It was announced today that Out of the Park Baseball 17, due out on March 22, will include the MLBPA licensing. Last year the series added the MLB.com and MiLB licenses.
While the MLBPA has not been necessary for real player names in the series there are features that can now be provided that otherwise would not have been possible. The big one is called FaceGen and delivers player portraits that not only look like the real-world players, but age over the course of a career and display their emotional states at the given time.
Pre-orders are now open, with $5 off the $40 price through March 1, and four days early access to the game. Continue on for the complete list of new features!
The all-new MLBPA license lets players come alive
For the first time ever, Out of the Park features new FaceGen images! With player aging, real-time emotion, and automatic uniform adjustment based on trades and free agency for most major leaguers, you're more in touch with your club than ever. One glance tells all!
2016 Opening Day Rosters
The brand new 2016 roster sets include all Opening Day MLB rosters, via a free update to be released shortly after Opening Day, as well as the complete minor league system down to the rookie leagues. Can Jake Arrieta, David Price, and Johnny Cueto give their teams the pitching boosts they need? Will Albert Pujols, Chris Davis, and Josh Donaldson once again help power their clubs to victory?
All MLB (and more than 2,000 MiLB) player ratings are based on ZiPS, the projection system created by well­-known baseball writer and SABR member Dan Szymborski. The remaining minor league players are rated manually by OOTP's established research team.
OOTP 17 also features several US independent minor leagues and eight international leagues in Japan, South Korea, Taiwan, Mexico, Cuba, Italy, Australia, and The Netherlands. All of those leagues feature real rosters, with countless hours of work invested in researching realistic player biographical information, statistics, and ratings.
Historical minor leagues
OOTP has always featured the most comprehensive historical play available in a baseball management game, and OOTP 17 makes a huge leap forward in that area with accurate historical minor leagues from 1919 through 2015. Now when a player starts a league in the past, their team will have the correct minor league affiliates, including rosters full of real players, thanks to a new database containing over 100,000 MiLB players.
As the historical seasons pass by, the minor leagues evolve as they did in real life, with teams moving cities, changing their names, and switching MLB affiliations. For example, the Sacramento River Cats began in 1978 as the Oakland A's AAA affiliate, switched to several other teams (including a second stint with Oakland) between 1979 and 2014, and became the San Francisco Giants' AAA affiliate in 2015. Those changes will now be accurately represented in OOTP.
Beautiful redesigned game interface
OOTP 17 features a redesigned user interface that makes it easier than ever for armchair GMs and managers to get the information they need and access important game functions.
Improved 3D engine with moving player symbols
OOTP's 3D in­game view has steadily improved since it was introduced in v15, and this year it's better than ever, with improved MLB stadium models and player symbols that move around the field as the action happens. This is the next step toward showing 3D players on the field.
Automatically generated game headlines and recaps
OOTP has always featured a robust news system that reports on exciting events from around the league, and now it also offers an automatically generated headline and recap after each game, just like a real world news article.
Historical exhibition mode
Ever wonder how great teams of the past might fare against the modern era's best clubs? That has always been possible in OOTP by creating a custom league, but now such "What if?" scenarios can also play out in a new mode that's as simple as choosing any two historical teams and playing a single game or a series.
New GM and manager preferences
AI­ controlled GMs and managers are even smarter in OOTP 17: They now evaluate players in unique ways, and GMs now have individual trading tendencies, so some wheel and deal on a regular basis, some prefer to stand pat, and others exhibit a mix of behaviors. In addition, GMs now have unique preferences for drafting, scouting, and development, so they'll apply that personal style to their teams when setting budgets.
Recoded scouting algorithms
Scouts have always added realism to OOTP by introducing some "fog of war": As in real life, they might be spot­on in a player evaluation, or they could be very wrong, and often they're somewhere in between. That part of the game has been improved so it's more realistic, offering an even greater challenge than before.
More realistic player career curves
OOTP 17 features even better player development algorithms, so their career arcs will feel more realistic than ever.
Better trading with defined team needs
Need to bolster the bullpen and bring in someone to create a platoon at third base? Players facing such situations can now define their team needs and expect other GMs to make trade offers accordingly.
AI improvements in trading, roster management, and dugout decisions
Opposing GMs and managers are now even better at trading, handling their rosters, and calling shots from the dugout during games. In addition, the game simulation engine has been improved for even more realistic results.
Redesigned in­game defensive engine
OOTP 17 features even more defensive shift options for human managers to choose from, allowing the AI to also better mimic many real world managers' tendencies.
Multi­core processor support for fast sim speed
OOTP's simulation engine, which was already the quickest in the sports text sim world, is now up to 40% faster than before, thanks to support for multi­core processors.
Steam Workshop support
Valve's Steam Workshop enables gamers to find the best user­created content for their favorite titles, and now OOTP players can do the same. OOTP's large user community has long been a source of unique and interesting logo packs, Quick Starts, and other add­ons, and now they'll be able to easily share them with the world through Steam Workshop.
Much more
As in past versions, OOTP 17 features a variety of other small improvements and new features throughout the game.