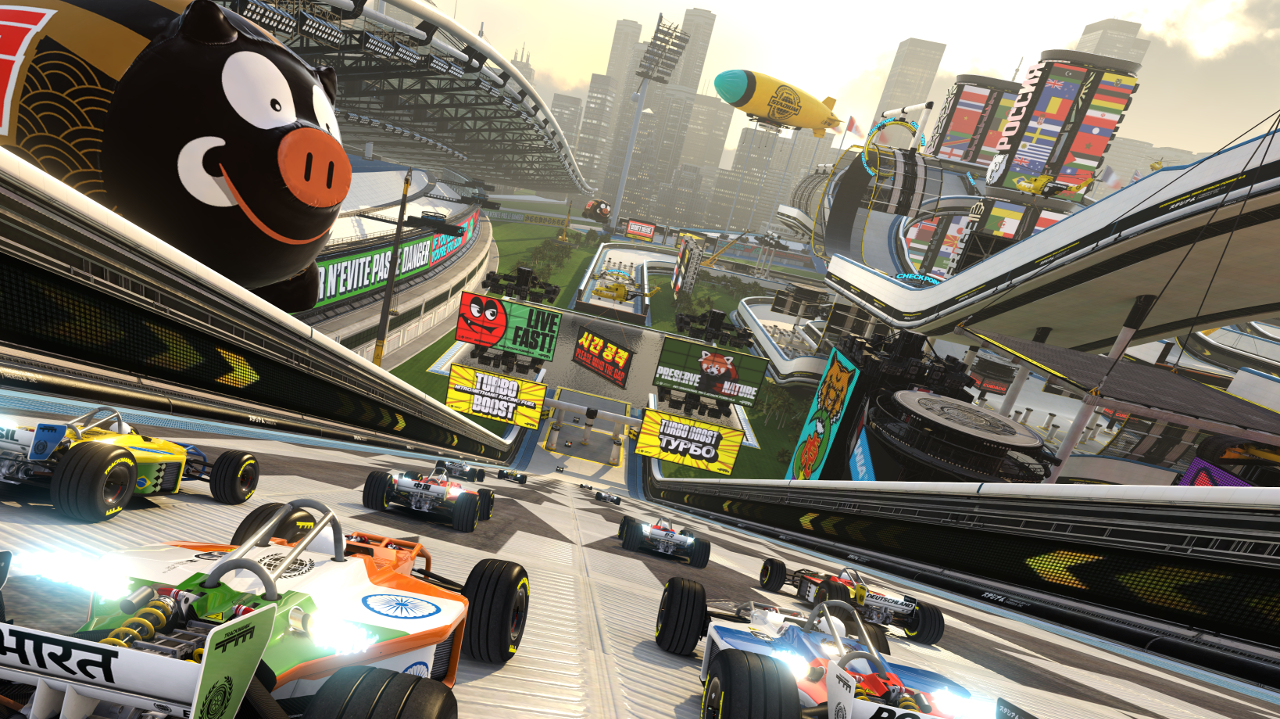 With the success of Rocket League the hunt is now on for competitive games that appeal to wide audiences – those that may break out of the particular genre they are considered within and reach greater numbers of consumers. One such game that could fit the bill is Trackmania Turbo which released today on PlayStation 4, Xbox One, and PC for $40. The game just came out of an open beta where the impressions were generally positive.
Trackmania Turbo is an arcade-style racer similar in nature to the well-regarded Trials series (which instead features motorbikes) based on addictive time-based objectives and competition working up the leaderboards. In addition to the four environments built for the game it includes a track builder and sharing feature. Trackmania has actually been around since 2003 with several releases since then but this is the first time making the jump to consoles. 
4 ENVIRONMENTS, 4 DIFFERENT GAMEPLAYS
Rollercoaster Lagoon
Defy gravity in a tropical paradise, racing through sunny beaches and magnetic rollercoaster tracks.
International Stadium
Use your precision driving skills to master the tracks of this indoor worldwide competition.
Canyon Grand Drift
Drift your way through the narrow tracks of this North American landscape.
Down & Dirty Valley
Use air control and jump through the hills in an immersive countryside setting.
CAMPAIGN MODE
Test your skills, win medals, unlock up to 200 unique tracks in over 5 difficulty levels, and progress in worldwide rankings.
DOUBLE DRIVER
You don't have to take on the Trackmania Turbo challenges alone. Team up with a friend and control one car with two controllers. Beware! Communication and synchronization are key to success, or you'll crash.
TRACKBUILDER
Play with this intuitive toolbox to design your own crazy outlandish tracks or spice up your experience by generating random ones. Save and share your best tracks to challenge other players.
SYSTEMIC MUSIC
In Trackmania Turbo the music is linked to your racing experience, and it enhances your gameplay by creating variations of intensity & dramatic drops. The music changes as you pass though checkpoints, trigger drifts or achieve jumps, making every race completely unique.