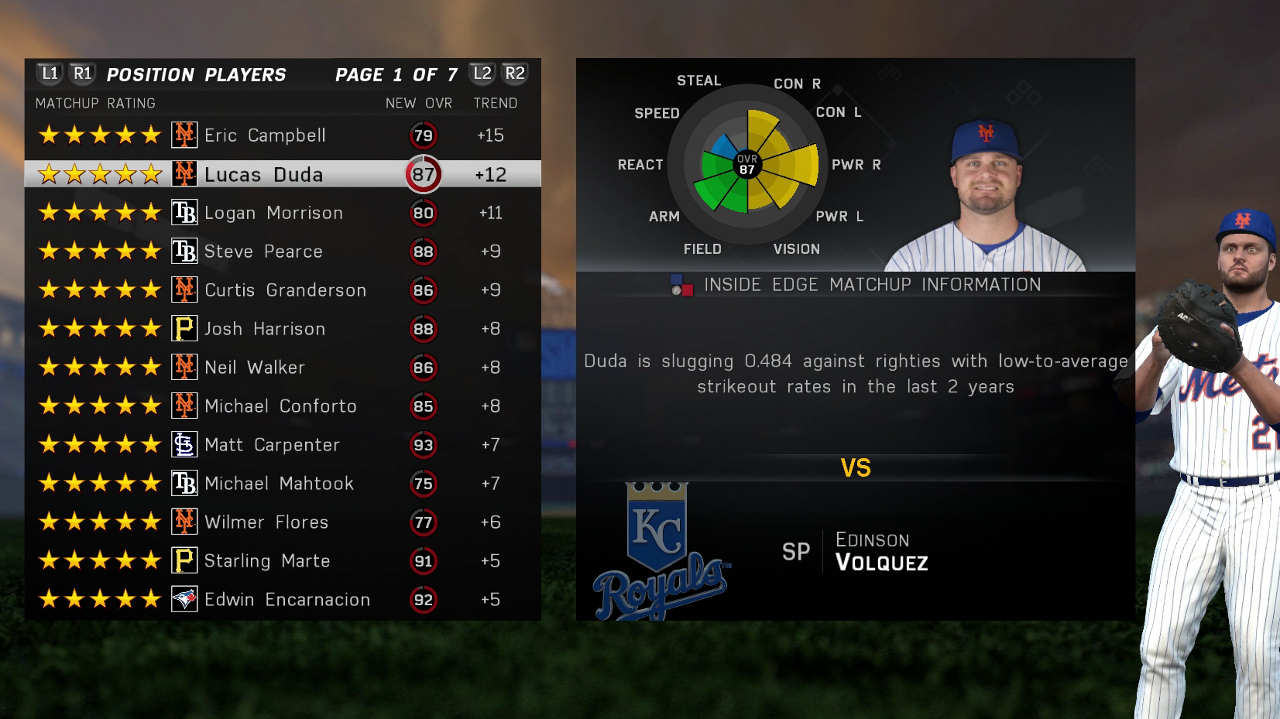 One of the new features this year in MLB The Show 16 is Inside Edge which provides daily ratings adjustments. Based on that particular day's matchups and/or trends a player could see certain ratings temporarily boosted or dropped when using "Daily Rosters" in Play Now and with Diamond Dynasty including the Battle Royale and Conquest modes.
Inside Edge is already influencing many players currently based off Opening Day projections. It's intriguing to see what stats are being cited as the reasoning for the changes, and while a lot of them make sense it's clear there are some issues that need to be ironed out. 
For the purposes of assessing the Inside Edge changes we'll assume the stats being used as justification are in fact accurate. First let's take a look at some of the players that have moved up or down as the feature intended.
Logan Morrison (+11)
"Morrison is slugging .467 against top-tier righties (Marcus Stroman) in the last two years."
Matt Carpenter (+7)
"Carpenter preforms at above average rates in many of the matchup categories today vs Francisco Liriano."
Jung Ho Kang (+5)
"Slugging .640 against pitchers with similar repertoires as Adam Wainright in the last two years."
Chris Archer (+5)
"Current Blue Jays hitters are batting .158 in last 146 ABs against Archer."
Jose Bautista (+4)
"Slugging .554 against righties with high strikeout rates (Chris Archer) in the last two seasons."
Edinson Volquez (-6)
"RHPs with average ground ball rates had an ERA of 4.27 against the Mets last season."
Now, here are examples of players that have had their ratings adjusted but with apparent flawed or questionable reasoning. The majority of the inconsistencies seem to be with the pitchers. Inside Edge isn't interpreting OPS against properly, dropping the ratings of pitchers with phenomenal OPS against numbers, and decent ERAs and average against are being punished more harshly than one might anticipate while stats like WHIP aren't being referenced at all.
Eric Campbell (+15)
"Campbell is batting (.364) 4-11."
It's unclear where this stat is coming from and such a small sample size shouldn't move someone 15 points regardless.
Lucas Duda (+12)
"Duda is slugging .484 against righties with low-to-average strikeout rates (Edinson Volquez) in the last two years."
Last season Duda slugged .486 yet he's been moved up dramatically despite going into a matchup with basically the same SLG percentage he had over the course of a whole season.
Wade Davis (-10)
"Opponents have an OPS of .491 against Davis when he's pitching at home the last 2 years."
This is a fantastic OPS against. It's better than the .507 that Jake Arrieta led the league with last season for comparison. He had 8 SOs in 4 shutout innings in the World Series.
Arquimedes Caminero (-9)
"RHPs like Caminero have an ERA of 3.13 against the Cardinals over the past 2 years."
Caminero had an ERA of .362 last season so this would actually seem to favor him but he took a 9 point hit instead.
Mark Melancon (-9)
"Current Cardinals hitters have 107 hits in their last 413 appearances (.259) against Melancon."
Going from an 89 to an 80 based on a .259 average against is pretty brutal.
Antonio Bastardo (-9)
"LHPs like Bastardo have an ERA of 3.62 against the Royals the past 2 years."
Bastardo had a .298 ERA last season and is punished due to other pitchers being .64 higher.
Josh Harrison (+8)
"Matchup data is limited but it favors Adam Wainwright."
So, if the data favors the pitcher Harrison is facing, why is he up 8 points?
Jeurys Familia (-7)
Opponents have an OPS of .470 against Familia when on the road the past two years.
Like Wade Davis here Familia takes a ratings hit for having a spectacular OPS against. He was a better pitcher on the road than he was at home last season.
So while Inside Edge will definitely add something new to MLB The Show on a daily basis by affecting strategy within Diamond Dynasty mode there's some work to be done getting it properly implemented. The good thing is that, even when Inside Edge makes mistakes, players shouldn't be stuck with the ratings changes for very long.