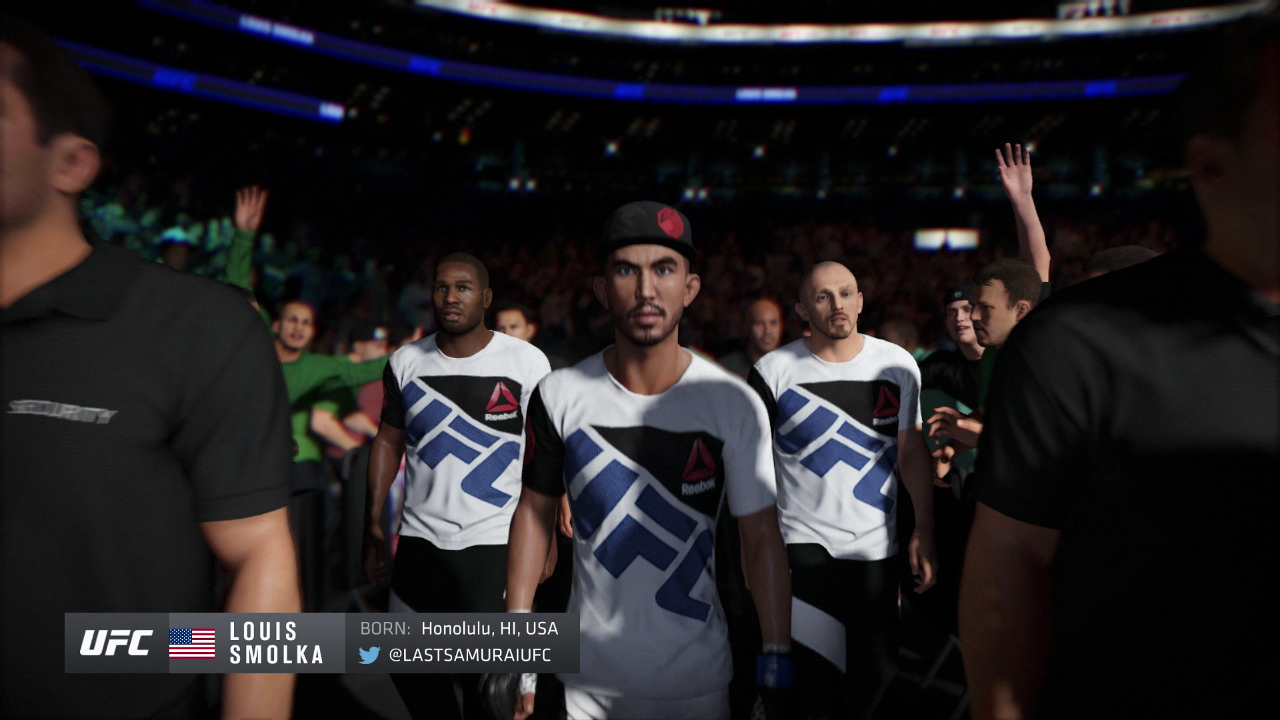 A new patch went out today for EA Sports UFC 2 and it takes into account feedback related to gameplay with the changes that have been implemented. It represents the second update for the game with the earlier one having added three fighters to the roster.
In addition to the work done to gameplay, two new fighters have been added to the roster, a new card exchange system has been introduced into Ultimate Team, and created fighters can now be edited at any point during Career Mode or in Ultimate Team. 
Fighters
Patrick Cote
Welterweight – 87 Overall (90 Standup, 85 Clinch, 82 Ground)
Louis Smolka
Flyweight – 88 Overall (88 Standup, 83 Clinch, 88 Ground)
Features
All-New Item Exchange
A brand new way for you to get more powerful items in UFC Ultimate Team. Exchange five (5) items in your Collection for a brand new random item that is a level higher. Exchange better items for a higher chance of getting rare fighter showcase moves items.
♦Added the ability to edit a created fighter's appearance at any time in Ultimate Team and Career Mode.
♦Added the display of the winning move, the player's best move and the opponent's best move after an Ultimate Team fight in the post-fight menu.
♦Added the ability to view more details about the fighters in Live Event fights.
Gameplay
♦Clinch attempts reduced in speed making them easier to deny
♦Getting clinch attempt denied now incurs a much larger stamina penalty
♦Fixed a bug where early or pre-emptive standing TD denials didn't punish stamina on the fighter who was denied
♦Elbows and punches in muay thai clinch will no longer interrupt transition attempts
♦In sprawl the bottom fighter will now slowly accumulate grapple advantage
♦Bottom fighter given grapple advantage after escaping finish the fight into back side control
♦Bottom fighter transition to side control from back side will no longer be interrupted by strikes
♦Increased grapple advantage given to bottom fighter while top fighter strikes in side control
♦Made passing guard from postured down position more difficult
♦To maintain balance submissions from bottom guard have been made a little harder to pull off
♦If a parry is mistimed, block will no longer be activated automatically
♦Swaying away from the opponent will put the fighter at risk for higher body damage
♦New strike intercept framework
♦When two opposing strikes land in quick succession, the 1st will take power off the 2nd
♦Reduced damage on consecutive uppercut combos
♦AI logic, submission and game plan tuning
♦Stockton Slap added for the Diaz brothers
♦Updated Attribute/Perks/Movesets for various fighters
—————————————————————–
While the first UFC game from the publisher was a major disappointment they supported it well over the course of nine months, which was something that could be done because it's not a franchise being released annually. Other than seemingly not addressing the inability to rush hurt opponents and submissions being a non-factor this is a good start for the sequel which was met by a much more positive response but still hasn't seemed to catch on with consumers.