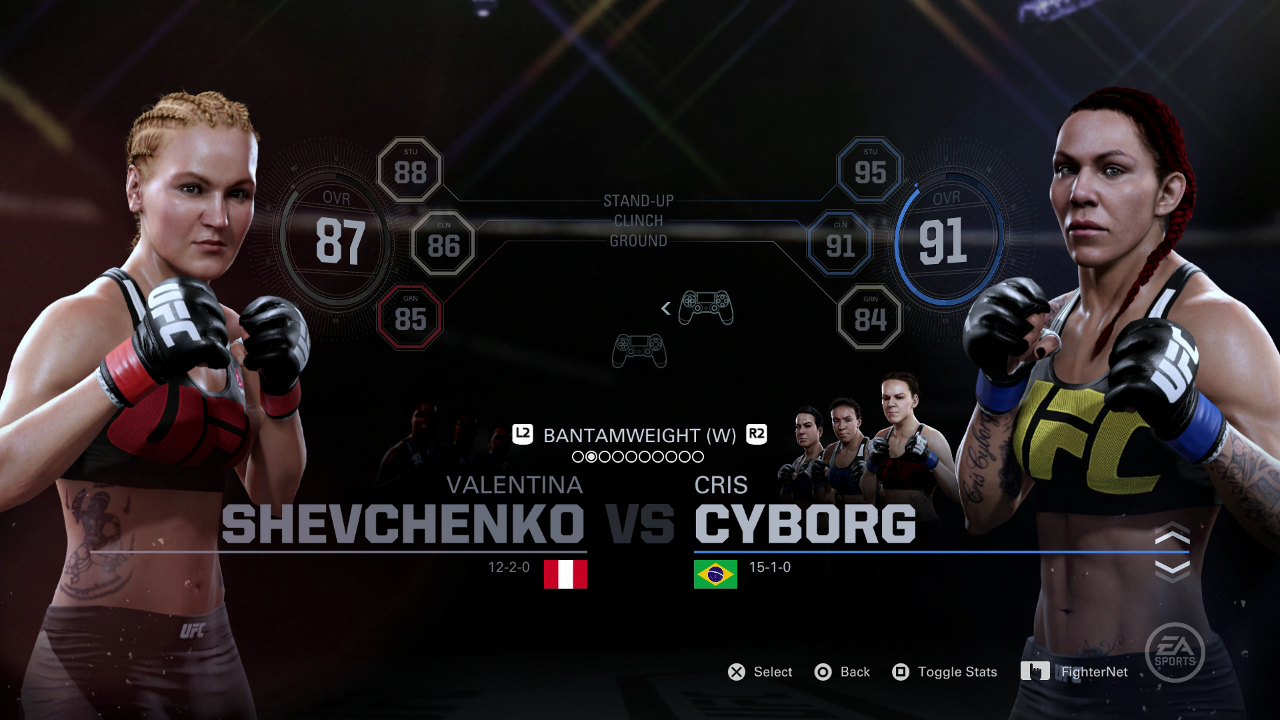 With a new update to EA Sports UFC 2 the number of fighters that have been added to the game's already enormous roster has now gone to seven.
Cris Cyborg – Women's Bantamweight
91 Overall: 95 Stand-Up, 91 Clinch, 84 Ground
Best Attributes: Blocking, Punch Speed, Kick Speed, Takedown Defense, Clinch Grappling
Fighter Perks: Heavy Hands, Negative Reinforcement, Thai Terror, Razor Elbows, Vengeful
Valentina Shevchenko – Women's Bantamweight
87 Overall: 88 Stand-Up, 86 Clinch, 85 Ground
Best Attributes: Kick Speed, Movement, Blocking, Clinch Grappling, Toughness
Fighter Perks: Pay to Miss, Head Hunter, Thai Terror
Albert Tumenov – Welterweight
87 Overall: 89 Stand-Up, 83 Clinch, 83 Ground
Best Attributes: Takedown Defense, Choke Defense, Joint Defense, Stamina
Fighter Perks: Counter Puncher, Fluidity, Head Hunter, Negative Reinforcement
Gameplay changes enacted with this EA Sports UFC 2 patch
♦Added third transition for submissive fighter in Back Sitting.
♦Block will not come back up automatically after a missed parry, or a timed out parry.
♦Liver Health Event allows high or low blocking.
♦Addressed issue where spamming transition fakes on the ground would regain stamina.
♦Addressed double stamina tax when opponent sprawls on user's takedown.
♦Addressed issue where denial stamina penalty applied when struck out of takedown.
♦General AI Improvements.
♦General Referee Improvements.