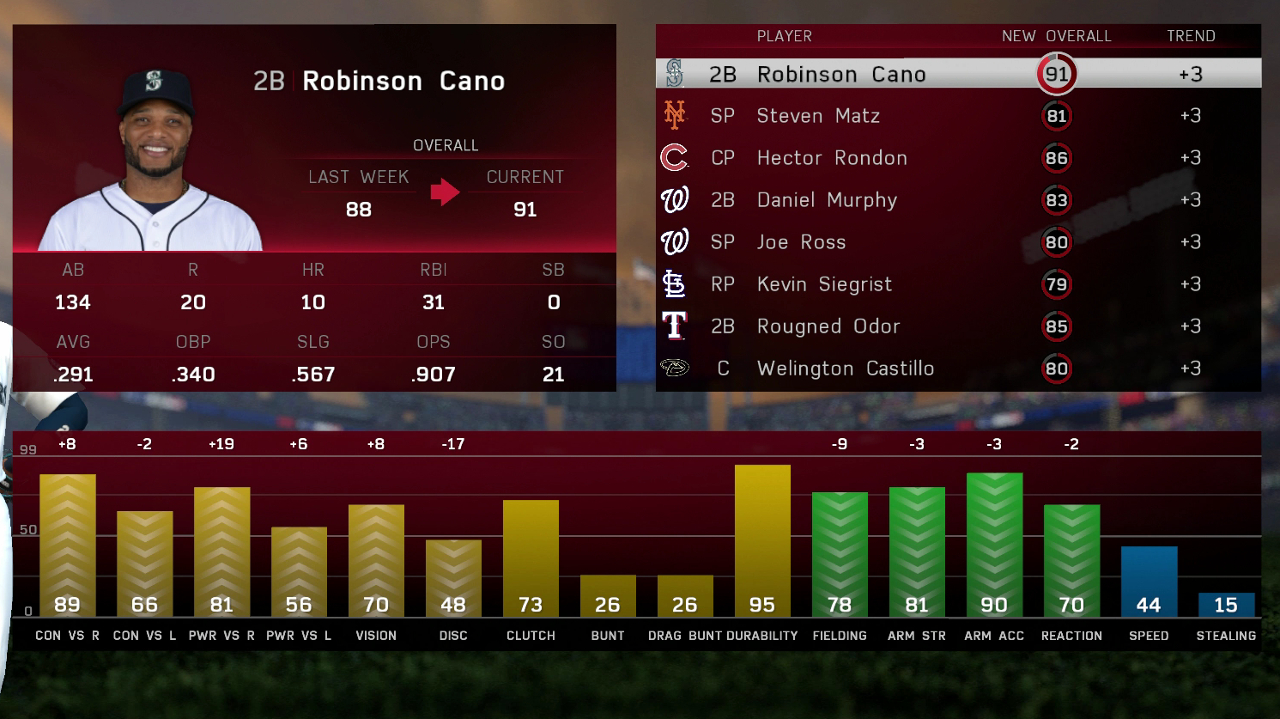 There's a new roster update out for MLB The Show 16 for this week and some big-name players have received ratings adjustments.
Benefiting the most from the update is Robinson Cano (+3 to 91) having played at an MVP level so far this season. He leads the league in RBIs (33) and is second in home runs (12). He rose 19 points in Power vs Righties, 8 points in Vision, and 6 points in Power vs Lefties. However he also lost 17 points in Plate Discipline and inexplicably fell by 9 points in Fielding. 
Two stars on a downward slide early this season are Miguel Cabrera (-2 to 94) and Paul Goldschmidt (-1 to 95). Cabrera is well below his career batting average, on-base, and slugging with his power continuing to fade. Ratings affected in the update are Power and Contact vs Lefties both of which dropped by 4 points and Contact vs Righties by 2 points. Goldschmidt is batting just .240 this season and lost 3 points in Contact vs Righties and 4 points in Vision.
Other notable movers in the update include Anthony Rizzo (+1 to 93), Yoenis Cespedes (+1 to 89), Hector Rondon (+3 to 86), Dexter Fowler (+4 to 85), Rougned Odor (+3 to 85), Christian Yelich (+5 to 84), Brandon Belt (+6 to 83), Jake McGee (-4 to 83), Evan Longoria (-2 to 83), Jason Heyward (-2 to 83), Stephen Piscotty (+4 to 81), and James Shields (-3 to 81) who will forever be remembered as the pitcher who gave up a home run to Bartolo Colon.
New Rookies
Andy Burns, 3B, Blue Jays. 65 Overall, B Potential
Ben Gamel, OF, Yankees. 64 Overall, B Potential
Zac Curtis, RP, Diamondbacks. 60 Overall, B Potential
J.B. Wendelken, RP, Athletics. 59 Overall, B Potential
Pat Dean, RP, Twins. 58 Overall, B Potential
Albert Suarez, RP, Giants. 57 Overall, B Potential