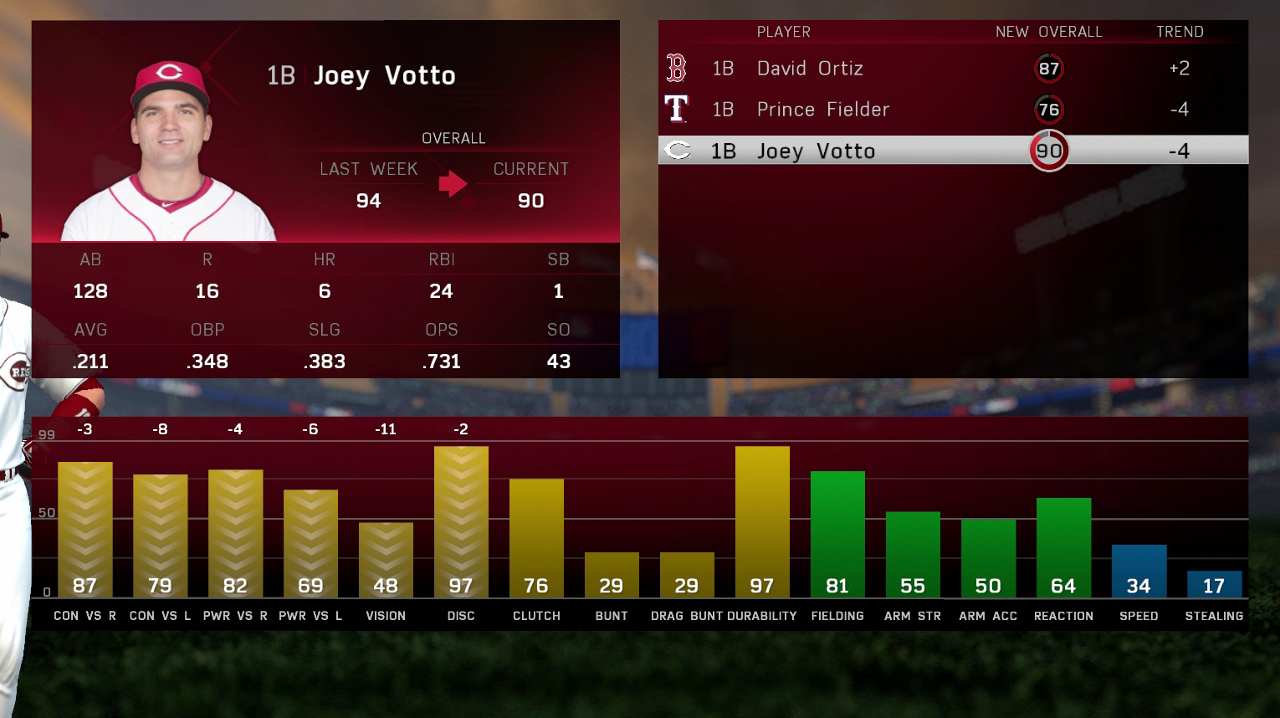 The latest roster update for MLB The Show 16 went out early this morning. The biggest movers are those on the way down, with some big name players taking a major hit to their attributes.
Joey Votto has plummeted to 90 Overall which drops him out of the Diamond tier, having lost considerable points in Vision and both Contact and Power categories. He's batting just .215 on the season and on pace for nearly 180 strikeouts. Justin Upton fell 8 points to 77 though a portion of that is just related to a position change. Down 10 points in Vision and 13 in Discipline are where he took the biggest hits. He's on pace to strikeout over 250 times!
Bryce Harper has lost the 99 rating he earned earlier this month. He was dinged heavily in Vision (-18), Contact vs Lefties (-9), and Contact for Righties (-8). He's batting just .200 for the month of May but with high on-base percentage due to all the walks he's been taking.
Other notable changes include Andrew Miller (+1 to 92), Ben Zobrist (+3 to 87), David Ortiz (+2 to 87), Ian Kinsler (+2 to 87), Carlos Gonzalez (-2 to 87), Nelson Cruz (-2 to 87), Aaron Nola (+3 to 86), Odubel Herrera (+3 to 83), Howie Kendrick (+5 to 82), Jackie Bradley Jr. (+3 to 81), Nick Castellanos (+3 to 81), Mark Trumbo (+2 to 80), Trayce Thompson (+8 to 78), Prince Fielder (-4 to 76), and Jason Grilli (-5 to 76).
New Rookies
Tony Kemp, 2B, Astros. 73 Overall, A Potential
Alen Hanson, 2B, Pirates. 71 Overall, A Potential
Matt Reynolds, SS, Mets. 67 Overall, B Potential
Colin Moran, 3B, Astros. 65 Overall, A Potential
Tommy Joseph, 1B, Phillies. 61 Overall, B Potential
Tayron Guerrero, RP, Padres. 60 Overall, B Potential
Jarlin Garcia, RP, Marlins. 60 Overall, B Potential
Matt Purke, RP, White Sox. 58 Overall, B Potential
Dean Kiekhafer, RP, Cardinals. 54 Overall, B Potential