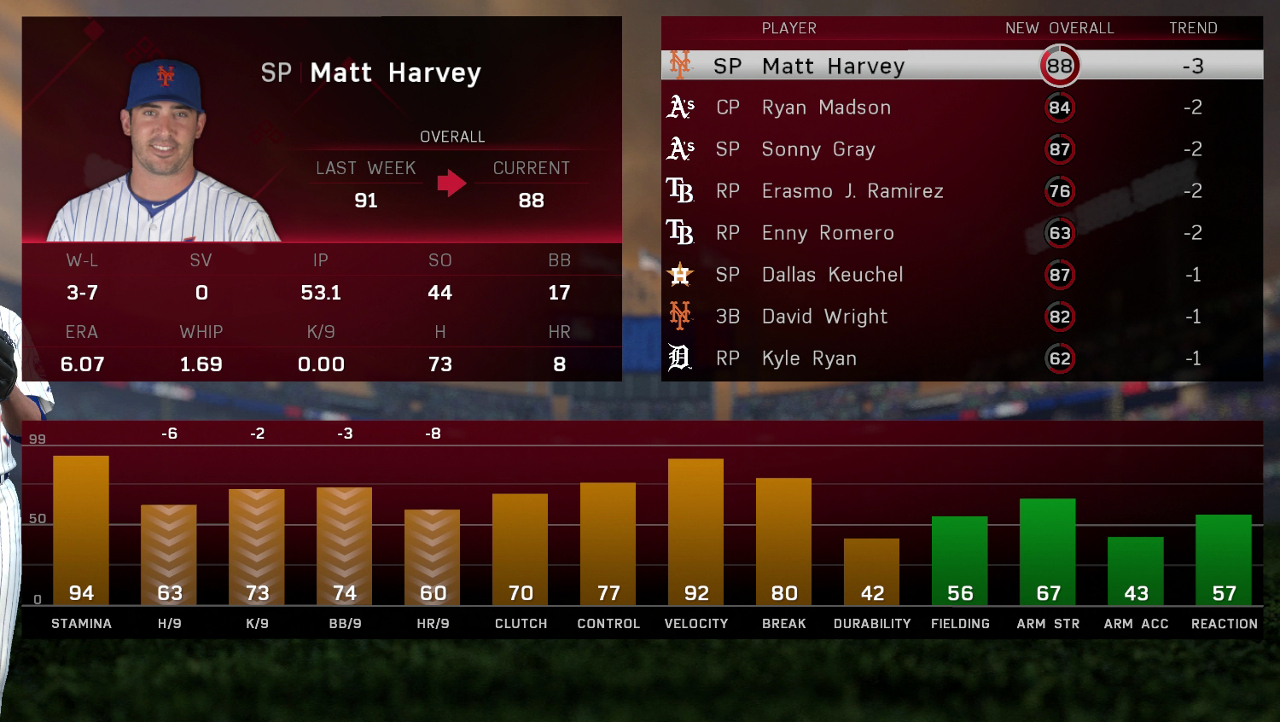 Some big name starting pitchers have taken a hit to their ratings with the latest roster update for MLB The Show 16. Matt Harvey, Sonny Gray, and Dallas Keuchel have struggled mightily early this season and their attributes are now beginning to reflect that.
Harvey is one of the players that has disappointed the most this year. He's 3-7 with a 6.08 ERA and 1.69 WHIP. After opening MLB 16 with a rating of 94 he has now dropped to 88.
Gray is now down 5 points from where he began the season and recently went to the DL. He's 3-5 with a 6.19 ERA and 1.65 WHIP. This week he lost 6 points to BB/9 and 5 to K/9.
Keuchel, the reigning AL Cy Young, is now down 4 points from where he began the season.  He's 2-6 with a 5.92 ERA and 1.59 WHIP. This week he dropped 7 points in the HR/9 category.
Other notable players affected this week include Daniel Murphy (+3 to 86), Jonathan Lucroy (+3 to 85), Ryan Madson (-2 to 84), Vince Velasquez (+2 to 82), Jay Bruce (+3 to 81), Yangervis Solarte (+2 to 81), Steve Pearce (+2 to 81), Russell Martin (-3 to 81), Matt Holliday (-4 to 80), Alexei Ramirez (-5 to 78), and Howie Kendrick (-5 to 77).
New rookies include Jared Hoying (Rangers OF, 70 Overall, B Potential), Whit Merrifield (Royals 2B, 69 Overall, B Potential), and Cesar Vargas (Padres SP, 65 Overall, B Potential).
Additionally some new cards have been added to the player pool. Robin Yount (93), Ian Desmond (88), Asdrubal Cabrera (86), Andrelton Simmons (85), and Matt Carpenter (82).