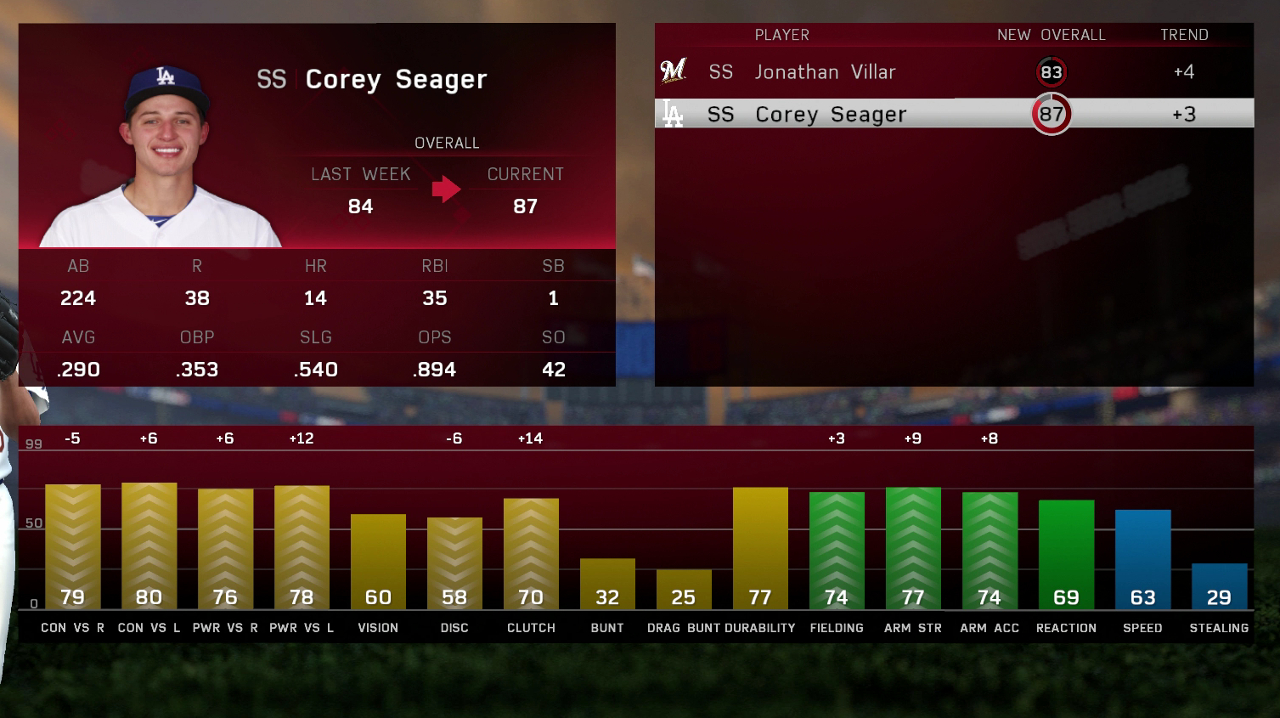 The latest roster update has just gone out for MLB The Show 16. In moving up 3 points to 87 Overall, Corey Seager is one of the big winners this week. He's batting .283 with 14 HR on the year and has been given boosts of 14 to Clutch, 12 to Power vs Righties, and 6 to both Contact vs Lefties and Power vs Righties. The increases haven't been limited to when he's at the plate though, as he's also gone up 9 in Arm Strength, 8 in Arm Accuracy, and 3 in Fielding.
Evan Longoria has also received a 3 point increase and now stands at 86 Overall. He had a big month of May in which he hit .292 with 5 HR and 16 RBI and has gone up 9 in Contact vs Righties, 8 in Power vs Righties, and 4 in Plate Discipline.
Adrian Gonzalez has taken the most significant hit the of the week to his ratings in going down 4 points to 83 Overall. He dropped 11 in Power vs Righties, 6 in both Contact vs Righties and Vision, and 3 in Power vs Lefties. While his average of .280 is about where he's been the past few seasons in LA he only has 5 HR on the season. He did however receive a boost of 13 to Plate Discipline.
Another big one to drop is Alex Rodriguez down 6 points to 77 Overall. He's plummeted by 23 in Plate Discipline, 14 in Vision, 12 in Power vs Righties and 8 in Contact vs Righties. In limited plate appearances this season he's struggled mightily to produce.
Other notable movers include Josh Donaldson (-1 to 95), Jose Fernandez (+1 to 94), Noah Syndergaard (+1 to 94), Jon Lester (+2 to 90), Kris Bryant (+1 to 89), Matt Carpenter (+2 to 88), Chris Davis (-2 to 86), Drew Pomeranz (+3 to 85), Rich Hill (+2 to 85), Jonathan Villar (+4 to 83), Sam Dyson (+4 to 82), Michael Fulmer (+5 to 78), and Howie Kendrick (-5 to 72).
New to the player pool in Diamond Dynasty are Postseason Adam Wainwright (99 Overall), Rookie Aroldis Chapman (92 Overall), Prime Victor Martinez (91 Overall), Prime Rajai Davis (87 Overall), and Rookie Joe Mauer (79 Overall).