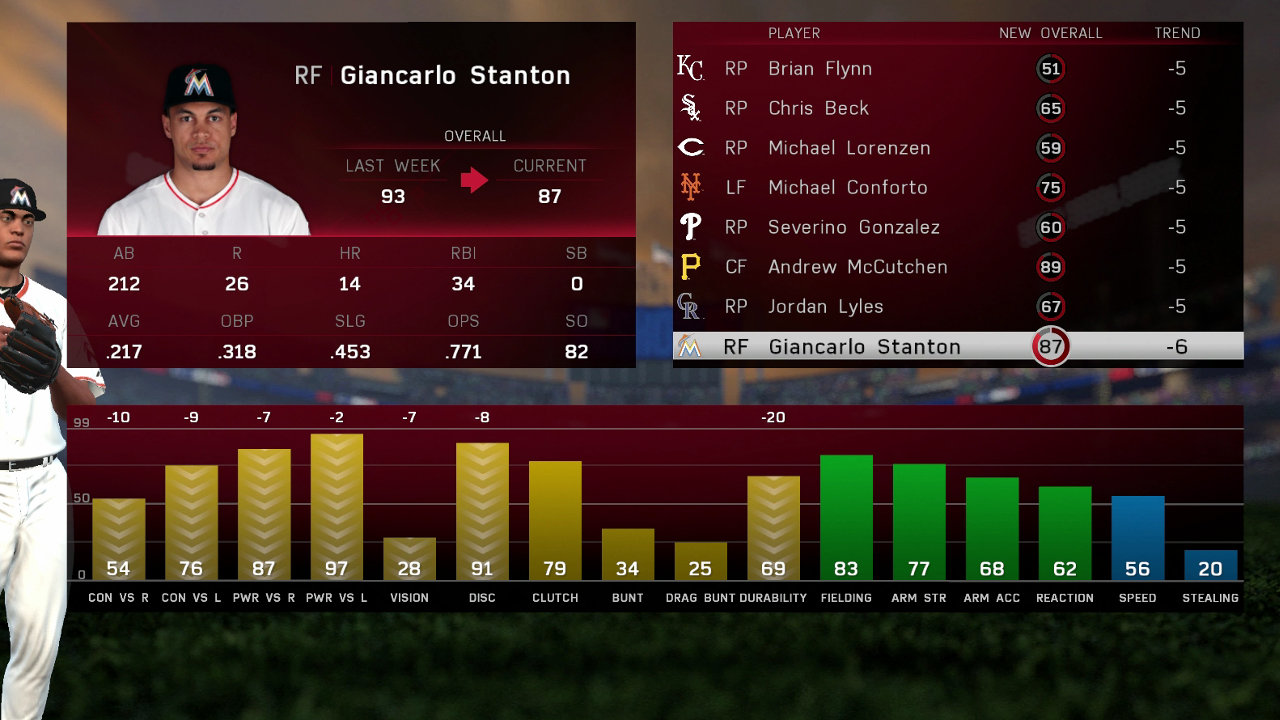 The latest roster update for MLB The Show 16 looks to be a course correction for a number of players who have disappointed this season or are far exceeding expectations. There are also some new cards for Diamond Dynasty that will be among the most desired in the mode.
Giancarlo Stanton has plummeted going down 6 points to 87 Overall. What had been an excessively overdue need for a change to his ratings, which hadn't been touched at all this season, was pointed out last week. It's a crushing blow to his Diamond Dynasty card with Durability (-20), Contact vs Righties (-10), Contact vs Lefties (-9), Plate Discipline (-8), Plate Vision (-7), Power vs Righties (-7), and Power vs Lefties (-2). 
Xander Bogaerts began the season rated an 84 and with a 3 point boost today he's now reached Diamond status at 93 Overall. He's batting .351 with 9 HR and 50 RBI and has an OPS of .911 on the season. His Contact ratings can't go much higher, as he got a +1 to Contact vs Righties to 92 but was already at 99 in Contact vs Lefties. However he's received +15 to Stealing (he's swiped 10 bases on the season), +9 to Power vs Lefties, +5 to Power vs Righties, +4 to Plate Discipline, and +4 to Speed.
Andrew McCutchen has struggled this season hitting just .238 with 28 RBI. He's sitting at career-lows in AVG, OBP, SLG, and OPS. That has now led to a 5 point drop to 89 Overall. The attribute breakdown is Plate Discipline (-13), Contact vs Righties (-12), Plate Vision (-11), Power vs Lefties (-9), Speed (-6), and Contact vs Lefties (-5).
Michael Saunders is one of the big risers this week going up 6 points to 83 Overall. Batting .304 on the season with 15 HR, he's coming off a 3 HR, 8 RBI game on June 17 that put him in the spotlight for boosts to his hitting attributes. He received +15 to Power vs Righties, +12 to Power vs Lefties, +5 to Contact vs Righties, and +4 to Contact vs Lefties.
Other notables on the move include Bryce Harper (-2 to 95), Dellin Betances (-1 to 92), Andrew Miller (+1 to 93), Mookie Betts (+2 to 90), Gerrit Cole (-1 to 88), Chris Archer (-2 to 86), Wil Myers (+3 to 85), Ian Desmond (+2 to 85), David Robertson (-3 to 85), Joe Blanton (+9 to 83), Wilson Ramos (+4 to 82), Ichiro Suzuki (+3 to 80), C.C. Sabathia (+4 to 80), Fernando Rodney (+2 to 80), Matt Kemp (-3 to 78), Kolten Wong (-8 to 72), and Carlos Estevez (+12 to 70).
Additionally the set of new Flashback Cards added to the player pool for Diamond Dynasty includes some big-time Primes for Felix Hernandez (97 Overall), Carlos Gonzalez (97), Fernando Rodney (92), Martin Prado (87), Franklin Gutierrez (84), and Rex Brothers (79).