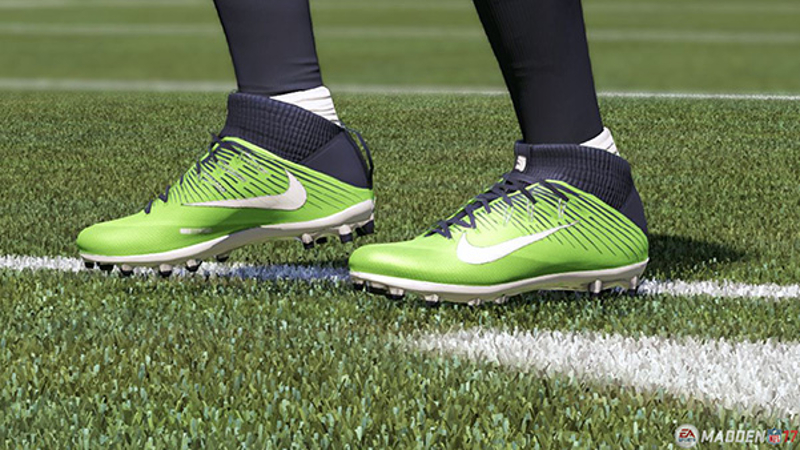 In recent years the Madden franchise has failed to properly represent the equipment that players wear on gameday. It's especially embarrassing when even the covers prominently feature equipment not found in the game.
That's about to change with Madden NFL 17, as a lot of new licensed gear has been added and the equipment carrying over has been scanned in order to look much better. 
New Helmets
Riddell Speed Flex
Schutt Vengeance
Rawlings Tachyon
Updated Helmets
Air XP
Rawlings NRG
Riddell RevoSpeed
Xenith
New Facemasks
Speed Flex 2 Bar
Speed Flex Robot
Speed Flex Robot RB
Speed Flex 3 Bar RB
Speed Flex 3 Bar LB
Speed Flex Fullcage
Vengeance 2 Bar
Vengeance Robot
Vengeance Robot RB
Vengeance 3 Bar RB
Vengeance Fullcage
Revospeed Cage
Revospeed Grid
Riddell 360 Robot
Riddell 360 Robot 2
Riddell 360 3 Bar LB
Riddell 360 Fullcage
Standard Halfcage 2
Updated Facemasks
Standard 3 Bar RB
Standard 3 Bar RB Single
Standard 3 Bar RB Jagged
Standard Bull RB
Standard Fullcage
Standard Fullcage 2
Revo 3 Bar
Revo 3 Bar RB
Revo Robot
Revo Robot 2
Revo Fullcage
Revo Fullcage 2
Revospeed Fullcage 2
Xenith 2 Bar
Xenith Robot
Xenith Robot RB
Xenith 3 Bar RB
Xenith Fullcage
New Gloves
Nike HyperBeast
Nike Vapor Jet
Nike Vapor Jet Knit
Nike SuperBad
Under Armour Swarm
Under Armour F5
Adidas 5 Star 5.0
New Cleats
Nike Vapor Untouchable
Nike Vapor Untouchable 2
Nike Lunar Beast
Nike Zoom Code Elite
Nike Alpha Pro 2 ¾ TD
Nike Vapor Carbon Elite TD
Under Armour Spotlight
Under Armour Brawler
Under Armour Highlight
Under Armour Player Exclusive
Player Exclusive Retro
Adidas Freak X Kevlar
Adidas AdiZero 5 Star
New for Coaches
Nike Drifit Touch Fleece Full-Zip
Nike Elite Coach HZ Sweatshirt
Nike Elite Coach Polo
Nike Elite Coach HZ Full-Zip Hoodie
Nike Elite Hybrid Jacket
Nike Lockdown Jacket
Nike NFL 'Property Of' Circuit Crew
Nike NFL 'Property Of' Circuit Pant
Nike Performance Practice Hoodie
Nike Modern Crew
Nike Hooded Sweatshirt
Nike Free Trainer 5V6 Shoe
Other Changes
♦One-Arm Sleeves: These will be set on each player that wears this style via the default roster so the players in Madden will match their real-world counterparts; these sleeves can also be customized when editing and creating players.
♦Updated Wrist-Tape Options: Black, Team Primary Color and Team Secondary
♦Updated the Ankle-Tape Options: Re-named them to 'Half-Spat' and 'Full-Spat'
♦All the new sleeves, gloves and shoes are set-up for color-swapping to match each team's primary and secondary colors, as well as black and white.