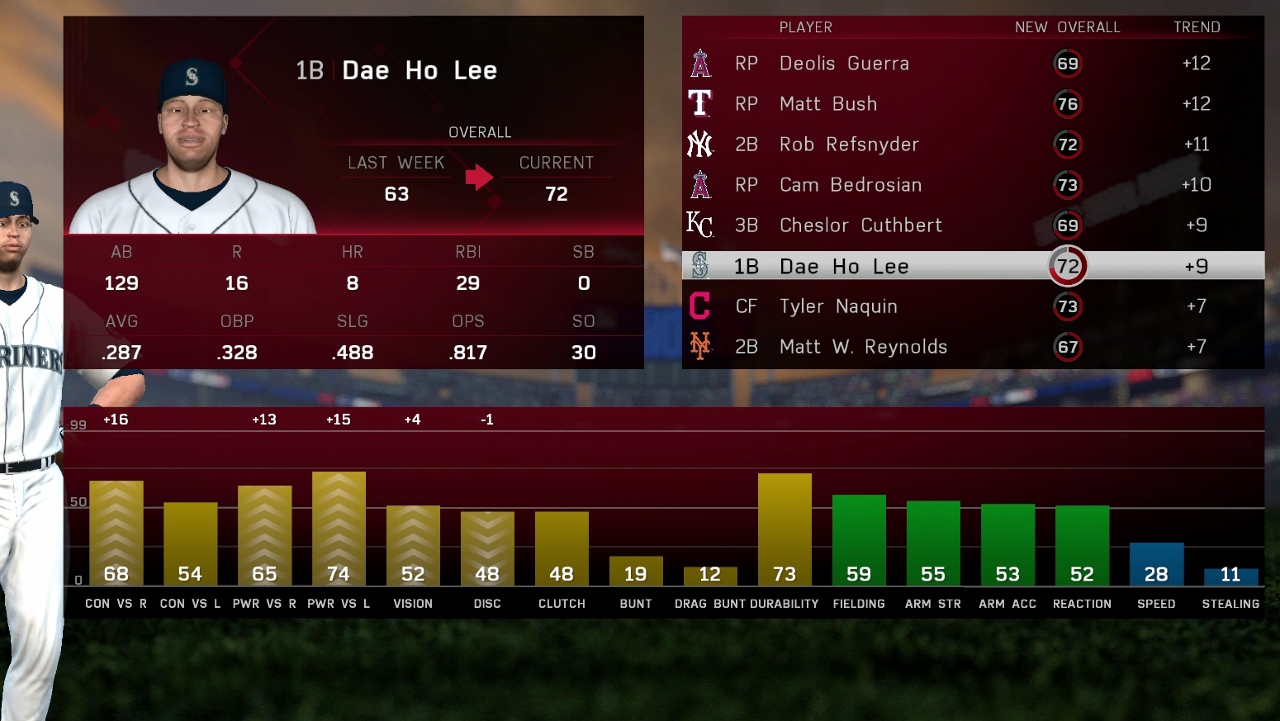 In following an update that included some massive shifts in ratings this week's changes in MLB The Show 16 don't come across quite as impactful. No players were bumped to reach the Gold or Diamond tiers, and only one player fell out of the latter and into the former. 
Dae-Ho Lee was long overdue for some ratings upgrades after not having been touched since his introduction into the game in mid-April. He's gone up 9 points to 72 Overall with big shifts to Contact vs Righties (+16), Power vs Lefties (+15), and Power vs Righties (+13). Surprisingly his Contact vs Lefties though remains at a low rating of 54. Overall he's batting .283 with a home run now at every 15 at-bats this season after hitting 323 homers in Korea.
David Price is the one player who tumbled from Diamond to Gold with by dropping 2 points to 91 Overall. That comes from a 10 point drop in the HR/9 category. Price has given up 15 home runs this season and that's just 2 away from reaching his total for last year.
Kris Bryant gets a strong move up gaining 2 points to 91 Overall. For batting .275 with 21 homers this season he's been rewarded with Power vs Lefties (+9), Power vs Righties (+6), and both Contact vs Lefties and Plate Vision (+3).
Other notable movers include Josh Donaldson (+1 to 96), Jose Fernandez (+1 to 95), Jake Arrieta (-1 to 95), Madison Bumgarner (+1 to 94), Jay Bruce (+2 to 83), Adam Warren (+4 to 81), Trevor Bauer (+4 to 80), Patrick Corbin (-3 to 79), Clay Buchholz (-3 to 77), Matt Bush (+12 to 76), Tyler Naquin (+7 to 73), and Cam Bedrosian (+10 to 73).
New Flashback cards added to the Diamond Dynasty player pool this week are Prime versions of Troy Tulowitzki (99 Overall) and Tim Lincecum (97), and Rookie Troy Tulowitzki (88) and Tim Lincecum (83).