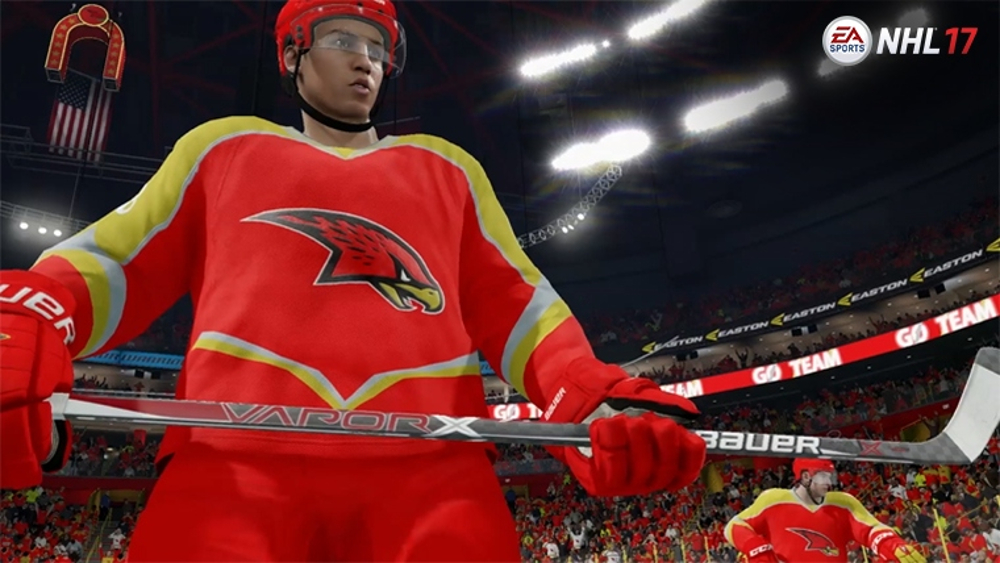 EA Sports today revealed a large number of enhancements and additions coming to the popular EASHL online mode in NHL 17. They include team customization, player and club progression, new player classes, and much more. 
Please enable Javascript to watch this video
Player and Club Progression
Competing in EASHL games will earn you EXP for you player and club, winning games and earning milestone badges get you leveling up even quicker. As you level up and earn badges you will unlock customization items for your player and/or club, such as goal celebrations, new hair styles, jersey styles, shoulder patches and more.
Once you progress past Level 50 for the first time, you will earn Prestige 1 and start at Level 1. Your progression continues from there as you unlock prestigious items for your player and team as you strive for the maximum level of Prestige 3 – Level 50.
The success you have on the ice also affects your Competitive Player Rating which helps rank players in the EASHL community and ensures that you'll always find fair, competitive matchups in both club and drop in games.
Customization
EASHL Team Editor
Use the all-new team customization tool in Creation Zone to make your team into a brand by editing your team's uniform, pants, socks, shoulder patches and logos to build your unique EASHL team identity. With thousands of different possible combinations, this is your chance to make your team stand out from the rest of the hockey world.
EASHL Arena Progression
As you play games in EASHL you will level up your club to earn more arena customization options. When you first create your team, you'll have access to two brand new community rinks which are only available in EASHL. From there you can unlock larger arenas as well as customize options like scoreboards, goal songs, LED stanchions, horns and more. As your team gains more experience and unlocks more customizable options, your team arena can evolve from a low-tech community rink to the latest NHL-caliber arena.
*You will be able to use the Create Team/Create Arena feature outside of EASHL and that will not need you to unlock said content.
EASHL Arena Types
Junior Arena: Large enough to seat several thousand fans and allows for a significant amount of customization such as entry props and LED stanchion effects.
Semi-Pro Stadium: Here is when you start to feel like a professional hockey team. A semi-pro stadium allows for a larger capacity crowd and even more customization options.
Pro Stadium: There are 10 different pro stadiums to unlock and these arenas allow for the biggest crowds and the most amount of customization options such as scoreboards and signature effects.
Player Classes
Returning to EA SPORTS Hockey League in NHL 17 is the ability to choose specialized player classes, each with their own strengths and weaknesses. A good team should have a mix of these player classes, with each contributing to a team's success in different ways. This class system helps deliver a balanced competitive experience on the ice, where player skill and your ability to play as a team now determines who wins and loses hockey games.
We will be using the NHL 17 beta to tune both earlier and new player classes, so make sure to give feedback during the beta.
Forward Player Classes
Sniper Forward
Power Forward
Playmaker Forward
Grinder Forward
Enforcer Forward
Two Way Forward
Dangler
Hitting Sniper *NEW
Jumbo Playmaker *NEW
Two Way Dangler *NEW
Defensive Player Classes
Offensive Defenseman
Defensive Defenseman
Two Way Defenseman
Enforcer Defenseman
Puck Moving Defenseman *NEW
Goalie Classes
Butterfly Goalie
Stand-Up Goalie
Hybrid Goalie
ANTI-GRIEFING IMPROVEMENTS
To make our EASHL online experience as fun and accessible as possible, we've listened to community feedback from our social channels and forums and will be implementing the following anti-grieving features for NHL 17.
Goalies Quitting
In EASHL Club games, any game started with two (2) human goalies requires those goalies to finish the game otherwise their team is given a loss. For Drop-in games, any team that has their goalie leave is then replaced with a backup goalie who is smaller and has a lower skill rating to level the playing field.
Improving Team Play
For drop-in games, our Coach Feedback System will keep tabs on your team play grade for skaters and goalies. If you aren't being a good team player and are intentionally creating a poor playing environment for other players the coach may boot you from the game.
Examples of creating a poor playing environment are: going intentionally offside, continuously icing the puck, removing goalies from the net, etc.
Reduced Number of Pauses
We have reduced pauses to one (1) per team regardless of mode or the number of players on the team. Each team will have one (1) 30 second pause. This will not consume your regular timeout that refreshes your lines. We have also surfaced the visual settings option in the limited pause menu so you don't have to use your full pause to make those last-minute camera adjustments. We recommend you make those settings changes in the EASHL HUB so they are active for every EASHL game you play.
Reduced Grace Period Before the Game Counts
Once the puck drops the game is officially on! Any teams that quit as this point earns a loss, while the team still playing earns the win.
GENERAL EASHL IMPROVEMENTS
Improved Matchmaking
New to NHL 17, select the general position you would like to play before starting your matchmaking search. This will help bring players together and allow them to play their desired position. Matchmaking will also factor in your Competitive Gaming Rating to help find the best balance of skill and experience for both teams.
Group Matchmaking
Introducing the new Drop-in Dressing Room that now allows you to invite up to five (5) other friends to join your team for a cooperative yet competitive experience against other drop-in players.
Persistent Game Sessions
Players from the same team will stay in a Dressing Room after the end of each EASHL Drop-In game, to help improve consistency and chemistry between players.
Connection Quality Bar
Connection quality bar will now be highlighted in the pre-game matchup screen.
Real Time Connection Quality
A real-time connection graph will now be highlighted in the pause menu and will show your connection quality from the last two minutes of game time.
Game Server Selection
We will automatically find which game server is best for your entire team based on their ping times to each game server.
Club Invitations
Club GMs can now invite players to join their club by manually entering their friend's profile names or by selecting a profile name in different in-game locations such as leaderboards or the Drop-in Dressing Room. Club GMs can effectively use Drop-in to scout players and recruit them to join their team.
Viewing Club Rosters
You can now select to view another club's roster from within our Leaderboards screens and Recent Games screens.