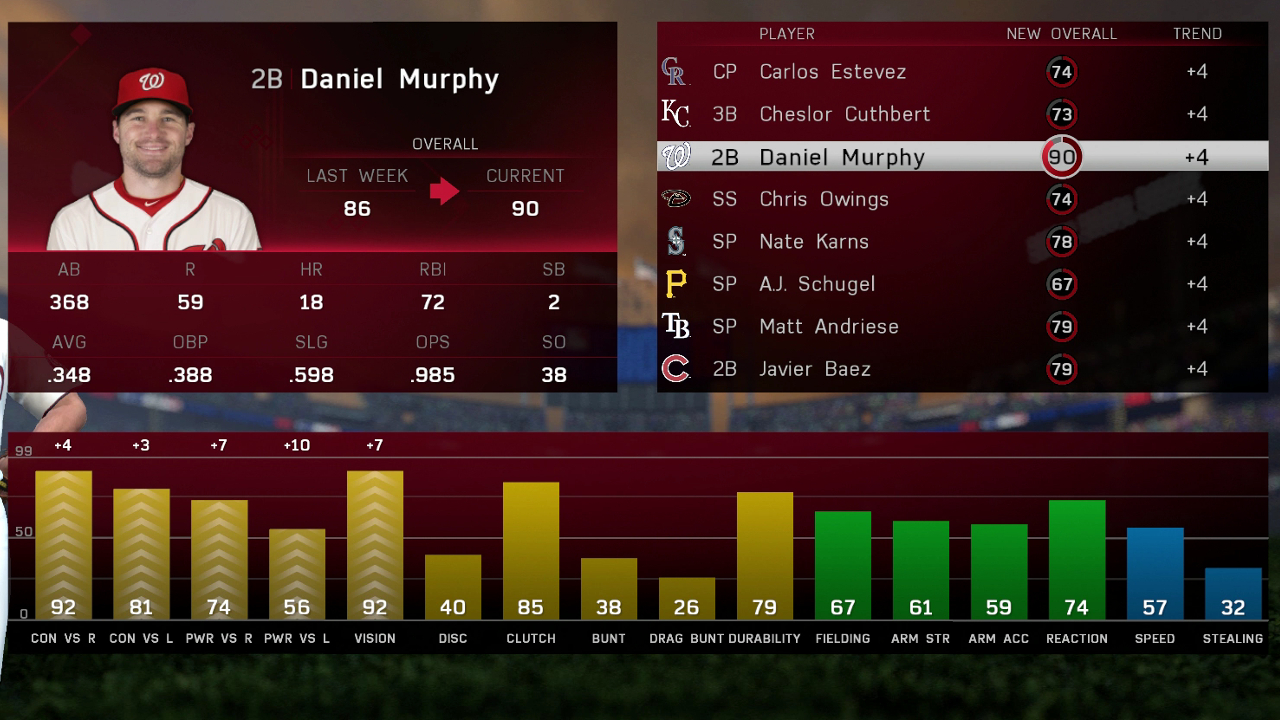 This week's roster update for MLB The Show 16 is an especially notable one as it has delivered all the player trades that occurred in the lead-up to and through the deadline plus some very significant ratings movement. 
The biggest winner this week is Daniel Murphy who's having an MVP-caliber season. He has jumped 4 points all the way up to 90 Overall with many of his hitting attributes boosted.
Blue Jays pitcher Aaron Sanchez is going to remain in a now 6-man starting rotation despite concern over the number of innings he's pitched. There had been an expectation he'd be moved to the bullpen. With innings being so closely monitored Sanchez was dropped 6 points Overall to 78 and made a reliever in the update but the only attribute altered is his stamina which was knocked down 46 points to a rating of 40.
This is yet another roster update gone by without the addition of now Mariners closer Edwin Diaz who made his debut in the majors two months ago. He has an astonishing 53 strikeouts in his first 27 innings but still won't be found anywhere in The Show.
Other movers this week include Zach Britton (+2 to 92), Danny Duffy (+3 to 86), Justin Verlander (+2 to 86), Wilson Ramos (+2 to 84), Drew Pomeranz (-2 to 83), Hisashi Iwakuma (-2 to 82), Will Harris (-4 to 82), Trea Turner (+8 to 81), Cam Bedrosian (+5 to 78), Hernan Perez (+11 to 75), Adam Liberatore (+11 to 75), Brandon Maurer (+5 to 75), Jonathan Papelbon (-5 to 78), and Yasiel Puig (-3 to 76).