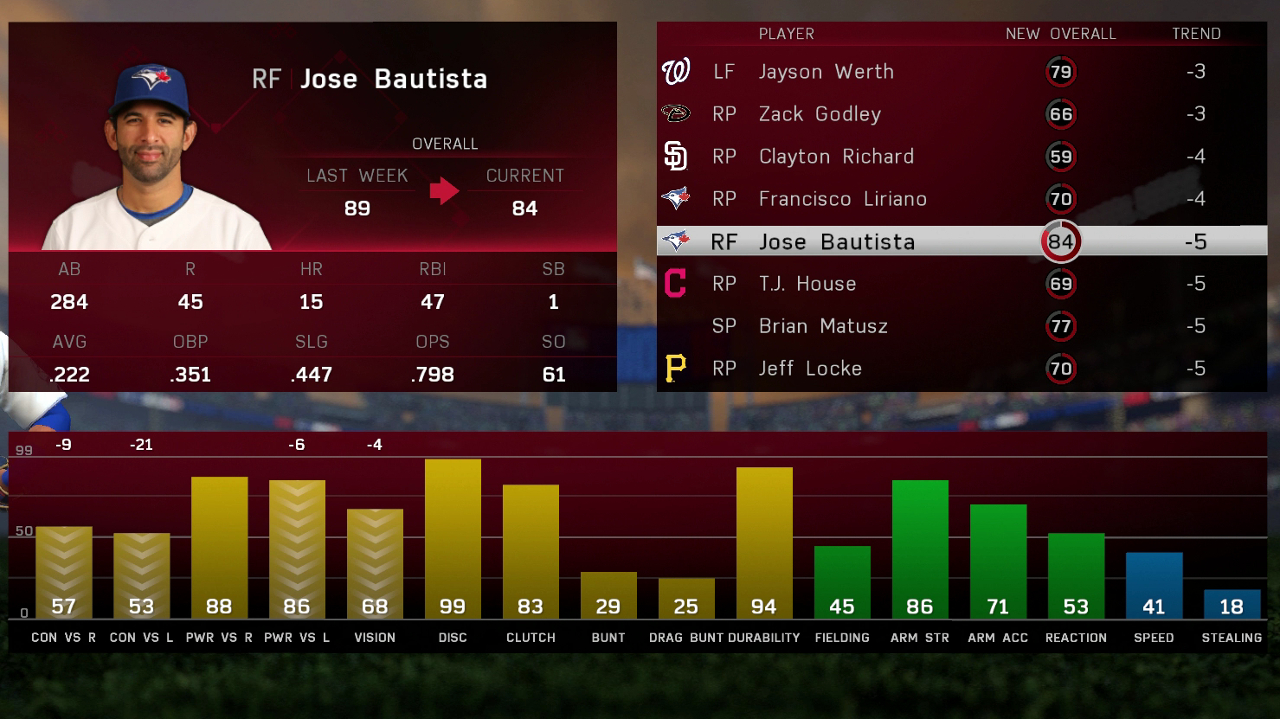 The latest roster update for MLB The Show 16 features a few high-profile players taking a big hit to their ratings. After reaching the rare 99 Overall Rating earlier this season Bryce Harper's decline has been steady. He's dropped 2 more points this week down to 93. He hit just .176 in July and his attributes at the plate in MLB The Show 16 are suffering for it. He's gone down 6 points in Power vs Righties, 5 points in both Contact vs Righties and Lefties, and 2 points in Power vs Lefties. 
Jose Bautista has plummeted 5 points and is now at 84 Overall. His contact ratings have completely crashed, down 21 points to 53 (vs Lefties) and 9 points to 57 (vs Righties). It's been a rough contract year for him hitting .222 and he's just been placed on the DL.
Brian Dozier has gone Gold with the update rising 3 points to 86 Overall. His Contact vs Lefties (+12) and Power vs Righties (+7) is what helped him get over the hump. He's batting at a .326 clip against lefties this season and has 15 homers off righties.
Yet another update and Edwin Diaz, who has burst onto the scene as a rookie setting a record for most strikeouts in the first 31 innings of a career and is now the closer in Seattle, has still not been added to the game. He debuted over two months ago but now it's obvious that there's some snag that is preventing him from appearing – Sony San Diego has yet to comment on what has caused the holdup – and he may never find his way into The Show this year.
Other notable movers this week include Ryan Braun (+2 to 92), Mookie Betts (+2 to 92), Carlos Gonzalez (+2 to 89), Andrew McCutchen (-2 to 87), Justin Turner (+3 to 84), Koji Uehara (-6 to 83), Devon Travis (+5 to 82), Yasmani Grandal (+5 to 80), Mike Napoli (+4 to 80), Jason Werth (-3 to 79), Derek Law (+13 to 77), Tyler Anderson (+11 to 77), Ryan Zimmerman (-6 to 76), and Tim Lincecum (-9 to 68). Aaron Sanchez has been returned to a starter designation after being changed to a reliever last week.