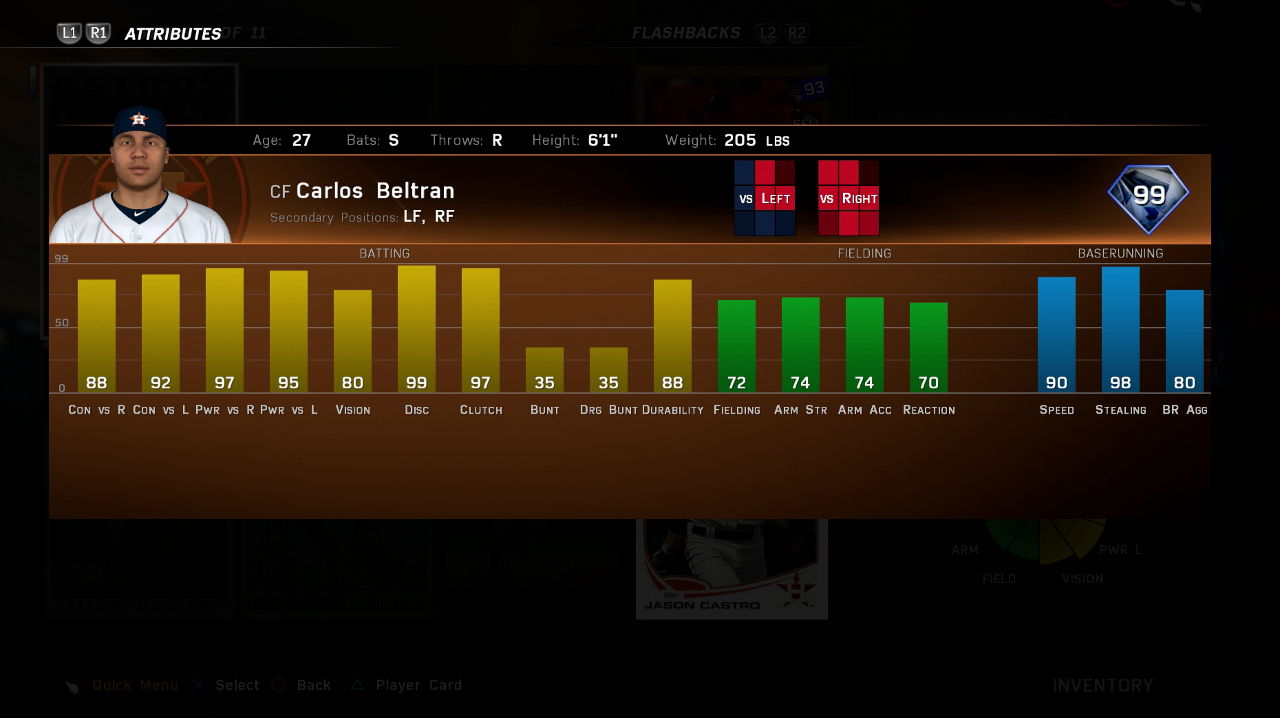 While it's one of the lighter weeks as of late in terms of ratings changes for MLB The Show 16, many new Flashback Cards have made it into Diamond Dynasty with today's roster update.
Mookie Betts has achieved Diamond status by earning a point to get to 93 Overall, while teammate Xander Bogaerts has fallen out of the Diamond tier by dropping 2 points to 91. The move up for Betts in attributes are minor (+3 Power vs R, +2 Power vs L, +1 Con vs R) but it's enough to get him that big Overall point after hitting .368 in July and .403 so far in August. Bogaerts though plummets 13 points in Power vs L and 5 points in Contact vs R. His batting average has dropped every month since May and he's only hitting .180 in August.
Other movers this week include Evan Longoria (+3 to 89), Freddie Freeman (+3 to 87), Wilson Ramos (+2 to 86), Charlie Blackmon (+2 to 86), Eric Hosmer (-3 to 85), Lorenzo Cain (-3 to 85), Rick Porcello (+2 to 84), Salvador Perez (-3 to 82), Brad Miller (+3 to 76), and Matt Boyd (+13 to 72). Edwin Diaz Update: Still no Edwin Diaz.
New cards for the mode include Postseason Carlos Beltran (99 Overall), Prime Josh Hamilton (97), Prime Justin Morneau (95), Legend Bret Saberhagen (94), Prime Kris Medlen (94), Legend Rollie Fingers (93), Rookie Dustin Pedroia (92), Legend Fred McGriff (92), Prime Mike Napoli (89), Rookie Miguel Cabrera (88), Legend Eddie Murray (87), Legend Orlando Cepeda (87), Prime Doug Fister (87), Prime Melvin Upton Jr. (86), and Rookie Josh Hamilton (81).