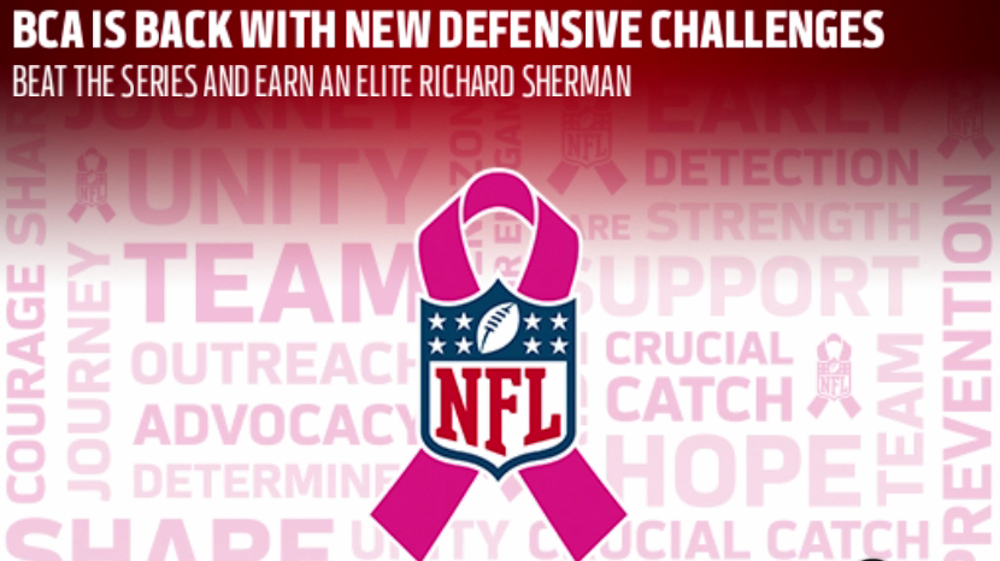 Ultimate Team mode in Madden NFL 17 is coming off the introduction of a terrific way to significantly upgrade teams without having to spend any money by playing through the October Gauntlet. The newest addition is the annual Breast Cancer Awareness promo which also offers considerable rewards.
The BCA program is split into two weeks, with this first one focusing on defense and then next Friday the second phase rolling out for offense. In this defensive week there are 16 challenges to complete that award a total of 21,250 Coins, 6 packs, and an Elite Richard Sherman.
Also new with BCA is the chemistry tied to specific players (requires 4 BCA in active lineup and gives +2 to Strength, Awareness, and Play Recognition) plus Sets that can turn 10 Silver BCA cards into one Gold or 10 Gold cards into an Elite. A final set will accept every defensive BCA player plus the Sherman that's earned through the Solo Challenge in order to acquire an even higher rated version of Sherman.
BCA packs can be purchased from the store for 900 Points, which is the equivalent of $9 and provides 4 Gold or better BCA players. The defensive portion of the promo and all that comes with it ends the morning of the 14th when it'll open up for the offense.