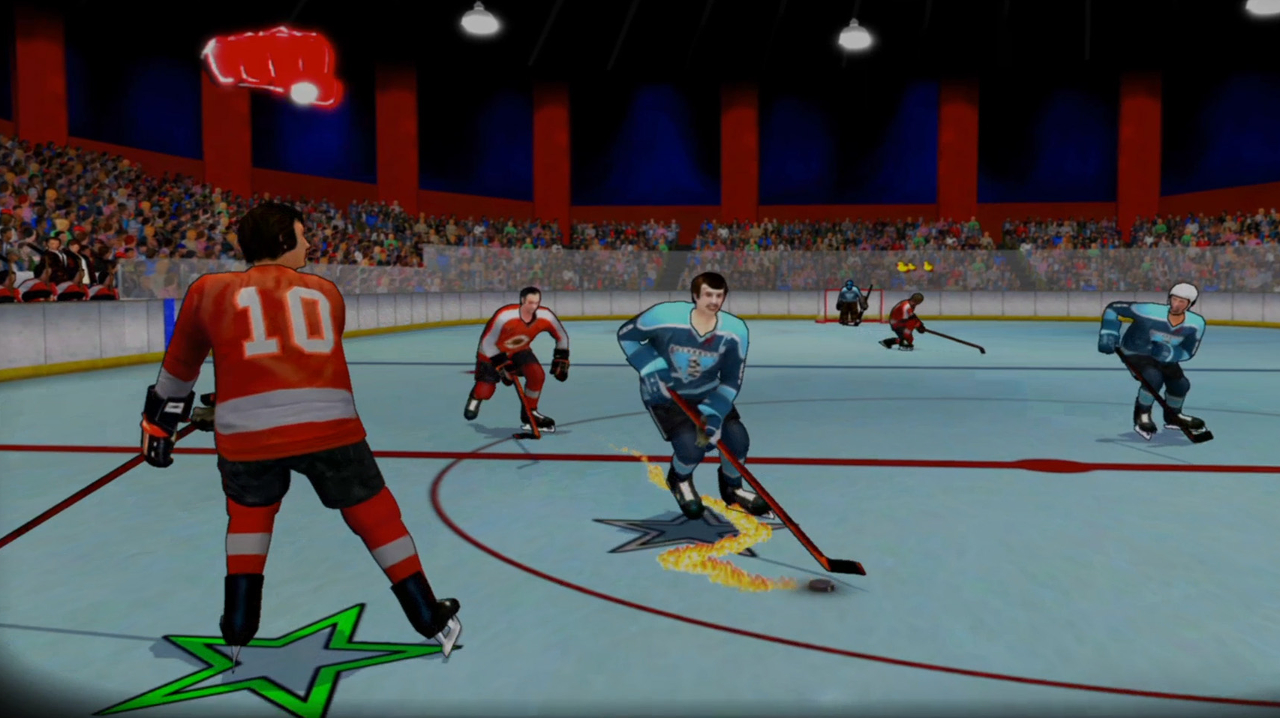 Old Time Hockey was officially announced today by V7 Entertainment, with the retro arcade game inspired by those in the past like NHL 94 and Blades of Steel heading towards a January release on Xbox One, PlayStation 4, and PC. It will be the first arcade-style hockey game for consoles since 2009's 3 on 3 NHL Arcade.
The unlicensed take on the sport means "no helmets, crushing hits, bench brawls, and arcade charm." The game will feature a Story Mode, exhibition games, and stat tracking.
Exhibition Mode
Ready for some Old Time Hockey? Here's all the advice you need: "take the shortest route to the puck and arrive in ill humor!" and get used to this phrase: "how could the referees have missed that?" Line up bone crushing open ice hits as your opponents scramble for the puck. Choose from a list of ten rugged minor league teams and play with up to 4 players in a local co-op setting.
Story Mode
Experience taking a rag-tag hockey team facing a folding season to the championship game to save them. Blue-collared hockey at its best, this season is filled with you needing to navigate the rumours, the pranks, and the realities of a bus-travelling hockey team in the 70s. Read through newspaper articles, unlock hockey cards, grow your team's morale, and navigate to different parts of the Story Mode from your HUB. A mini-calendar, stats summary, and live ticker are all part of your HUB to keep track of what's going on around the Bush League.
Story Mode +
Unlock new game plus upon completion of the Story Mode in any difficulty and play a full season mode with any of the ten teams in Bush League. Complete generic progression objectives and unlock collectibles and trophies that were missed or hard to achieve in regular story mode.
Calendar
Browse through your team's schedule, match results, and access story points including game objectives from this fully functional interactive calendar! Every game you play in the Story Mode paints a picture and the calendar narrates your past games and overall progress.
Player Stats
Who is in the run for the best players in the Bush League? Is it Toe O' Sullivan, Dick Felt, Gump Monahan, or Taro Tsujimoto from the Tokyo Katanas? I can tell you it is a close race. View Bush League regular season and post season player stats including games played, goals scored, assists, points, hits, and PIMS.
League Stats
Want to be in the hunt for a playoff spot? Stay on top of team stats and league rankings as you play through the regular season. Keep your eye on the playoff bracket as you fight for the league's most coveted prize – The Lockhart Cup!
Controls
With various control schemes to choose, players can use arcade 2-button controls to more modern controls. In addition to these familiar controls, a unique "Beer Mode" control scheme allows players to play with one hand and hold their drink in the other!