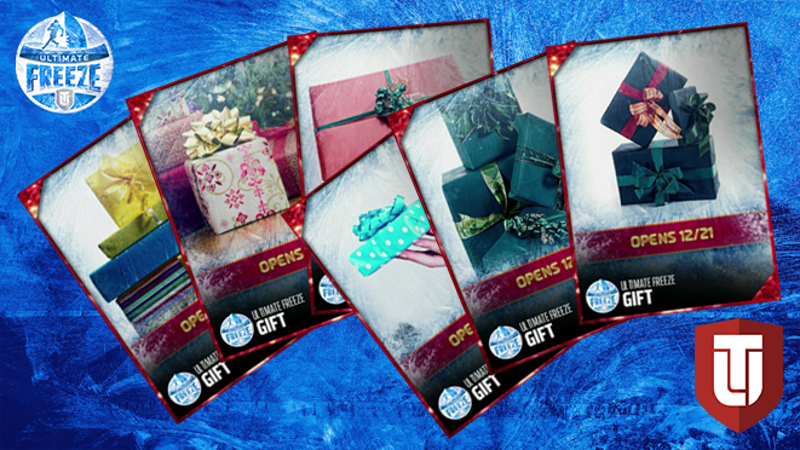 The latest big promotion to roll out in Madden NFL 17's Ultimate Team is the 'Ultimate Freeze' which features new Solo Challenges, Sets, Chemistry, and even out-of-position player cards.
There are currently eight new Solo Challenges and more will be added over the coming weeks as the program runs until January 6. The next phase of challenges will go up on December 18. Those who complete the first eight that are out now will have received 5,600 Coins, four Frozen Item Packs and an Out-of-Position Player Pack. 
There are also 10 new Objectives, each one providing a Frozen Item upon completion. When all 10 are finished a free Frost Pack will be awarded. Nine new Sets are available through with Ultimate Freeze. Freeze Offense and Freeze Defense chemistry require five players on their respective side of the ball to earn the ratings boosts.
Frost Packs are being sold for 500 Points or 50,000 Coins (equivalent to $5). They include three frozen items, two Gold or better players, and six additional team and player items.
Frozen Moments
Moment collectibles are used to unlock special Ultimate Freeze Rewards, including Elite Players. You can find additional Frozen Moments in Freeze Objectives, Solo Challenges, H2H Seasons, and Freeze Store Packs. Freeze Packs will offer the fastest way to earn Moments.
Ghosts of Madden
The Ghosts of Christmas Past Present & Future are back for Ultimate Freeze! The best place to earn these players is by collecting Frozen Moments and completing the Ghosts of Madden Set. Ghosts are also in Packs.
Out of Position Players
Many NFL Stars played a different position in High School or Collage or even for a few plays n the NFL Gridiron. You can find these special players in Freeze Packs, Solo Challenges, Objectives, and Seasons.
MUT Gifts
Available in packs for a limited time! (12/16 – 12/18 & Christmas Day) Gifts will open on a specific date. Be sure to return the day your gifts open. Gifts will open into a pack so check unopened packs for when your MUT Gifts reveals.
Limited Time Players
Some very exclusive Limited Time players, including out of position players and ghosts, will take your Ultimate Freeze squad to new level!
Frozen Solo Challenges
Thoughout the Holiday Season, Ultimate Team will release frozen solo challenges that will test your stick skills in some inclimate weather. Check back over the course of Ultimate Freeze for more added every few days.