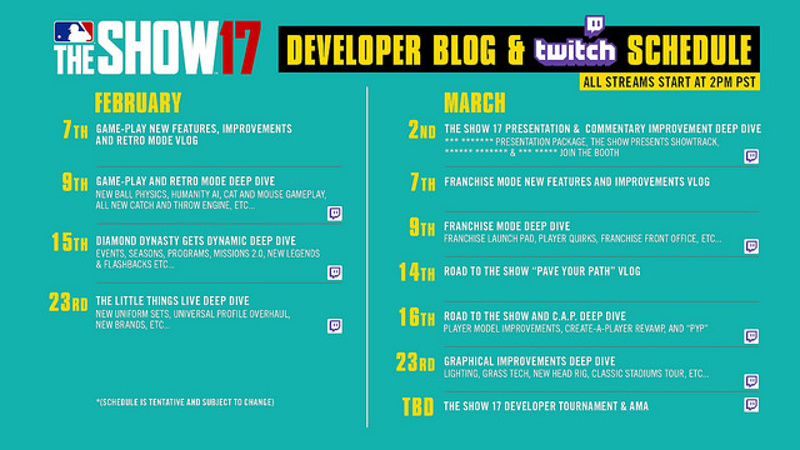 MLB The Show 17 is just over two months away from release and today Sony laid out the plan for distributing information on this year's game through blogs and videos, followed soon after by demonstrations on live streams. The first news will come on February 7 with the focus on improvements to gameplay. Detailed looks into Diamond Dynasty, Franchise Mode, Road to the Show, presentation and more will arrive throughout February and March. The schedule actually reveals quite a bit to look forward to in all of those areas of the upcoming game. 
[Update 3/16] The schedule has changed as graphics (originally planned for week of the 23rd) and the developer tournament were both shifted into the prior week, leaving no more planned developer live streams or blogs.
Gameplay: New ball physics, Humanity AI, cat & mouse gameplay, new Catch & Throw Engine
Diamond Dynasty: Events, Seasons, Programs, Missions 2.0, New Legends & Flashbacks
Little Things: New uniform sets, Universal Profile overhaul, new brands
Presentation: Presentation Package, Showtrack, ??? joins the commentary booth
Franchise: Launch Pad, Player Quirks, Front Office
Road to the Show: "Pave Your Path," player model improvements, CAP revamp
Graphics: Lighting, Grass Tech, new head rig, classic stadiums tour
Additionally, some new details have been provided on the workings of Retro Mode:
Retro mode is pretty much a one-button mode, but with surprising depth, and all the new animations, gameplay additions, and improvements found in the regular version of the game.

For example, in an effort to simplify the batter vs. pitcher battle, we've taken all the pitching attributes out and boiled them down to velocity, break, and control. Because there is no high and low in the strike zone, you have three pitches at your disposal that you can trigger with the touch of one button. To throw a fastball you hold down on the left analog stick and press X. To throw a changeup you hold up on the left analog stick and press X. And to throw a slider you press to the left or right on the left analog stick after the pitch is released.

One of the wrinkles we've added is that velocity is controlled by holding down or up on the analog stick just before the pitcher releases. In closing, you choose velocity before the pitch is thrown and you can affect movement (left or right) after the pitch is thrown.
MLB The Show 17 will release on March 28 with Ken Griffey Jr. on the cover and also found in-game as one of the new legends. Amazon is offering pre-orders at a discount of 20% to Prime members. The standard edition goes for $48 and the MVP Edition for $56. The latter includes 5K Stubs, Gold Season Starter Pack, Sponsor Pack, 10 Standard Packs, limited edition steel book, and PS4 themes for every team in the league.