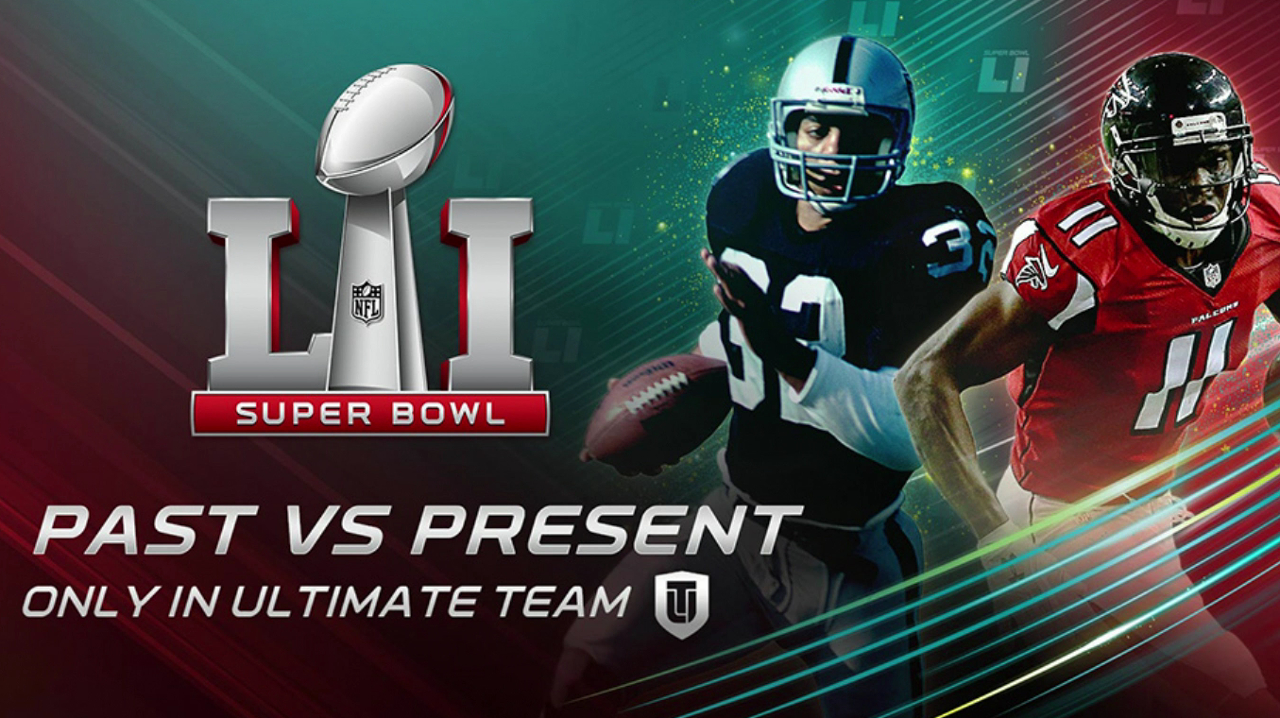 The latest promo to go live in Madden NFL 17's Ultimate Team mode coincides with Super Bowl LI. Celebrating the players taking part in Sunday's game as well as stars from the past, the program features new cards and fresh solos and sets that appear not to expire until early March.
There are 24 new Solo Challenges with 12 of them featuring scenarios against teams from Super Bowl's past with the other 12 scenarios against the New England Patriots and Atlanta Falcons modeled off their games from earlier this season. A total of 37,500 Coins, 2 Contract Packs, 2 Gold Super Bowl Player Packs, 2 Super Bowl Past Packs, 2 Super Bowl Present Packs, and 2 Super Bowl Past Elite Packs would be earned by completing all 24 of the challenges.
There are also new Chemistries tied to the program. Super Bowl Past Chemistry requires 6 players and provides +1 to Strength, Agility, Awareness, Carrying, Block Shedding, and Play Recognition. Super Bowl Present Chemistry requires 6 players and provides +1 to Agility, Acceleration, Awareness, Catching, Play Recognition, and Man Coverage. Check out all the Super Bowl Past cards here and the Super Bowl Present cards here.
11 new Sets are now active with the opportunity to trade in four Super Bowl Past Captains (95-rated Russell Wilson, Erik Williams, Bob Sanders, James Harrison) for 97-rated Julio Jones or Malcolm Butler, or 98-rated Marcus Allen or Reggie White. Other sets include the ability to trade in Elite players towards a Past or Present Captain or Gold players towards an Elite player.
Multiple new card packs have been introduced as well. The Super Bowl LI Pack goes for 200 Points or 15,000 Coins (equivalent of $2) and includes a Super Bowl player Gold or Better, 2 Silver players, 3 Bronze players, and 4 other items. Super Bowl Past or Future Packs have a price of 60,000 Coins or 600 Points (equivalent of $6) and include 3 Super Bowl Past/Present players Gold or better, 2 other Gold or better players, 3 Silver players, and 2 other items. Super Bowl Booster Packs are being sold for 500 Points (equivalent of $5) and include an Elite Super Bowl player, 3 Super Bowl Present players Gold or better, and 1 other item.