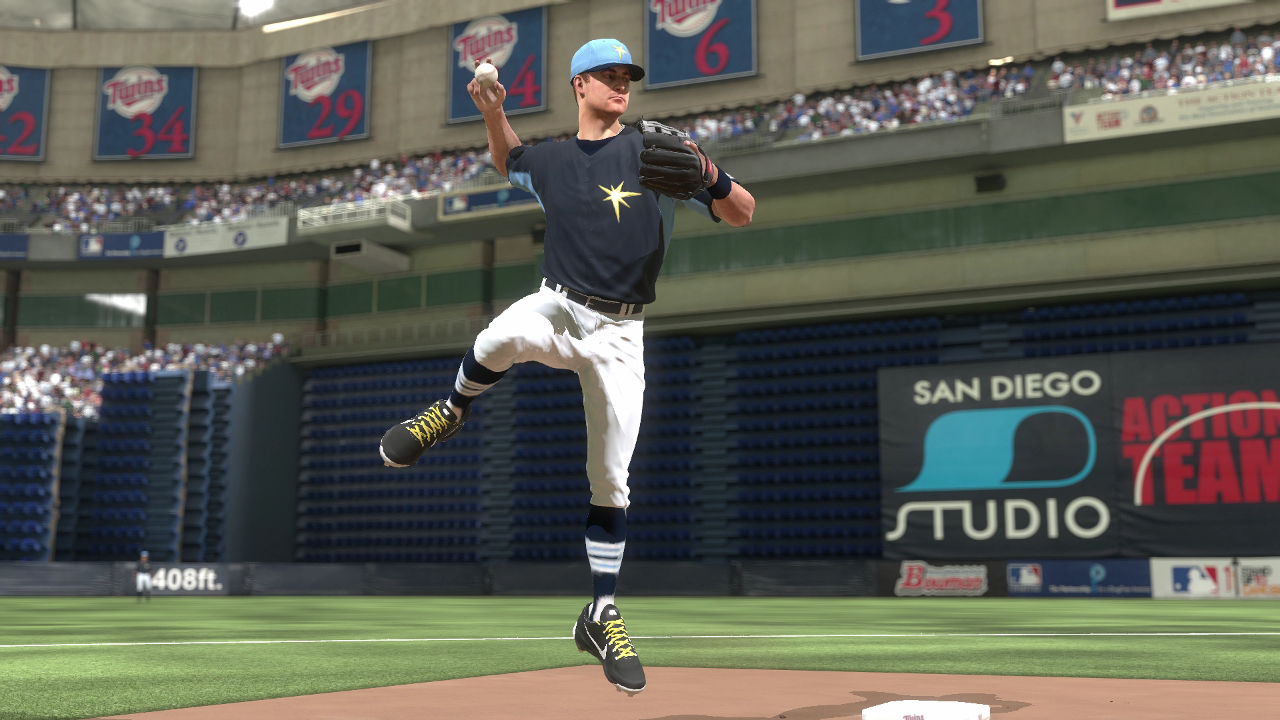 While a patch was quickly released for MLB The Show 17 two weeks ago it only affected a couple issues related to online play and corrected the Tigers road uniforms. The latest patch, which went out this morning, impacts a whole lot more. Among the most notable changes are a reduction to opposite field power, improvements to the catcher's blocking ability, and a fix for the CPU pulling starting pitchers too early.
Gameplay
♦Adjustments made to limit the power on opposite HRs as well as inside/out swing types.
♦Fixed several issues causing users to soft lock, freeze, or get stuck in certain situations, both on the field or in the pause menu or bullpen screens. (Online)
♦Improvements made to catcher's blocking ability including the prevention of balls traveling through the player. (Online)
♦Various general gameplay and transition improvements. (Online)
UI and OSD
♦Franchise in-game ticker stat tracking.
♦Corrected batter walk-up stats in postseason.
♦Fixed several instances of incorrect team or division logos appearing.
♦Prevented slide-outs and defensive shift menus from overlapping.
♦Added MPH and pitch info to score bar in CPU vs CPU games.
♦Adjustments to pregame lineup screens.
♦Completed programs no longer incorrectly display 'Feed Me' icons.
Stadiums
♦Corrected the foul pole areas in BOS and CIN to improve play calling/scoring.
♦Swapped the home and away MIA bullpens.
♦Fixed new Wrigley Field LED boards to display pitcher W/L records.
♦New York Mets '7 Line Army' now appears in Season/Franchise modes.
♦Citi Field's grass anomaly down right field line has been fixed.
♦Corrected Houston and old Miami distance markers on HR walls
♦Adjusted the bullpen camera in multiple stadiums to prevent clipping issues.
♦Graphical corrections and improvements to old Miami (concourse areas) and Wagonman (warning track).
Universal Profile
♦Previously unobtainable icons will now unlock correctly.
♦The level-up animation no longer remains on screen while redeeming missions.
Miscellaneous
♦Diamond Dynasty created player stat tracking and Ritual item boosts now function correctly.
♦Various RTTS manager interaction and player progressions fixes.
♦RTTS and Franchise mode adjustments made to correct issues preventing some users from progressing naturally.
♦Fixed issue where CPU woudl pull starting pitchers with low pitch counts.
♦Fixed issue where songs put into 'Sounds of the Show' would not save correctly.
♦Corrected arm action and animations for many pitchers including Clayton Kershaw, Tom Seaver, Michael Wacha, and others.
♦Audio adjustments to commentary (RTTS milestons), public address announcer, and overall sound effects.
♦Addressed many consumer reported crashes.
♦Various other minor bug fixes and adjustments made throughout the game.