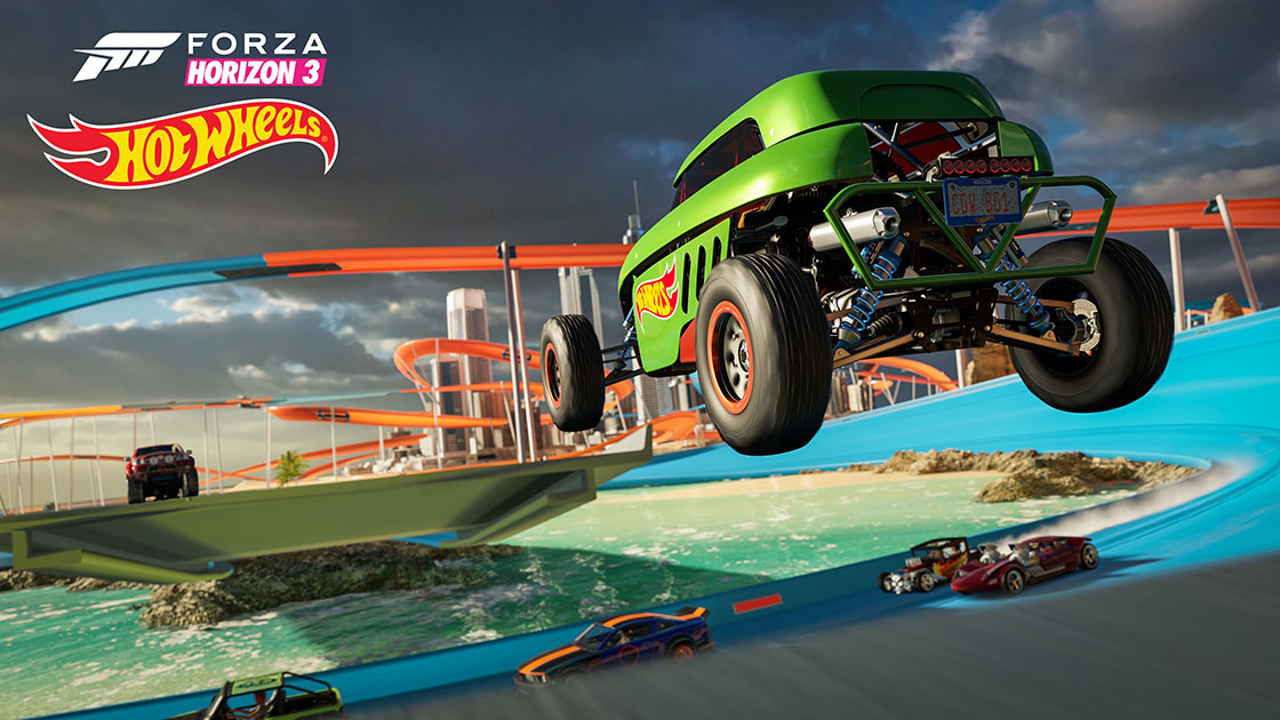 Hot Wheels recently made a first appearance through Rocket League and now the brand is moving into another popular racing-based series. The next expansion for Forza Horizon 3 – which follows the terrific Blizzard Mountain – will involve six new themed mountains connected by Hot Wheels tracks along with 10 total new cars. Releasing on May 9 the expansion DLC will go for a price of $20 or is included with the Expansion Pass. 
Please enable Javascript to watch this video
Forza Horizon 3 Hot Wheels takes players to six new themed islands located off the coast of Australia; all connected by a network of Hot Wheels tracks – positioned hundreds of feet in the air – featuring classic Hot Wheels configurations like loops, corkscrews, and more. This is stunt driving at its most extreme, where you can master tracks by performing brand new Hot Wheels skills that make use of boost pads, high-bank turns, half-pipes, insane jumps, and even giant mechanical dinosaurs. If you're looking to get creative, check out the new Stunt Swap feature to modify stunt track sections and dare your friends to try them.
1969 Hot Wheels Twin Mill
When it comes to Hot Wheels, there is nothing more iconic that the over-the-top Twin Mill. Designed by Ira Gilford, who quit his job at Chrysler to design cars for Mattel, the Twin Mill is a prime example of the kind of outlandish concepts that make Hot Wheels such a success story. A life-size, drivable replica was built in part by legendary hot rod designer Boyd Coddington with then upcoming car icon Chip Foose in charge of the build. It was finished by Barry Lobeck years later and debuted at SEMA in 2001. What the Twin Mill lacks in visibility from its detailed cabin, it makes up for in horsepower. Dual-blown Chevy 502 big blocks blast around 1,400 horses, making it one of the most powerful cars in Forza history.
1972 Chrysler VH Valiant Charger R/T E49
When Australian Minister of Transport Milton Morris called the E49 and its competition "bullets on wheels," it was the death knell for the muscle cars from down under. Fortunately, the VH Valiant Charger in the E49 configuration was already out and all 149 of them sold like hot cakes. With its mighty 265-cubic-inch slant-six with a racy cam and four-speed, the E49 set a production vehicle acceleration record that would stand for 27 years. Speed and rarity aside, the VH Valiant Charger represents the only car designed completely by Chrysler Australia.
2005 Hot Wheels Ford Mustang
To celebrate 50 years of the iconic Ford pony car, Hot Wheels and specialty-builder Action Vehicle Engineering started with a 2005 Mustang and created this beautiful custom model. Featuring huge fender flares, the car's oil-cooler lines are routed through the empty grill, and its dramatic (and adjustable) spoiler and rear diffuser all contribute to the look. The wheels are one-of-a-kind, built specially for this car. The purple and orange paint colors and carbon-fiber accents make this Mustang pop that much more. Ready for drifting duty or fit for tracking, this one-off build is as collectible as the 1:64 version it inspired.
2007 Toyota Hilux Arctic Trucks AT38
Unless you are part of a scientific expedition or you decide to sign up for the Artic Trucks experience in Iceland, getting behind the wheel of this specially-fitted Toyota 4×4 in Forza is your sole opportunity to experience its otherworldly capability. Artic Trucks has been fitting out vehicles for the rigors of Icelandic driving since 1990. The AT38 model has been fitted with features such as oversize tires that are ready to tackle any terrain and an articulating suspension that has taken these vehicles as far as the North and South Poles. No matter where you point it, expect the AT38 to conquer any surface with authority.
2010 Pagani Zonda R
The Zonda R is a bit of a puzzle. It's essentially a racecar, and yet it's not properly sanctioned for any particular racing series. At the same time, it's not legal to drive on the road, particularly due to its deafening F1-inspired exhaust system. Furthermore, it shares only ten percent of its components with other Zondas with a bespoke bare carbon fiber body, a different AMG-sourced V12 engine pulled from the Mercedes-Benz CLK-GTR racecar, and a gearbox sourced often found in LMP cars. It's probably best not to try to classify the Zonda R, and just simply to drive it, because doing so is an experience as unique as the car itself. From the straight-cut gear whine to the manic howl of the 740-horsepower engine, it makes all the right noises. With the huge rear wing and fully optimized aero package, the 2,500-lb. car can easily reach 100 mph in less than six seconds on its way well past 200 mph.
2011 Hot Wheels Bone Shaker
Designed by "Mr. Hot Wheels" designer Larry Wood, the Bone Shaker is one of a handful of Hot Wheels deemed popular enough to warrant the creation of a real-life version. Built in 2011 by Picture Car Warehouse, the Bone Shaker carries all the details of the original 1:64 scale model. The trademark skull face with hands gripping the headlights make it clear that this is no run-of-the-mill rat rod. The small-block Chevy motor with headers and straight pipes was built to intimidate in both sound and performance. To show off the interior details and stay true to the original form, the top is open — although closed-top die-cast versions were also made. Inside, creepy details like the skull-topped spine shifter and the skull-and-crossbones steering wheel pair perfectly with the awesome flame-job on the outside.
2012 Hot Wheels Rip Rod
Is it a buggy? It is a hot rod? It doesn't matter what you call the Rip Rod because this diminutive Hot Wheels ride is ready to shake things up on any surface. This beast is equipped with a souped-up two-cylinder motor that makes better than 100 hp. While that might not seem like much, in this rod, it is more than enough to thrill (or spill depending on your skills behind the wheel). One look at the suspension tells you this tricked out custom is ready for any terrain. This is a super lightweight tube chassis pro-built machine and it's all Hot Wheels. In short, the Rip Rod really rips.
2016 Zenvo ST1
When you only produce about one car per year and the interior alone can take up to 8,000 hours – that's 333 days – it's ok to expect perfection. Zenvo, Denmark's super car maker, does just that with an attention to detail you should also expect for a car that costs more than $1.5 million. Power and performance are on par with exotic status with bespoke material throughout. In the nitty-gritty department, there is massive 6.8-liter V8 with a turbo and supercharger. That will get you to 60 mph in less than three-seconds and a top speed over 230 mph. Let the looks grab your eye, take it all in, then get behind the wheel to experience something truly special.
2016 Jeep Trailcat
What do you get when you cross a lifted Jeep Wrangler shod in 40-inch rock-crawling tires and a Hellcat 707 hp engine? While the answer is quite obviously the 2016 Jeep Trailcat, you may wonder why Chrysler has mixed some of their most hallowed DNA. The Trailcat was built to attend the 2017 50th running of the Easter Jeep Safari in Moab, Utah. In line with the design of the rock-crawling menaces found in King of the Hammers competition, the Trailcat was designed to clamber over anything in its path and sprint across open ground with wicked abandon. Since you won't find this factory-built specialty for sale and, unless you are buddies with the Chrysler design team, Forza is the only place you will have a chance to get behind this wheel.