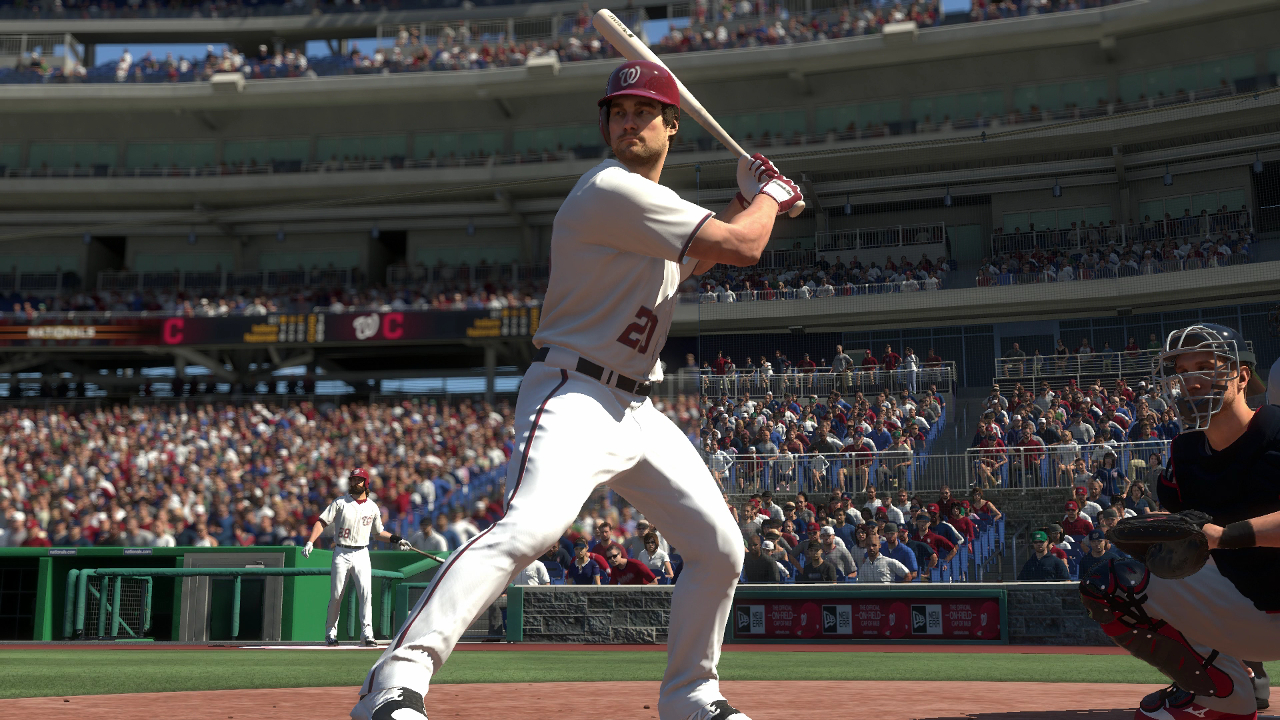 Last week brought about the first ratings changes for MLB The Show 17 and now they're expected weekly going forward. Today's roster update includes more adjustments to ratings and a greater number of players moving up or down a card tier. 
Daniel Murphy has reached Diamond status with an increase of 2 points taking him to 90 Overall. Murphy is hitting .333 on the season proving that last year's performance wasn't a fluke. He received boosts to Contact vs Righties and Power against both righties and lefties.
A Nationals teammate is the recipient of a considerable jump of 7 points taking him to 84 and on the brink of becoming a Gold. Ryan Zimmerman is hitting .424 with 11 homers and 30 RBI. For those efforts he's moved up in all Contact and Power ratings as well as Vision at the plate.
Jose Ramirez (+4 to 86) and Miguel Sano (+4 to 85) are newly crowned Golds. Aaron Judge continues a meteoric rise as he's up another 5 points to 81. He's risen now 13 points since the start of the season. Losing Gold status are Seung Hwan Oh (-4 to 83), Edwin Encarnacio (-3 to 83), and D.J. LeMahieu (-2 to 83).
Other notable movers include Dallas Keuchel (+1 to 88), Kyle Seager (-2 to 86), Trevor Rosenthal (+4 to 81), Chris Owings (+7 to 78), Jose Bautista (-5 to 78), Anthony Swarzak (+13 to 77), Joe Biagini (+8 to 76), Archie Bradley (+9 to 75), and Fernando Rodney (-5 to 67).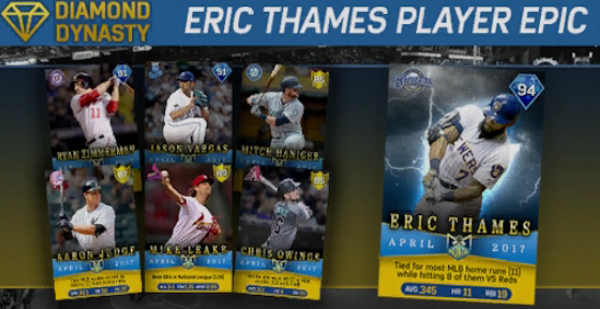 There is also a new card series introduced today to Diamond Dynasty. Similar to those found in other Ultimate Team modes where there are cards crafted based on performance in a single game or a more specific period of time, The Show will now have its own "Monthly Awards" cards. Eric Thames is the big winner for April getting a 94 Overall Diamond card. Other Diamonds go to Ryan Zimmerman and Jason Vargas. Gold cards were awarded to Aaron Judge, Chris Owings, Mike Leake, and Mitch Haniger. Thames is acquired by collecting all six of those.
The packs are being sold for 20K Stubs (equivalent of $20) with a max of one pack per person and they are limited in supply which means they are likely to sell out completely well before the weekend is up. After only an hour nearly half are gone.