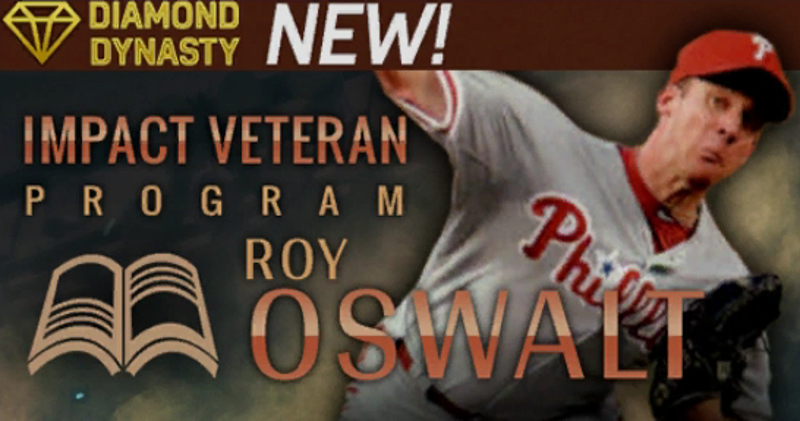 The latest addition to MLB The Show 17 Diamond Dynasty will be a relief to those who would prefer to avoid playing head-to-head online games. A new Program has launched for Impact Veteran Roy Oswalt. This becomes the only Program that doesn't necessitate playing online opponents to meet specific win and statistical goals. The first six have all had requirements tied to online games in order to reach completion.
The Program leans heavily on performing with Impact Veteran pitchers and matching some of the stats Oswalt put up in the 2010 season – 211 innings pitched, 13 wins, 193 strikeouts, and 2 complete game shutouts. Additionally there are goals to hit with a Phillies starting pitcher, trading in of live series items, exchange of Phillies player items, and ownership of 3 pitchers who have a H/9 rated 80 or above.
There are a limited number of Impact Veteran starters, led by Diamonds C.C. Sabathia, Nolan Ryan, and Anibal Sanchez who will be too pricey for most to buy on the market. The best pickup looks to be Francisco Liriano who is rated 86 Overall and could be had for fewer than 5,000 Stubs. Ron Guidry, Mike Scott, Bret Saberhagen, and Ubaldo Jimenez can each be had for under 20,000 stubs.
Program Packs, XP, Stubs, and Tickets are awarded through the process with the final prize the Diamond 93-rated Oswalt with 94 H/9, 90 Clutch, 79 Break, 79 Velocity, 78 Control, and 69 K/9.