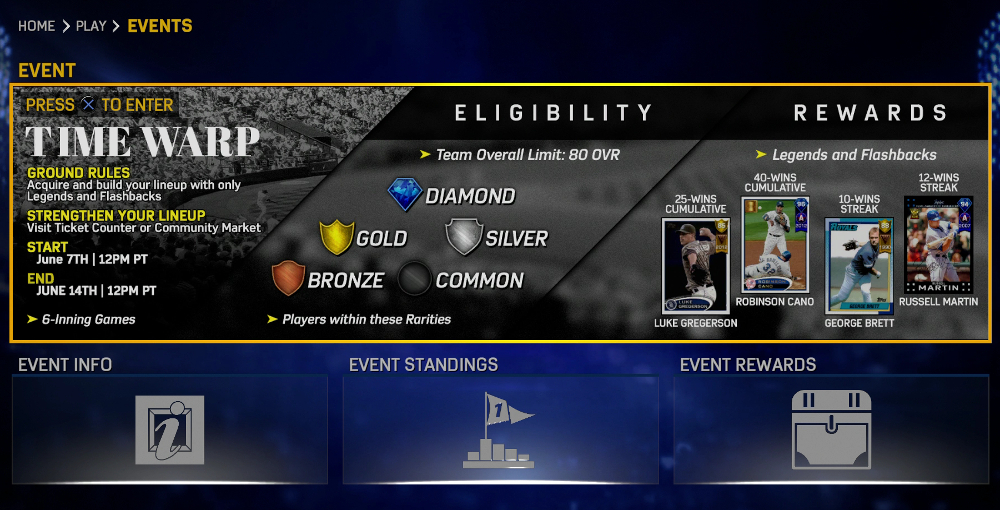 The fourth weeklong online Diamond Dynasty Event went live earlier today in MLB The Show 17. The theme for this Event is "Time Warp" as it requires rosters to be made up of only Legends and Flashback cards. 
The 6 inning games and team rating being capped at 80 Overall will force creativity in the formulation of rosters. Starting pitchers will matter more than if it had been 3 inning games, and talent will have to either be spread out across the roster or there will be major holes that need to be compensated for once in the games.
Putting together a bullpen will prove to be the biggest challenge in roster construction. Very few options are available for relievers and their prices are sky high. There's also currently a technical issue many are facing getting their lineups approved despite meeting the bullpen requirements, which devs have acknowledged on social media they are attempting to get fixed.
The top rewards are for winning 40 games (96 Overall Robinson Cano) or putting together a 12 game win streak (94 Overall Russell Martin). There are also rewards along the way including 10-win streak (Gold George Brett) and 25 total wins (Gold Luke Gregerson).
Those looking to obtain the biggest prize which comes with accumulating the 40 wins have a major time commitment ahead of them this coming week considering the 6 inning length, potential for extra innings to extend the games, and the propensity for games to freeze or vanish into the dreaded queue.