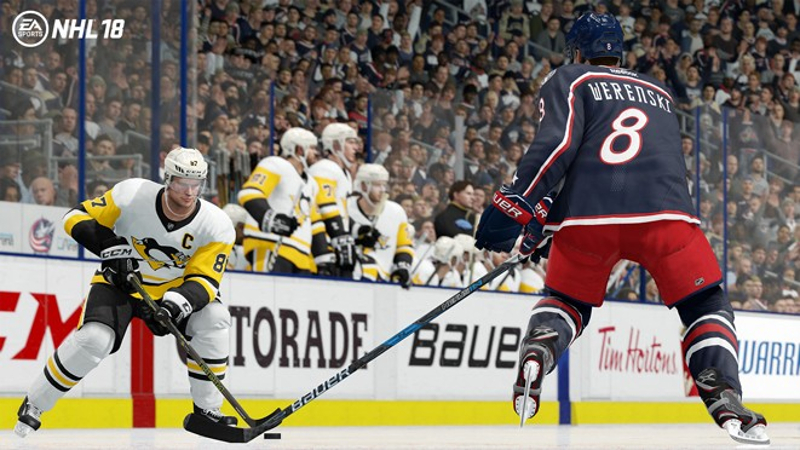 With the online beta for NHL 18 set to begin next Tuesday more details on the various gameplay improvements that were made official late last month and then put on display in a trailer last week have been released. In digging deeper into the new Defensive Skill Stick and Creative Attack Dekes, EA Sports is laying out both the more capable and flashy offensive arsenal with a potential counter weapon on the other side. 
Creative Attack Dekes
Creative Attack Dekes in NHL 18 range in difficulty. Some dekes, like toe drags and windmill dekes, are easier to pull off. Others, like the old favorite Tap-Back Deke, are harder to pull off but come with a greater reward.
Knowing when to pull off a deke is just as important as being able to pull the move off. When you are deking, you are more vulnerable to body checks and stick checks. If you make a mistake, your opponent can strike on a counter-attack.
Additionally, player attributes also have an impact on their ability to pull off the new creative attack dekes. They could lose the puck outright, flub the deke mid move or have their shots and passes impacted at a higher rate the lower their skill and the less control you have going into the move.
It takes time, practice, and skill to pull of the correct moves. They're more effective with the more ice you have and will let the player's skill shine in authentic 3-on-3 EASHL.
Deke branching gives you control to choose how you string deke combinations together into fluid dangles based on moment-to-moment decisions and reaction time.
In NHL 18, you can perform different moves from each state you are in before deking. This allows you to react to the defender's position and use a Creative Attack Deke to get around them. For example, when you're in the toe drag state you can choose to go off your near skate, put the puck between your legs, or flip back to the forehand side to dodge defenders.
Additionally, the new deke branching allows you more control with moves like putting the puck off your skates. You can now target what direction you want to go with the puck using the left stick in your deke, allowing you more creative control over your moves in the game.
Between The Legs
Over the past few years, players have been pulling off highlight reel plays by passing or shooting the puck between their legs. In NHL 18, you will be able to pull off the exact same moves that you see NHL stars leveraging to create different passing and shooting lanes.
Backhand Heel Drag
The Backhand Heel Drag is a powerful move when used properly. You can use it to outwait a goalie or defender to get around them, take a wrist shot or pulling off a cheeky flip to beat the goalie against the momentum of the play.
One-Handed Tucks
NHL players are always finding a way to pull off a creative finish to their dekes, and that includes the classic one-handed tuck. In NHL 18, you can do a one-handed deke to cut around a defender or go for a stylish one-handed tuck deke that goes against your momentum like you see happen on breakaways and in shootouts at the NHL level. Timing is key with these moves as the speed and direction of which you are skating will make or break how successful the deke is.
Defensive Skill Stick
With the introduction of Creative Attack Dekes that give you more control offensively, we needed to implement a defensive tool that allows you to counter the offensive players. The Defensive Skill Stick provides the ability to cut off the opponent's passing, shooting and skating lanes by pressing and holding the poke check button then using the right stick to control the direction.
By allowing full control over your stick on defense, you can keep your stick extended to angle off an attacker or sweep your stick to cover a zone. Additionally, you can target your poke checks by pressing down on the right stick when you are using the Defensive Skill Stick.
When you are using the Defensive Skill Stick, you cannot hit or pickup the puck. In order to do so, you need to release the poke check button and you will be able to either deliver a body check or pick up a loose puck that you poked away from a defender.
New Controls
When implementing the Defensive Skill Stick, one of the things we had to consider is where other controls would go. For example, the Puck Chop mechanic used to be performed by combining a poke check with a direction on your right stick. With the Defensive Skill Stick being activated with the press and hold of the poke check button and using the right stick to have control over it, we had to test and come up with a new button combination for the Puck Chop mechanic.
After testing and playing around with control schemes, the Puck Chop mechanic is now accomplished by pressing down on the right stick and then pointing in the direction you want to chop the puck.
Improved One-Knee Blocks
The addition of the Defensive Skill Stick also allowed us to improve our one-knee shot blocks. When you are in a one-knee shot block, you can use your right stick to control your stick and body positioning to help block off passing lanes. This is most effective when you are killing a penalty as it allows you to block shots and passes while maintaining your position on the ice.
The Defensive Skill Stick lets your knowledge of the game and positioning shine through on defensive side of the puck, allowing you to shut down your opponents with defensive skill.