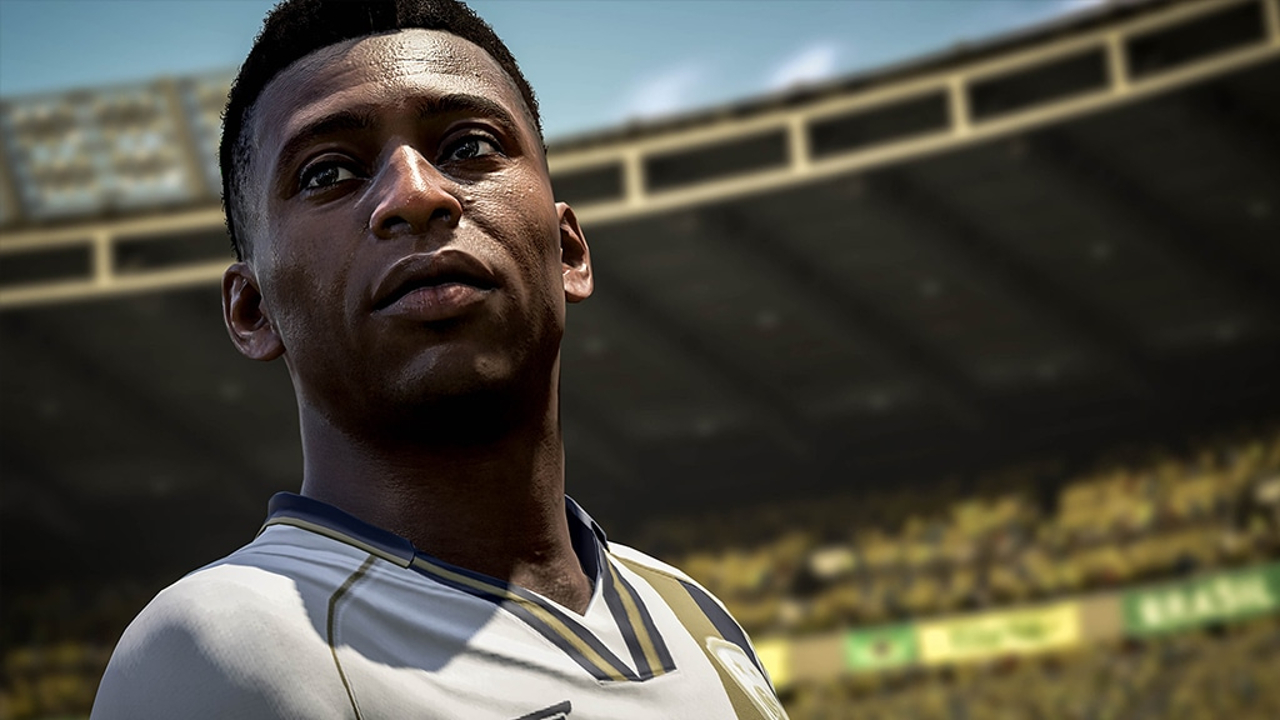 EA Sports today rolled out details on what to expect from the incredibly popular Ultimate Team mode for the upcoming FIFA 18. Included are 16 legends from the past that receive three different card versions based on specific moments in their respective careers, single-player matches against teams created by various personalities, and daily and weekly objectives.
Please enable Javascript to watch this video
FUT Icons
The Best of the Best are coming to FIFA 18 with FUT ICONS on PlayStation 4, Xbox One, Nintendo Switch and PC. Iconic players of the past now have unique items with ratings that reflect how their style and attributes evolved throughout their illustrious careers.
RONALDO NAZÁRIO: The legendary Brazilian striker's deadly mix of explosive pace, lethal finishing and dazzling skill made him one of the most feared strikers in the world. A two-time Ballon d'Or winner, Ronaldo Nazário became one of Real Madrid's famed galácticos when he joined the club.
RONALDINHO: One of the last true bohemians of football, Ronaldinho personifies what Jogo Bonito is all about. With endless creativity and superb technique, the Brazilian attacking midfielder was equally capable to score a beautiful goal or to serve the perfect pass for his teammates to shine. Ronaldinho won the biggest trophies in the world and he did so while playing beautifully and with a smile on his face.
DIEGO MARADONA: One of the most gifted footballers of all-time, Maradona was a fearsome dribbler who could make any defender look lost. He lit up the 1986 World Cup with an astonishing run and finish against England, dribbling around almost half of the opposition, earning him FIFA's Goal of the Century award.
THIERRY HENRY: One of the Premier League's all-time great strikers, Henry's incredibly elegant yet unbelievably deadly finishing won him the Golden Boot four times in his eight years at the club. A World Cup winner on home turf in 1998, the Frenchman remains the country's top scorer having amassed 51 goals in 123 appearances.
LEV YASHIN: Arguably the greatest goalkeeper in the history of the game, the "Black Spider" remains a Dynamo Moscow icon, the club where he spent his entire 20 year career. Estimated to have kept 270 clean sheets and saved over 150 penalties, Yashin remains the only keeper to ever win the Ballon d'Or.
PELÉ: The only player to score more goals for Brazil than Ronaldo Nazário, Pelé was quite simply one of the greatest footballers of all time. Six Brazilian Championships, three World Cups and over 600 competitive goals in a career spanning 21 years justify his status as one of the all-time legends of the game.
RUUD GULLIT: A complete, versatile and dynamic player, Ruud Gullit had the ability to play admirably in multiple attacking positions. A key member of legendary AC Milan and national Dutch teams, Gullit's unmistakable quality and look remain fan favourites.
ROBERTO CARLOS: One of the best attacking left backs in the history of the game, Roberto Carlos' privileged left foot delighted at both club and intl levels. The Brazilian's iconic free-kick goals transcended the game itself making him one of the most successful footballers ever.
JAY-JAY OKOCHA: Considered one the best African players to ever step onto a football pitch, Jay-Jay Okocha was a powerful and skilled attacking midfielder. With enviable technique, speed, dribbling and power, Okocha excited fans around the world for almost three decades.
PATRICK VIEIRA: With a powerful and tenacious style of play, Patrick Vieira was able to control a football match from the midfield with few equals. The combination of his physicality, athleticism and technique allowed Vieira to become one of the most complete midfielders of the modern era.
PETER SCHMEICHEL: A tremendous physical presence in the box, Peter Schmeichel is regarded as one the greatest goalkeepers to ever play the game. A two-time winner of the IFFHS World's Best Goalkeeper, Schmeichel became a revered ManU icon. With 24 trophies and 11 goals to his name, many consider the Danish keeper to be the best of all-time.
CARLES PUYOL: Sobering defending and long curly locks were Carles Puyol staples throughout his career. A hard-nosed defender, Puyol's grit, determination, and leadership inspired those playing around him and earned him the respect of his rivals. Puyol was a key cog in teams that won the biggest trophies in the world. With ample success at club and international levels, the Catalonia native will go down in the history books as one of the best defenders of his generation.
ALESSANDRO DEL PIERO: Regarded as one of the best Italians to ever play the game, Alessandro Del Piero enamoured football fans around the world for over two decades with his flawless technique, lethal finishing, and accurate free-kicks. A 2006 FIFA World Cup winner, Del Piero will be remembered as a prolific goal scorer who was able to convert in every tournament he participated.
MICHAEL OWEN: One of the most prolific English goal-scorers, his rise to stardom came at a very young age during the 1998 World Cup. Blinding speed, intelligent movement, accurate passing, and lethal finishing were some of the attributes that made Owen a goal-scoring machine.
DECO: With a mix of creativity, tactical awareness, impeccable technique, and relentless industry, Deco was a well-rounded midfielder. His accurate passing and potent mid-range shooting gave opponents nightmares and allowed Deco to shine at both the club and international level.
RIO FERDINAND: Considered by many as one of the best English defenders of all time, Rio Ferdinand combined relentless, hard-nosed defending with unique elegance, technical ability and precise ball distribution. Ferdinand's leadership and excellent vision helped him win numerous trophies with ManU and become a staple of the England national team for over a decade.
Squad Battles
Compete and earn rewards in the all-new single player Squad Battles. Take on other squads from the FUT community, to earn rewards and move up the leaderboards. In the Featured Squad Battle, you can also challenge the squads of football players, pro FIFA players and celebrities to test your skills and build your team.
Objectives
Complete dynamic daily and weekly Objectives in-game or in the new companion app to earn great rewards in FUT 18. From squad management goals to dynamic in-match challenges, the harder the challenge, the better the reward you'll receive.
Squad Building Challenges
Build squads from players in your club to complete challenges and earn in-game rewards. New features like Combined Player Requirements, and Brick Slots create deeper SBCs in FUT 18.
Champions Channel
Watch full match replays from the top players in the world competing in the weekend league. Control playback and cameras through matches of your favorite pro players to learn how they play and raise your game!
More FUT Kits
You love them, we love them. Designed by community stars, soundtrack artists and others, more custom FUT kits than ever before will feature in FUT 18. Make sure you're wearing the latest kit on the pitch!
Play FUT Anywhere
Arriving for FIFA 18 launch, the new Web App now enjoys all the same features as the Companion App including Objectives and Squad Building Challenges. Trade and manage your squad through the re-designed Web & Companion App on iOS and Android.