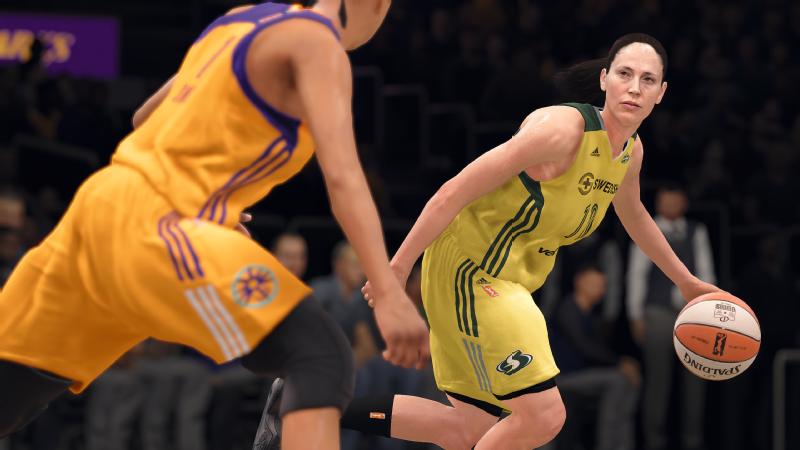 Back in April it was discovered that the WNBA would be included in some form within NBA Live 18. That was confirmed today as EA Sports released the first information on the upcoming game since showing off "The One" career mode at EA Play in mid-June.
Every WNBA team and player will be featured in Live but there will not be a unique mode to house them. WNBA teams can only be used in Play Now offline and online games.
Please enable Javascript to watch this video
In order to incorporate the league's teams and players, the NBA LIVE 18 team conducted head scans of star athletes like Maya Moore, Brittney Griner, Diana Taurasi, Tina Charles, Sylvia Fowles, Alisha Gray, Chelsea Gray, Jonquel Jones, and Alyssa Thomas, and held motion capture sessions with 2017 WNBA Draft first overall pick, Kelsey Plum, among others. Additionally, game creators fine-tuned player ratings and skill moves in order to present the league and its stars in the most authentic way possible.
While the addition of the WNBA probably isn't going to move the needle it does at least give the product something the competition won't have and maybe a new audience that could be reached. Women were added to FIFA in 2015 for the World Cup but the company hasn't done anything more with them in the series since then.
Curiously there is still no official release date, announcement of a cover athlete (it's James Harden), or even the ability to pre-order NBA Live 18. It's fair to speculate why that might be the case considering the franchise's track record over the last seven years and the potential that it could utilize a different distribution model. A demo however is scheduled to arrive on August 11.