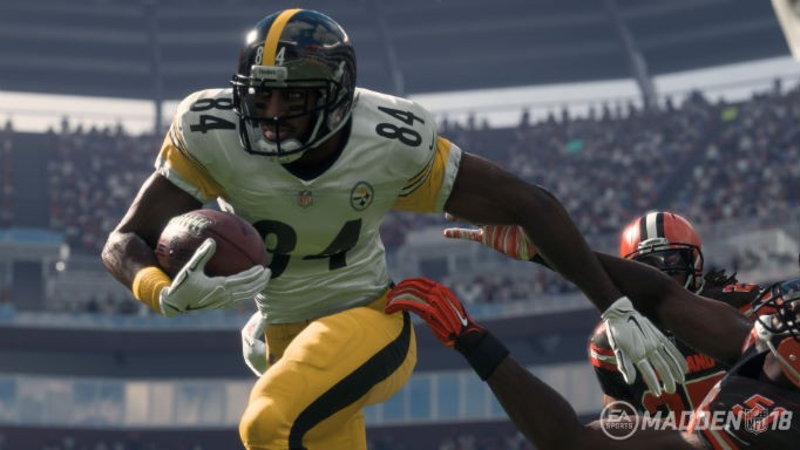 While Franchise Mode has clearly been put on the back burner in favor of Ultimate Team and Longshot there are some new features and improvements to look forward to with Madden NFL 18. The biggest addition is the ability to start a Franchise from any point during the real NFL season, while commentary will capitalize more on crucial game situations and league-wide stories plus a customizable draft board debuts. 
Play Now Live
With the new Play Now LIVE feature in Madden NFL 18 you'll be able to play along with the real-life NFL season and playoffs like never before. Jump into the stories as they are happening around the league, with Play Now LIVE matchups posted each week with up-to-date stats, rosters, and commentary ensuring you have a rich and deep experience. Excited about Sunday's primetime game? Experience it on the field before you watch it on TV.
Simple Season
At the end of each Play Now LIVE matchup, seamlessly continue your team's season by using brand-new customization options. Play a simple season that gets you from game-to-game as fast as possible, or play a full-control season to manage and improve your team as you see fit. Customize your experience even further using a new suite of options.
Franchise Starting Points
Start your Franchise from any point in the season using Starting Points for Cloud Franchise. A Starting Point will be added each week of the season to let you jump right into a league with no sim-ing required. Starting Points reflect the major storylines in Franchise as the year goes on. For example, if the Cleveland Browns decide at the end of the preseason to trade for Jimmy Garoppolo, you could start preseason Week 1 with him on the New England Patriots or start right in the regular season Week 1, after the trade occurred. Starting Points brings more authenticity to your Franchise experience.
Customizable Draft Board
Madden 18 also delivers one of the top community request, a Customizable Draft Board. Organize your players as you prepare for the draft using a sortable draft board. Drag and drop players the same way you set your lineup on the Team page in the Franchise hub. It's easy and gives you more control than ever.
Draft Logic
Whether you miss the draft in your multi-user league or sim past one playing solo, the CPU will make decisions based on your draft board. For a more authentic drafting process, we've added a max drafted player per position limit and a cooldown per position when the CPU is drafting. Expect the CPU to draft more authentically in Madden 18.
Franchise Commentary
Major improvements have also been made to commentary in Franchise this year for a more immersive experience. The intense fourth quarter, two-minute drill, and Super Bowl moments come to life with an unprecedented level of detail and intelligence. This deeply contextual content illustrates the story of the exact moment of where you are in the game based on how the contest has transpired.
Announcers Brandon Gaudin and Charles Davis help to immerse you in the story of the season by highlighting the playoff hunt, recapping previous games, and announcing weekly award winners. You'll also hear Brandon and Charles discuss when an offensive player passes a certain yardage threshold in either rushing, passing, or receiving.
Stay up-to-date with what's going on around the league with commentary related to other games in progress that appears in the bottom ticker. As you progress past year one, you will start hearing lines for drafted players that deepen your immersion as you advance into your Franchise. To go along with the new drafted player commentary, Franchise more frequently generates last names with audio.
Trade Tuning
Trades are hard to make in the NFL. Some players are valued so highly by that trading for them would be nearly impossible. Franchise now simulates this by addressing some types of players that were previously too easy to get from the trade system, and would often leave teams without future investments.
All rookies now have bonus trade value for the teams that drafted them, making them harder to trade for. Players in the first year of a new contract now have bonus trade value for the teams that signed them, making them harder trade targets. Backup quarterbacks and running backs now also have bonus trade value, making them more difficult to snag.
Free Agent Tuning
In Free Agency, an NFL player's market value becomes clearer the further into the free agency period you get. Players must weigh contract offers they have against their desired price and possibly risk having no teams willing to match the cost.
Previously, players were too willing to accept low value contracts if there was only one team offering terms. Franchise now ensures players don't accept unreasonably low offers. Players will no longer accept contract offers that are less than 30 percent of their desired price. There's also a chance that players reject low-value offers at up to 70 percent of their target price.
Progression Tuning
Progression tuning affects several aspects of the Franchise experience, including feedback on player performance, league balance, and simulation results. The progression system ultimately ties into nearly every system in the game because of how it affects player ratings. The Franchise goal this year was to continue improving league balance deep into simulations, while maintaining the natural fluctuations that arise from events, like when new superstars enter the league.
Injury Tuning
Injuries in football can happen to anyone on the field. With new off-ball injuries in gameplay and new tuning in simulation, the Franchise system will more realistically reflect NFL injuries.
♦Reduced rate and severity of all injuries.
♦Added off-ball injuries to gameplay as random events.
♦Tuned injuries to allow for more variance among position.
♦Reduced the frequency of severe injuries to be more in-line with real-life injury occurrences.
♦Reduced relative frequency of long-term injuries of six or more weeks substantially.
♦Increased relative frequency of short-term injuries of two weeks or less substantially.
Position Grades
The way you evaluate your team is important for determining roster management goals. When letter grades were added, the intent was to help you make those evaluations quickly. However, the grades did not accurately describe how good your position depth is relative to the league.
The Franchise grading scale now more accurately reflects "what good looks like." With adjusted ranges for position grades, it's now easier for position grades to obtain A and A+ position grades in the scouting and depth chart screens.
Retirement
QB is the most important position in football. It seems like the best QBs can extend their careers well beyond most other NFL athletes. Franchise now allows QBs to play out a realistically lengthy career when they deserve it. For example, Tom Brady will not always retire after one season.
Preseason
Preseason is an exciting time for teams as they make decisions to build their 53-man roster. Teams use this time to evaluate their players and test new strategies in a live competition, instead of on the practice field. To make the experience more authentic, Franchise has made adjustments to some preseason rules.
Preseason games now feature more authentic playing time for starters. Starters will play: 1 quarter in Preseason Week 1, 2 quarters in Preseason Week 2, 3 quarters in Preseason Week 3, 1 quarter in Preseason Week 4.
Companion App
Franchise is excited to bring back the Companion App for Madden 18. Use the Madden Companion app to advance the week, view the weekly schedule, utilize commissioner controls, receive important notifications, and even export stats to third party websites all from the palm of your hand.
Additional Progression Tuning
Wide Receivers
♦Adjusted OVR formulas to better reflect the value of generated versus base roster players.
Rating Upgrades
♦Adjusted priority for AI WRs so that they upgrade more efficiently to boost their OVR.
♦Increased cost of Route Running and Release.
XP Changes
♦Increased XP on Best WR Award by 50 percent.
Rookie Changes
♦Increased frequency of generating top tier and undrafted WR prospects.
♦Decreased frequency of generating low to mid-tier WR prospects.
♦Increased Awareness maximum on all WR prospects.
♦Increased ranges for maximum ratings on top tier WR prospects and lowered minimum ratings for many mid-tier and low-tier WR prospects.
Defense
♦Reduced XP for LEs on season and career awards by 50 percent.
♦Increased XP for OLB's on season and career awards by 100 percent.
♦Increased cost of Power and Finesse Moves by approximately 80 percent.
♦Raised cost on Impact Blocking and Tackle and lowered the cost ramp.
♦Raised cost on Man and Zone Coverage and lowered the cost ramp.
♦Increased XP on Best DB Award by 50 percent.
♦Decreased frequency of generating low to mid-tier CB prospects.
Quarterbacks
♦Increased Throw Power priority.
♦Increased XP costs to accuracy.
♦Increased cost of Throw on Run and Play Action ratings.
Regression
Regression is a necessary system for ensuring that Franchise simulates the realistic rate of churn among NFL players. The average NFL career only lasts a few years. For the simulation to be accurate, more than half of the league needs to be replaced every three years. Franchise now ramps players into the regression system slowly so that you have more time to use these players and to execute a replacement plan.
♦WRs, CBs, and RBs can no longer regress speed below 90 due to age.
♦Adjusted regression points so they are introduced more slowly over time.
♦Added new awareness regression for older players on underperforming teams.
Relocation
New Franchise content gives players the opportunity to use current realistic relocation options. Added Las Vegas and San Diego, removed Los Angeles.