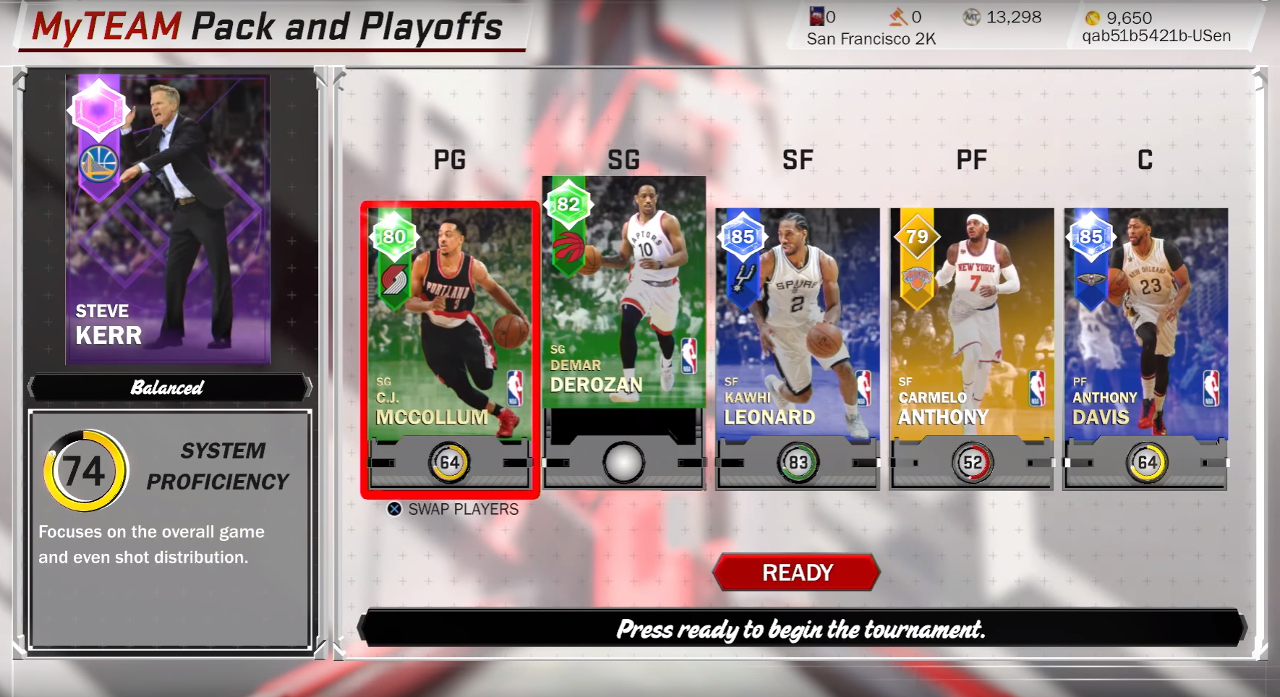 In recent years the ability to draft a roster on the fly from a pool of players over a number of rounds and take that team into online competition has become popular way to play. Those draft modes are now exclusively found tucked inside the various team-building modes like Ultimate Team and Diamond Dynasty. Draft Champions which is now known as MUT Draft started it all in Madden, FIFA and NHL followed with theirs, and MLB The Show has Battle Royale. Now NBA 2K18 will finally introduce one of its own. 
2K Sports today revealed two big new features for its MyTeam mode. Pack and Playoffs is the draft-style method of playing. These draft modes have been well-received because they give people who may not have great teams (meaning they didn't spend a bunch of money) the ability to play with some of the better players available in the game. Beyond just that the strategy involved with putting together the best lineup possible, not just by rating but by what suits the particular person's skills the best, is intriguing because they've been designed to ensure that every team will still have some weaknesses in the end.
The first thing you will do is open a coach pack and pick a coach for your team. The coach you pick will determine what system your team will run. As you fill in your lineup you'll want to look for players who are a good fit for the coaches preferred system so that your team runs as efficiently as possible on the floor.

Next, you will continue to fill out your team by opening packs and picking players. You have five player position slots to fill and each choice you makes affects your team's system proficiency. Once you pick your 5 player squad and make any position swaps you need you'll be ready to roll.

You will compete in 5 on 5 games against other drafted teams through four rounds of playoffs leading up to the Finals. Each round in the tournament is a best-of-seven elimination. Win four games and advance, lose four and you're bumped. Each time you advance you will redraft a whole new lineup or you can use VC to hold onto players that are working for you and re-draft the ones who aren't.

Not only did we bring back the prize boards from MyTEAM Blacktop we added new exclusive players you can't get anywhere else. There are also special cards that you can pull that will give you an edge on your competition. In addition to that we've also added a prize ladder. The further you advance before being eliminated the bigger the prize you can earn. There is even a grand prize for the Finals Champion. The best part is you can draft your team and play all you want for free.
The other new way to play within MyTeam is called Super Max, which will be 2K18's version of the Salary Cap variations found in Ultimate Team. In those all players receive a cap number based on their value, challenging users to put together a lineup that doesn't exceed the max designated salary for a team. Again this is another way to create balance in online competition and introduce a new type of strategy to the card-collecting modes.
We wanted to create a place where players of all skill levels could come to compete online and take on the world. What we came up with we're calling MyTEAM Super Max.

Super Max adds salary cap and season gameplay to online competition to create an experience that stays fun, fresh, and competitive all year. Each time a new round starts the salary cap will be updated and you will build the best team possible with cards from your collection under the salary cap.

Here's the best part. We've built a system that adjusts individual card's cap values based on how often they are used. If everyone is using the same card then the cap value of that card will increase. Some cards could be so popular that their value increases to "Super Max" levels. You will need to think carefully, balance your super stars with role-players, and seek out hidden gems that others may have missed.

Super Max will be a full length 13-man roster online game. To start you will compete in placement matches against random opponents to gauge your skill. Based on your performance you will be placed into a league with others at your skill level. That means whether you are a MyTEAM legend or it's your first time stepping onto the court every matchup will be fun and competitive.

As you play and win games you can claw your way up through the leagues earning prizes at the culmination of each round. Grand prizes will be awarded for combined performance in each round at the end of every season. Be careful though, you can also lose points for a loss. In Super Max every game matters so show up ready to play.