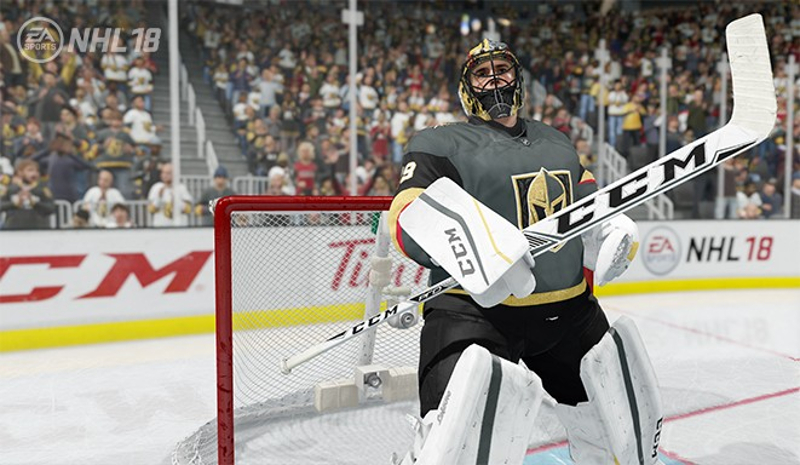 EA Sports today released the first patch for NHL 18 which comes right on the heels of last week's release meaning it had been in the works for some time. It's a significant update touching on practically every area of the game. Notable is the addition of division realignment to Franchise Mode and a few new uniforms but there are a considerable number of improvements that have been made to gameplay and online that could have major impact. 
General
♦Added option for Champions League Aggregate Scoring
♦Improved faceoff formations during 3 on 3 play.
NHL THREES
♦Added updates to prevent players from moving before they were visible on screen after play resumes from a stoppage in NHL THREES
♦Added ability to change team strategies in NHL THREES gameplay
♦Updates to faceoff camera timing in NHL THREES
Puck Physics
♦Updates to improve stick on puck collisions during poke checks
♦More accurate stick on puck physics volume collisions during Defensive Skill Stick.
Offensive and Defensive AI
♦Improved AI puck carriers in 1-on-0 situations during play and in shootouts
♦Updates to Defensive AI decision making so that they stay with their check more consistently
♦Updates for AI teammates that would skate into shooting lanes instead of standing in better positions to deflect the shot or get the rebound instead.
♦Updates to AI shooting logic during penalty shots.
♦Logic updates for AI goalie pull situations.
♦Improved shot logic for the AI
♦Improved positioning for offensive AI players away from the puck so that they take their stick position/handedness into account more and position themselves and adjust their facing better based on their intention.
♦Added improvements for AI skaters that would switch to skating backwards during breakouts.
Offense
♦Added the ability to blend back into skating faster out of deking
♦Various shot animation improvements
♦Added improvements to skaters that were missing the puck too often if they were directed to perform a shot without picking up the puck first (one timers and shots from loose pucks).
Defense
♦Updates to improve animation blend issues out of shot blocks.
♦Improvements for players doing board pinch when puck position didn't make sense for it.
♦Blending improvements when transitioning into defensive skill stick.
♦Updates to allow the Defensive Skill Stick state to override hit intent if the hit hasn't started to be thrown yet. This allows players to be on and off RB/R1 without letting go of the right stick.
♦Updates to improve an issue where the Defensive Skill Stick state caused user skaters to lose pickup functionality
♦Added in variance of error to the new poke check system based on player control, direction from the players facing and relative speed of the puck. This means that a player is most accurate when skating in a controlled manner and poking a still puck in front of themselves and least accurate when poking against their momentum behind themselves at a fast-moving puck. Each of these factors are also tied to the player's attribute ratings.
Improved hip check controls to prevent clashes
♦Poke check animation assets improved for increased accuracy before any error added.
♦Added reaction delay based on a player's awareness after a puck is deflected off a stick/body as players were reacting too quickly to defensive deflections.
Goalies
♦Better precision when detecting puck position during saves for User goalies.
♦Responsiveness updates to User goalie butterfly motion.
♦Added updates to help User goalies challenging shots and tracking the puck. If a user is requesting to move towards the puck, allow the requested motion to transfer into the upcoming save but if the shot is back against the grain, it will not add in momentum to the save.
♦Updated save logic to reduce issues that were causing the user goalie to make save attempts on pucks that were far from the net.
♦Improved responsiveness for actions after quickly switching into control of the goalie
♦Added updates to prevent goalies from knocking their net off in EASHL as an exploit.
♦Added ability for flinching saves to abort sooner when puck is deflected away from net.
♦Improved responsiveness when blending in and out of saves for goalies.
♦Added new VH poke coverage.
♦Added logic to read how much the goalie should lean based on the puck position as they slide into butterfly leans. This allows for better blends and ability to seal off more of the net on the side where the puck is.
♦Various animation improvements for saves where a goalie's limbs were clipping with each other.
♦Updates to prevent issue where user goalie unable to move post-to-post after a poke check.
♦Updated some saves that were causing the puck to deflect into a goalie's net.
Online
♦Improved Online Coop Matchup Load Screen to allows users to see more information about their teammates/opponents for team composition and latency for all online game modes (e.g., Online Vs., HUT, Threes Online, etc.) except for EASHL
♦Adding Team Overall to matchmaking rules to all online game modes (e.g., Online Vs., HUT, Threes Online, etc.) except for EASHL
♦PS4 controller light will now match the Game Setup and gameplay player color indicator
♦Updated the Game Setup screen functionalities in online game types (e.g., HUT, Online Vs. Threes Online, etc.)
♦Display Offense, Defense and Goalie ratings by default
♦Remapped the Ready button to tile option
♦Remapped the Settings tile to a button
♦Resolved an issue where users would crash when performing goalie swaps in the intermission pause menu for HUT, Draft Champions, and Online Vs.
♦Added the ability to award a penalty shot in EASHL 3s rather than go on a 4-on-3 or 5-on-3 Power Play.
♦Fighting turned off in EASHL 3s.
♦3-on-3 strategies added to EASHL.
HUT
♦Added an auto-fill option in Edit Lines. This option will allow a user to automatically replace all the players in their lineup based on player overall and position.
♦The end of round Competitive Seasons reward screen will now show in the HUT HUB rather than the user needing to enter the season to claim their rewards.
♦Removed the 1-minute grace period for offline and online games. Game will now count right at puck drop
Game Modes
♦Added Season Modes for additional leagues (EBEL, HockeyAllsvenskan, and the Champions Hockey League Tournament)
♦Added Division Re-Alignment to Franchise Mode. This allows the user to move teams around within the divisions before the start of a Franchise Mode.
♦Added the ability to allow the user to edit their custom or relocated team's jersey and mascot during the offseason in Franchise
♦Added the ability to see all the CPU lines in View Lines
♦Added the ability to allow a user to change strategies in 3-on-3 Overtime
♦Added the ability to view all the pending free agents in the upcoming FA class as well as 2 and 3 years out in the Pending FA Screen.
♦Added a "Sim to Regular Season" option in quick links during the preseason
♦Added the option to view player information on the offer sheet pop-up
♦Added the option to decline a trade and change your trade block in a CPU trade offer
♦Added option to switch teams while in the trade screen in the player select pop-up
♦Improved FA logic where Team Chemistry is still taken into consideration deep into Free Agency when they should be willing to lessen demands.
♦Improvements added to correctly apply stats growth to a player who received stat growth the previous year.
♦Added updates to help resolve an issue with Scouting showing semi-accurate potentials of players that should be Unknown potentials.
♦Improvements added to prevent the morale of a player being set to "angry" immediately after signing in Free Agency.
Audio
♦Added in Birthday goal calls in EASHL
♦Added in various speech improvements
Presentation
♦Added in the EBEL Championship Sequence with trophy
♦Added in the Champions Hockey League Championship sequence with trophy
♦Added in a Champions Hockey League mode unique wipe
♦Various camera improvements for environment geometry blocking play
Art
♦Added Away uniform for Ottawa Senators
♦Added Away uniform for Toronto Maple Leafs
♦Added Away uniforms Nashville Predators
♦Added CCM Premier 2 Goalie Pad Set
♦Improved Portland Winterhawks Uniform
Coaching Feedback/On Ice Trainer
♦Added new videos and Training to Hockey Canada Training Camp
♦Support added for button dekes in coaching feedback and Hockey Canada Training Camp
Hockey Canada and Training Camp Videos
♦Added 4 New Button Deke videos
♦Added better shot quality changes, better shots and sizzles for 8 Hybrid & 94 Controls videos
♦Updated Ray Ferraro audio in 3 Skill Stick videos (Shot Aim, Faceoff Draw, Faceoff Tie-Up)
♦Added/Improved 8 Hockey Canada Rules Videos