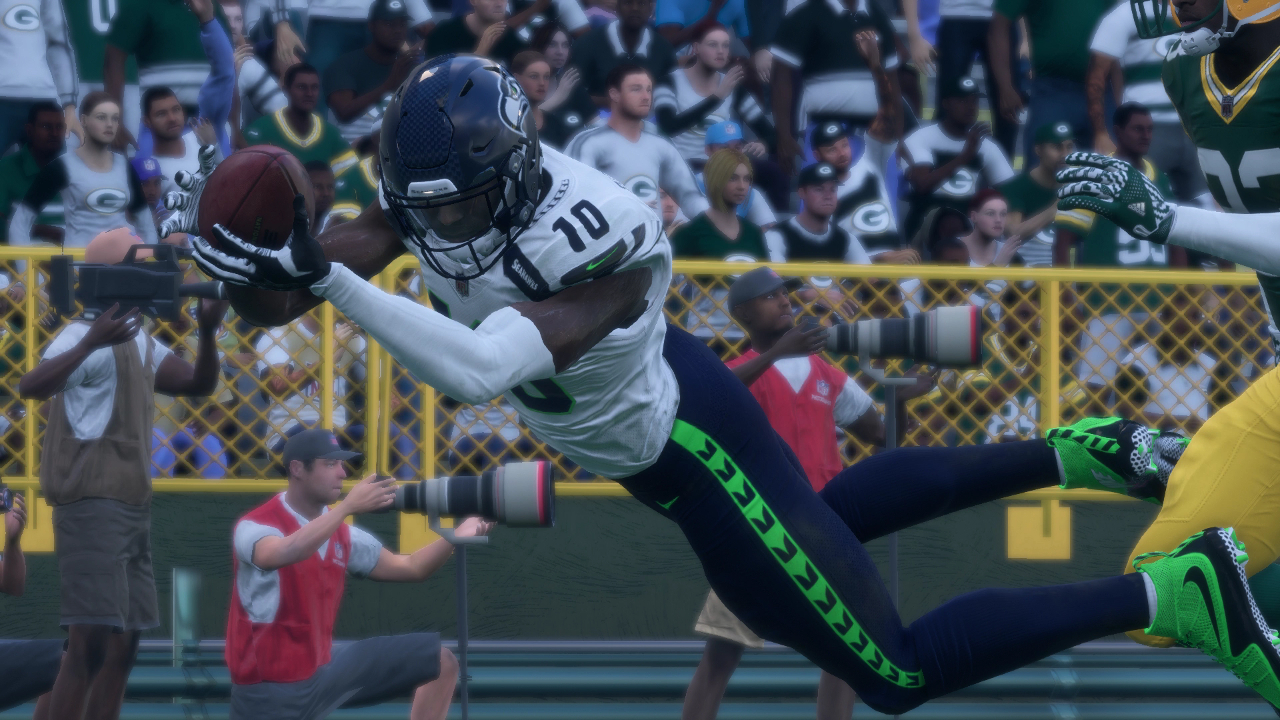 With the Xbox One X coming out next week the latest patch for Madden NFL 18 delivers the promised enhancements that will be taken advantage of by the new hardware including true 4K, HDR, and increased character detail. The patch influences other areas of the game as well and applies to both Xbox One and PlayStation 4. 
Key Updates
♦Pass Accuracy tuning
♦Addressed MUT squads improper XP awards
♦Tuning to balance Coach Adjustments
♦Replaced the "Bluff Blitz" hot route with "Hard Flat" for Inside linebackers
♦Addressed issues around losing control for short time during camera flip on turnovers
Xbox One X Enhancements
♦Upgraded Resolution from 1080p to 4K Ultra HD: Providing players with the highest fidelity visuals in Madden NFL experience ever, delivering hyper-realistic gameplay to your fingertips
♦Gameplay Runs at a Consistent 60 frames per second (fps): Delivers seamless transitions and improved gameplay performance between each down
♦Character Level of Detail: Vibrant, detailed athlete visuals bringing your favorite stars to life!
Gameplay Changes
♦Tuned pass accuracy increase from clean pocket with feet set in Competitive Game Style
♦Tuned pass accuracy decrease across with body throws at drastic angles or off back-foot
♦Tuned defensive penalty decrease with Pass Commit vs running plays in all Game Styles
♦Added logic for Conservative Ball Carrier Coaching Adjustment – now there's a very low chance for defender fakeouts when this adjustment is active
♦Tuned increase frequency of holding penalties when Aggressive Blocking Coaching active
♦Tuned increase frequency of offsides penalties when Aggressive Pass Rush Coaching active
♦Addressed issues resulting in catches being knocked out by minimal defensive contact
♦Addressed issues around losing control for short time during camera flip on turnovers
♦Addressed online grieving exploits around spamming the Fake Snap mechanic to stop the clock and defenders intentionally Encroaching to keep the clock running
♦Addressed issue resulting in incorrect field position after touchback occurs on missed FG
♦Addressed issue where KR player got stuck in strafe assignment after colliding with teammate
♦Tuned to ensure plays populate in the Run/Pass Counter filter of the Play Call menu
♦Added Skills Trainer Gauntlet stability improvements
♦Added controller-rumble in MUT Squads to notify user-controlled receivers when ball is snapped
♦Tuned to address inability to move outside linebacker when showing blitz in the Dollar formation
Franchise Mode
♦Updated NFL records for Offline (already available in Cloud)
♦Addressed issue displaying certain menus in 4K
♦Addressed issue with injured players not on IR when starting franchise via Play Now Live
♦Made stability improvements