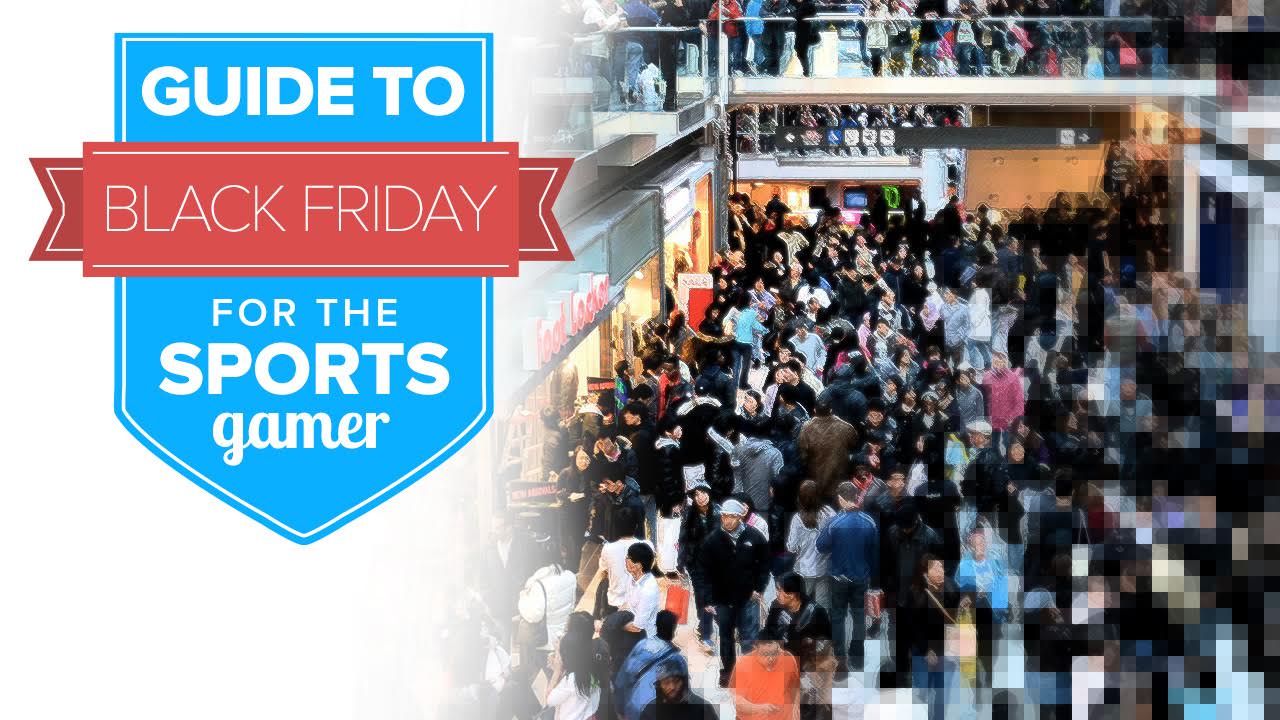 Considering the proximity to their respective releases the point at which the majority of sports video games have reached their highest value may be when they are significantly discounted for Black Friday and Cyber Monday. Most are still in-season, relevant and strongly supported. Of course there's a lot more than just the games to contemplate picking up, whether it be for yourself or others, so here's a roundup of the most enticing deals from various retailers.
The best deals on sports games for the first time may arguably be the digital copies through Microsoft and Sony, with Gamestop and Walmart beating those prices but for most of them not by much. Amazon is expected to match or better them with the site's limited-time lightning deals. Special opportunities have already popped up and will continue to over the coming days, and may only last a few minutes, so make sure to be following on Twitter for alerts to them and others all the way through Monday! 
Amazon
Amazon's daily and lightning deals will be added when officially listed. Find all of the live Black Friday deals here.
Everybody's Golf for $15 (expired)
MLB The Show 17 All-Star Edition Digital for $20
Pro Evolution Soccer 2018 for $25
Amazon Fire TV Stick with Alexa Remote for $25
Madden NFL 18 digital code PS4 for $30
NHL 18 digital code PS4 for $30
FIFA 18 Nintendo Switch for $30
F1 2017 for $30 (now XB1 only)
NASCAR Heat 2 PS4 for $30
Amazon Echo Dot for $30
Amazon Fire 7 Tablet for $30
Forza Motorsport 7 for $35
Amazon Echo Dot and TP-Link Smart Plug for $35
WWE 2K18 digital code PC for $36
FIFA 18 digital code PS4 for $36
Xbox One Controllers for $39 and up
PlayStation Plus Year Subscription for $40
Xbox Live Year Subscription for $50
Amazon Fire HD 8 Tablet with Alexa for $50
Amazon Fire HD 10 with Alexa for $100
Amazon Echo Show for $180
Xbox One S Bundles with $50 off for $229-$299
PlayStation VR with Gran Turismo Sport for $300
TCL 49″ 4K HDR Smart TV for $350
Samsung 58″ 4K HDR Smart TV for $648
Best Buy
MLB The Show 17 for $20
Everybody's Golf for $20
Forza Horizon 3 for $25
Madden NFL 18 for $30
FIFA 18 for $30
NBA 2K18 for $30
WWE 2K18 for $30
Need for Speed Payback for $35
Forza Motorsport 7 for $35
Xbox One/PS4 Controllers for $40
Sharp 50″ 4K Smart TV for $180
PlayStation 4 1TB Slim Console for $200
Xbox One S 500GB Madden NFL 18 Bundle for $230
Nintendo Switch for $300
PlayStation 4 Pro Console for $350
Samsung 50″ 4K HDR Smart TV for $400
Sony 60″ 4K HDR Smart TV for $600
Samsung 65″ 4K HDR Smart TV for $750
Dell
Forza Motorsport 7 for $40
Xbox One S 500GB Battlefield 1 Bundle for $190
PlayStation 4 1TB Slim Console for $200
PlayStation VR with Gran Turismo Sport for $300
EA/Origin
FIFA 18 for $36
FIFA 18 and Need for Speed Payback Bundle for $70
Gamestop
Everybody's Golf for $20
Madden NFL 18 for $27
NBA 2K18 for $27
Pro Evolution Soccer 2018 for $30
F1 2017 for $30
NHL 18 for $40
Forza Motorsport 7 for $40
Need for Speed Payback for $40
Microsoft Store
All game deals are currently digital only
NBA Live 18 for $15
STEEP for $20
Madden NFL 18 for $30
NHL 18 for $30
FIFA 18 for $36
F1 2017 for $36
Need for Speed Payback for $36
WWE 2K18 for $36
Pro Evolution Soccer 2018 for $36
Bundle with FIFA 18 and NBA Live 18 for $40
Madden NFL 18 Holiday Edition for $40
NBA 2K18 for $42
FIFA 18 Ronaldo Edition for $48
FIFA 18 ICON Edition for $60
NBA 2K18 Legend Edition for $60
Xbox One S 500GB Bundle with Selection of Game for $189
PlayStation Store
All game deals are digital only
NBA Live 18 for $15
MLB The Show 17 for $15
The Golf Club 2 for $16
STEEP for $16
Madden NFL 18 for $30
NHL 18 for $30
PES 2018 for $30
FIFA 18 for $36
WWE 2K18 for $36
Need for Speed Payback for $36
Madden NFL 18 Holiday Edition for $40
NHL 18 Young Stars Edition for $40
Pro Evolution Soccer 2018 for $42
NBA 2K18 for $42
NBA 2K18 Legend Edition for $60
Steam
Motorsport Manager for $8.75
Out of the Park Baseball 18 for $10
Rocket League for $10
The Golf Club 2 for $16
STEEP for $20
Pro Evolution Soccer 2018 for $30
F1 2017 for $36
NBA 2K18 for $42
Target
Forza Horizon 3 for $15
MLB The Show 17 for $15
Madden NFL 18 for $30
FIFA 18 for $30
NBA 2K18 for $30
WWE 2K18 for $35
NHL 18 for $35
Need for Speed Payback for $35
Forza Motorsport 7 for $35
Xbox One/PS4 Controllers for $40
Xbox One S and $25 Gift Card for $190
PlayStation 4 1TB Slim Console for $200
TCL 55″ 4K HDR Smart TV for $315
TCL 49″ 4K HDR Smart TV for $350
Samsung 60″ 4K HDR Smart TV for $850
Extra 15% off all items through website for Cyber Monday
Walmart
Skate 3 for $9
MLB The Show 17 for $19
Everybody's Golf for $19
Madden NFL 18 for $29
FIFA 18 for $29
NHL 18 for $29
NBA 2K18 for $29
WWE 2K18 for $29
NASCAR Heat 2 for $29
Forza Motorsport 7 for $29
Xbox One/PS4 Controllers for $39
Xbox One S 500GB Console for $189
PlayStation 4 1TB Slim Console for $200
Sharp 55″ 4K Smart TV for $298
PlayStation VR with Gran Turismo Sport for $300
PlayStation 4 Pro 1TB Console with Star Wars: Battlefront II for $400
Samsung 58″ 4K HDR Smart TV for $598